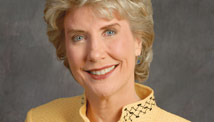 STORY HIGHLIGHTS
Americans with Disabilities Act is 20 years old
Joni Eareckson Tada says we still have long way to go despite the landmark bill
People are not fully accepting of those who have disabilities, she says
The challenge is to change hearts and minds, Tada says
Editor's note: Joni Eareckson Tada is an author, disability advocate and the founder of Joni and Friends International Disability Center. Injured in a diving accident in 1967, she is one of the longest living quadriplegics on record.
(CNN) -- As I sat on the White House lawn 20 years ago and watched President George H.W. Bush sign the Americans with Disabilities Act into law, I knew it was a grand day for disabled people. However, I also knew that we still had a long way to go.
Much like the civil rights legislation of the '60s, I recognized that the president's signature might change physical accommodations, but it would take more than that to change hearts and minds.
While I could now roll my wheelchair into buildings with ease, I still had a hard time getting people to look me in the eye and see me as a person rather than a condition. Even today, 20 years later, my wheelchair still makes people uncomfortable.
Why is that? For the most part, able-bodied, "healthy" people still fear disability. As a nation, we treat disabled people more equally and humanely than any country in the world. However, most Americans, when they encounter a disabled person, first think of themselves, "I hope that never happens to me."

Video: Important updates to Disabilities Act

Video: ADA: 20 years later
To me, that says we still have a long way to go toward recognizing people as people, no matter what they look, act, walk -- or don't walk -- like.
As recently as 2008, Congress found it necessary to adopt an amendment to the Americans with Disabilities Act in response to cases in which employers wrongly interpreted the original act and by doing so continued to act in a discriminatory manner.
The U.S. House Committee on Education and Labor reported that in 2004, plaintiffs lost 97 percent of ADA employment discrimination claims that went to trial. "People who are not hired or are fired because an employer mistakenly believes they cannot perform the job -- or because the employer does not want 'people like that' in the workplace -- have been denied protection from employment discrimination due to these court decisions," the committee's report stated.
Why is this still happening in what we like to feel is such an enlightened era? Unfortunately, many individuals' discriminatory attitudes stem from childhood. Studies of preschoolers have shown that they will choose nondisabled playmates over those with disabilities.
I think there are a couple of reasons for this, and I am excited that both are things we can change. First, it starts at home. I don't think most parents purposely instill discrimination in their children. I think it's just that most young children are not exposed to anyone with disabilities and therefore lack the familiarity that makes them comfortable around someone different from them.
Parents need to look for opportunities to introduce their children to community members with disabilities, laying a foundation for inclusion, acceptance and friendship.
Secondly, I think we lack sufficient courses and training in the field of disability studies. Individuals involved in educating our young people -- even those in preschool -- need to know better how to teach students with disabilities, but even more so, how to instill a welcoming attitude toward those students in their classrooms.
I believe most of us recognize intellectually that we are all created equal, but we need to help children and young adults go deeper in understanding what disabled people contribute to society and how valuable they are as human beings, not just to God, but to all of us.
A case that illustrates this all too poignantly is one that is in the news right now -- the case of Abbie Dorn, the young mother who suffered brain damage following the birth of her triplets four years ago. Abbie's husband has divorced her and refused to allow her children to see her. How are these children going to grow up with a proper attitude toward disabilities?
Whether Abbie can speak or hug her children or not is immaterial. They would benefit from knowing and loving her.
This was our original intent with implementing the Americans with Disabilities Act 20 years ago, and it must remain our goal as a society that no one, no matter how disabling the condition, is discriminated against -- not just in deed but also in word and attitude. To have real social change, we must have heart change.
I pray everyone will join with me in honoring this 20th anniversary by renewing our own personal commitment to check our attitudes, get over our own fear and discomfort, and befriend the person behind the disability in our own community, church, workplace, school or neighborhood.
The opinions expressed in this commentary are solely those of Joni Eareckson Tada.
FOLLOW THIS TOPIC