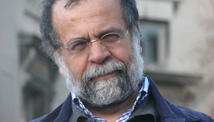 STORY HIGHLIGHTS
Hamid Dabashi: President Obama initially issued a principled support of mosque proposal
Dabashi calls it daring speech, says it gained gratitude of Muslims in U.S., around world
He says Obama later seemed to backpedal, declining to "comment on wisdom" of mosque project
Dabashi: Obama showed political cowardice on issue; it was disheartening to Muslims
Editor's note: Hamid Dabashi is the author of "Iran: A People Interrupted." He is the Hagop Kevorkian professor of Iranian studies and comparative literature at Columbia University in New York.
(CNN) -- At a White House dinner last week -- an iftar on the occasion of the Muslim holy month of Ramadan --President Obama delivered what many rightly considered a courageous speech in which he weighed in on the controversy surrounding the proposed construction of a mosque near ground zero.
While acknowledging "sensitivities surrounding the development of Lower Manhattan," the president added eloquently, "This is America, and our commitment to religious freedom must be unshakable. The principle that people of all faiths are welcome in this country, and will not be treated differently by their government, is essential to who we are. The writ of our Founders must endure."
Muslims around the world and American Muslims in particular (judging by the reception in the blogosphere alone) were deeply moved and rightly grateful that against much popular opposition, the president had taken a principled position.
That public position, however, was not just principled, reaffirming the constitutional rights of citizens and communities to freedom of religion. It was also a daring step toward restoring dignity to millions of Muslim Americans by welcoming them into the bosom of the American family, thereby helping all Americans overcome the trauma of 9/11.

Video: Should Obama have weighed in?

Video: Obama comments stir debate

Video: Mosque a 'political football'
Such a thing would have had immense consequences for the image of Americans around the world, in the Muslim world in particular. With the American military occupying two Muslim countries -- Iraq and Afghanistan -- Americans would have much benefited from their president sticking to this unpopular but principled position and proving to the rest of the world, in a symbolic gesture unlike any other, that Muslims are as much American as Christians or Jews.
But that was not to be. Almost immediately his White House aides and then the president seemed to backtrack.
The New York Times reported Friday that the White House had not wanted "to weigh in until local authorities made a decision on the proposal, planned for two blocks from the site of the Sept. 11 attack on the World Trade Center."
Later, on Saturday, the same paper quoted Obama saying, "I was not commenting and I will not comment on the wisdom of making the decision to put a mosque there. I was commenting very specifically on the right people have that dates back to our founding."
White House officials also reportedly said that "Mr. Obama was not trying to promote the project, but rather sought more broadly to make a statement about freedom of religion and American values."
The president thus did not ultimately take a courageous stand at all. Perhaps facing a Muslim crowd in the White House, he was moved to take a principled position, but all it took was perhaps just one quick meeting with his staff after that iftar for him to change his mind, reach for his legalese hat, parse words and say that he did not say what he said.
He had apparently realized that a good majority of Americans, some still traumatized by the horrid events of 9/11, others with unabashed bias against Islam and Muslims (including those promoting Quran burning orgies), are against the mosque.
In failing to uphold his initially courageous stand, the president missed a historic opportunity to continue on his track to mend with the Muslim world in general and with American Muslims in particular over some other Americans' opposition to the mosque. In that one quick backpedal, he made a mockery of his own then historic, now banal speeches in Ankara, Turkey, ("The U.S .... will never be at war with Islam") and then in Cairo, Egypt ("a new beginning").
If his iftar speech was a sign of his idealist persona popping up for a quick show, his retrieval is alas an unfortunate indication of his political cowardice. Of course, it is the right of Muslims to build a mosque on any property they legally own.
That is their First Amendment right, guaranteed by the Constitution, no matter who is in the White House, and it seems that at least in this particular case it no longer matters if Obama is in the White House or Sarah Palin.
Great statesmen are made by seizing upon a quick historic opportunity. Politicians just look at the polls.
The opinions expressed in this commentary are solely those of Hamid Dabashi.
FOLLOW THIS TOPIC