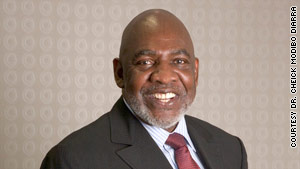 STORY HIGHLIGHTS
Information technology will drive Africa's development, says Cheick Modibo Diarra
Africa "needs to invest" in infrastructure and people
Technology "must be matched by sound government policy"
Expanding digital literacy will "broaden social opportunities"
Editor's note: Dr. Cheick Modibo Diarra is Africa Chairman for Microsoft Corporation. He writes for Africa 50, CNN's special coverage looking at 17 African nations marking 50 years of independence this year.
(CNN) -- In Africa, we have made great strides towards poverty reduction and broader development in recent years and indeed, we are one of the first regions to show signs of recovery from the global downturn.
Our challenge now, however, is to build on this early recovery and truly drive sustainable growth and development.
It is widely recognized that Information and Communication Technology (ICT) is one of the driving forces that will accelerate Africa's economic and social development, by supporting the creation of wealth and sustainable growth in the region.
However, it is my belief that technology alone cannot generate development.
At Microsoft we think of ICT as an essential enabler of growth and competitiveness. But to realize their potential, new technologies must be part of a mix of productive changes and supporting capabilities.
Resources must be matched with resourcefulness -- combined with initiatives by local leaders, educators and entrepreneurs to achieve individual and institutional objectives. And we can only do this if, together, we in Africa create the right policy environment, invest in the necessary infrastructure and act decisively and in a timely manner.
Africans are acutely aware of how technology can help us realize our full potential and how to do so rapidly.
--Dr. Cheick Modibo Diarra
Africans are acutely aware of how technology can help us realize our full potential and how to do so rapidly.However, several barriers stand in the way of effectively reaching underserved communities.
Environmental and infrastructural obstacles, localization issues and the prohibitive cost of technology all mean that the bulk of the population is not realizing the full benefits of ICT.
Africa has the lowest Internet penetration rate in the world, particularly in Sub-Saharan African countries, despite a staggering growth rate of over 2,000 percent across Africa in the last decade. And without fast Internet connections, economic growth and other ICT applications are lagging behind on the continent, either for being too expensive or entirely unavailable, particularly in rural areas.
If we are to compete with the rest of the world, we must acknowledge that a short-term approach to infrastructure investment will not yield the benefits required.
Clearly, the private sector has a critical role to play here. Partnerships between the private and public sector are essential for creating and sustaining growth and development.
It is my belief that public-private partnerships can enable more effective program development and delivery through the sharing of mutual experience.
As an example, through our "Africa Initiative" we are strengthening Microsoft's contributions to the Millennium Development Goals by engaging in high-impact public-private partnerships, utilizing Microsoft's core competencies in ICT to improve the effectiveness and efficiency of national institutions and their development partners.
We are working with Africa's main regional organizations, such as the African Development Bank, the African Union and the Economic Community of West African States, to foster the creation of regional, scalable technology solutions.
Broadly speaking, in recent years Africa's people have become much more digitally aware -- specifically decision makers within government -- and technology will be an important catalyst to help governments serve their citizens more effectively.
But turning that promise into a reality requires innovation that meets the unique security, reliability and regulatory needs of governments -- which, in turn, requires practical impact-focused partnerships underpinned by sound policy frameworks.
Only by addressing important policy areas such as intellectual property, piracy, bandwidth, interoperability, security and child safety will Africa be able to create a secure and sustainable technology infrastructure.
The benefits will continue to be felt. An enabling policy environment attracts higher levels of investors. Investors can then lend momentum to infrastructure projects, ensuring the right financial infrastructure model is in place to be able to effectively drive business capabilities.
In my opinion this is best supported and organized by regional programs rather than at an individual country level to accelerate growth.
Technology does not generate development alone.
--Dr. Cheick Modibo Diarra
As I mentioned previously, I strongly believe that technology does not generate development alone; it must be part of a mix of sound government policies, enhanced workforce skills and infrastructure investments.
Increasing connectivity or distributing computers and software will have limited impact on development without investment in Africa's most important resource -- its people.
The fuel that feeds every flourishing economy is jobs and business development, and expanding educational opportunities and digital literacy in communities is critical to broadening social and economic opportunity.
Without this holistic approach, access to technology will do little to alleviate Africa's challenges or improve the lives of underserved communities as they will not have the knowledge to harness the opportunities that ICT offers.
In most parts of Africa, relatively few computer users have the expertise to develop ICT products or provide critical IT services. A shortage of skilled workers in this field makes organizations reluctant to invest in ICT, thereby curtailing domestic demand and leaving fewer opportunities for local firms.
A chronic shortage of skilled technology workers impairs competitiveness, not only in the ICT sector -- potentially one of the fastest growing areas of the local economy -- but in many other more traditional sectors as well.
At Microsoft, we believe that high-level technology skills have a multiplier effect on employment: the more highly-qualified people there are, the more people with entry-level skills can be absorbed by the industry.
The great leap for Africa will come through the transformation of the small-and-medium-enterprise sector, by giving this vital growth engine long-term sustainability through the skills and capabilities of its entrepreneurs and employees.
With decades of corporate social responsibility experience working to improve education, eliminate poverty and increase workforce participation around the globe, we have come to realize that any sustainable improvement has to be led and owned by national institutions and societies.
Without a foundation of effective leadership, management, accountability and proper incentive, development objectives cannot be achieved in a sustainable way.
But if we work in partnership to provide the right infrastructures and the right opportunities then the citizens of Africa will do the rest.
FOLLOW THIS TOPIC