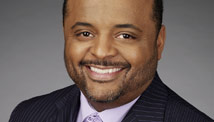 STORY HIGHLIGHTS
Roland Martin says Beck event had muddled agenda; progressive rally must focus
He says Oct. 2 rally planners outlined muddled agenda
MLK's March on Washington designed to press Congress, Kennedy for civil rights bill
Martin: Protesters must use rally to get Congress off dime on much-needed jobs bill
Editor's note: Roland S. Martin, a CNN political analyst, is a nationally syndicated columnist and author of "Listening to the Spirit Within: 50 Perspectives on Faith," and the new book, "The First: President Barack Obama's Road to the White House." He is a commentator for TV One Cable Network and host of a Sunday morning news show.
(CNN) -- Now that we are a week removed from the march on Washington organized by the self-proclaimed rodeo clown, Glenn Beck, it's clear that the event was nothing more than an exercise in ego worship.
It's still unclear if the event was about the troops, restoring the honor of America (whatever that is defined as), an effort to reclaim the civil rights movement (I'm still laughing at that one), or a tent revival intended to move Americans closer to God.
So many conflicting agendas and purposes, leaving nothing more than a headache.
Now that conservatives had their shot, October 2 represents an opportunity for progressives to come to the nation's capital and rally their faithful.
Four months ago, one of the major participants called to alert me about the event and its purpose. After listening to a litany of reasons for the march, as well as a list of the various participants, I had to be as blunt as possible: "What in the hell is the agenda? A 25-point plan?"
It's impossible to count the number of marches, rallies and calls to action that I've covered in my 18 years as a journalist. The ones that fail are the ones with too much on the agenda: Mass action needs to be focused or it will not translate into coherent legislative action.
It's not interesting at all to see folks who focus on meeting, talking and then dispersing. For me, it should be about meet, mobilize, act.
The Rev. Dr. Martin Luther King Jr.'s "I Have A Dream" speech is hailed as one of the all-time greats in the history of the world, yet without the subsequent Civil Rights Act of 1964 and Voting Rights Act of 1965, those words spoken at the March on Washington for Jobs and Freedom would have been just another speech.
The forces behind the March on Washington for Jobs and Freedom planned it as a way to pressure Congress and the Kennedy administration to pass a strong civil rights bill.
What folks seem to forget is that what happens on Saturday at the rally is immaterial. It's what happens on Monday, then Tuesday, then Wednesday, and so on, that really makes the difference.
So on Saturday, October 2, a number of progressive organizations will rally in Washington. Frankly, I'm uninterested in hearing from 40 different speakers talking about 40 different things. The centerpiece of the rally, which is essentially funded by labor organizations, should be to pressure Congress to get moving on a massive jobs bill that supporters say is designed to help small businesses.
The bill that is getting the most attention is the Local Jobs for America Act, which is sponsored by Rep. George Miller, D-Georgia, who is chairman of the House Education and Labor Committee. According to supporters, the bill will save or create nearly 700,000 public and private sector jobs over the next two years, including for teachers, firefighters and police officers.
President Barack Obama has constantly chided top Republicans for blocking the bill from moving forward, saying it will provide money for small businesses to borrow, and extend tax credits for them.
"It is paid for," the president said Friday. "It will not add one dime to our deficit."
His push for the bill came on the same day the Department of Labor said the unemployment rate rose to 9.6 percent, with the loss of 54,000 jobs, largely due to seasonal Census jobs ending. The private sector added 67,000 jobs last month.
On Wednesday, I talked to Republican National Committee Chairman Michael Steele on the Tom Joyner Morning Show, and he said the jobs bill will only be a further burden to small businesses.
"I agree it sounds great on the top headline of a newspaper, but the reality of it is: Look at the bill and does it do for small businesses what small businesses need to have done," Steele said.
"How much credit and capital is it making accessible to them?" Steele asked and questioned the regulatory burdens small businesses will have to face, namely with health care.
Those are legitimate questions that deserve a hearing. But preventing even a real discussion from moving forward makes no sense. If Republicans and Democrats both say they want the economy to grow and prosper, then put all of your cards on the table and let's see what you've got. Saying no isn't a plan of action.
Progressives are standing around and spending precious time complaining about the Tea Party and how they are mobilizing their people. Well, shut up and get to work. And you can do that by helping America get back to work. The last thing we need is another march for the sake of marching. Instead, we need to see folks plan marches that have a real benefit other than to give them face-time on camera.
With our economy still sluggish, we need folks on both sides of the aisle focused on growing our economy and making it healthy.
Over the next month, let's see what progressives have planned for October 2.
But I'll go ahead and say it right now: If there is no plan of action to mobilize supporters of the event to put maximum pressure on Congress to pass a much-needed jobs bill, then they are wasting their time. And yours.
The opinions expressed in this commentary are solely those of Roland Martin.
FOLLOW THIS TOPIC