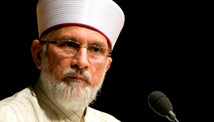 STORY HIGHLIGHTS
Dr. Muhammad Tahir-ul-Qadri welcomes move to cancel plan to burn copies of Quran

He says plan was a threat to peace efforts worldwide and would have left legacy lasting years

It would have fanned flames in war zones and in Western nations with Muslim populations
Dr. Muhammad Tahir-ul-Qadri, is a professor of international law and a prominent authority on Islam. He has authored more than 400 published works, including a translation of the Quran and "Fatwa on Terrorism" which dismantles terrorist ideology. He is also founding leader of Minhaj-ul-Quran International which promotes religious moderation, human rights and welfare.
(CNN) -- The 'Burn the Quran Day' planned -- and now apparently canceled -- by a small U.S. church sparked outrage worldwide.
Such an event would not only have hurt the feelings of 1.5 billion Muslims but also of billions of peace-loving people belonging to different religions and cultures of the world.
Such an act is deeply offensive and would have increased divisions and hatred. It could only have been helpful for the cause of extremists, to provide them grounds to exploit the situation to validate their philosophy of hatred. It would have enabled them to recruit vulnerable youth and fuel the growing wave of home-grown radicalization in the U.S. and abroad.
If this event had gone ahead it would not be less than 9/11 in the sense of far-reaching consequences and after-effects. It risked religious clashes and riots. It would have impacted badly upon peacemaking efforts worldwide, the culture of dialogue, and the processes of cohesion and integration between different religions and communities.
Any step that creates a rift between societies, becomes a cause of division between societies, and is damaging for societal cohesion, no matter where it is from and who is committing it, should not be allowed.
A handful of individuals, it does not matter whether they are related to mosque or church, cannot be given the right to flippantly play about with peaceful co-existence, and their so-called sentiments cannot be preferred over global peace.
After the efforts of generations, humanity has come to a point where peaceful coexistence has become a universally agreed principle, and we should not allow any individuals, no matter what their religion is, to push the world back to the path of religious crusading.

Video: Obama: Quran burning a destructive act

Video: Act would promote violence

Video: Chopra responds to controversy
If we had allowed 'Burn the Quran Day' to happen in our time, it would have left a most terrible legacy for generations to come. The announcement to stop this event is welcomed and a positive step.
Such actions in the U.S. should be stopped by the U.S. government at any cost; allowing it does not fall within the constitutionally protected scope of freedom of expression and it is also against the concept of basic human rights.
Denial of the Holocaust is regarded as a crime in many countries and there is an agreement between many nations that such a ban is not against freedom of speech and freedom of expression because it infringes the sentiments of a religious community.
On the same grounds, any act of an individual or group which is detrimental to world peace and hurts the feelings of 1.5 billion Muslim should be stopped at any cost.
Similarly, in the U.S. and in many other countries, hate speeches are banned and such a ban is never considered as against the principle of freedom of expression. It is time to ensure that freedom of speech does not transgress the boundaries of hate, crime and incitement.
The burning of the Quran can never be justified due to the criminal actions of some individuals who misuse the name of Islam and wrongly quote the Quran.
Similarly any controversial action or demand of any group of Muslims cannot legitimize the fierce action of the burning of the Quran, a sacred book. No true Muslim of the world can even think of any blasphemous act against the Bible.
According to a tradition of Abu-Dawud, once the Prophet Muhammad, peace be upon him, went to settle a dispute within a Jewish tribe and a special mat was set for the Prophet to sit upon, but when the book of Torah was brought by the people, the Prophet Muhammad, peace be upon him, stood up in respect of the Torah and placed the book on the mat which was placed for him and he himself sat on the ground.
The global efforts of eliminating terrorism in Afghanistan and Iraq are still incomplete. Pakistan is also facing a wave of terrorism, probably the worst in its history. Many western countries, including the UK and the US, are facing the threats of home-grown terrorism. In such global circumstances the act of burning the Quran would only fan the flames of this fire in those countries and other places and could also help the extremists and terrorist groups to win sympathy and support.
Muslim nations and governments around the globe are becoming united against extremism and terrorism. Many organization and leaders have been working on this front for decades.
For the last 30 years, Minhaj-ul-Quran International has been working for the restoration of peace at a global level and for cohesion between societies and interfaith harmony.
The "Fatwa on Terrorism" I pronounced earlier this year, has laid down the gauntlet to de-radicalize Muslim youth the world over, but I fear that this one step of burning the Quran would have not only neutralized the effect of this fatwa and other anti-extremism efforts by countries and leaders, but also have taken us back many years in our struggle against extremism and terrorism.
FOLLOW THIS TOPIC