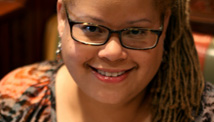 STORY HIGHLIGHTS
Pam Spaulding asks did Rutger's student Clementi kill himself in humiliation over videos?
She says many LGBT kids harassed
She says parents and other adults must be accountable for tolerating anti-gay behavior
Spaulding: As with Shirvell case in Michigan, even adults can bully, send wrong message
Editor's note: Pam Spaulding is the founder of the political blog PamsHouseBlend.com. She was named one of Huffington Post's Ultimate Game Changers in Politics, received the Women's Media Center Award for Online Journalism, and was named one of the OUT 100 for 2009. This year Spaulding also landed on Politics Daily's Top 25 Progressive Twitterers list, as well as ranking in the Top 50 Women's Blogs by The Access Blog Influence Engine.
Durham, North Carolina (CNN) -- What made Rutgers University freshman Tyler Clementi jump off of a bridge to his death?
Was it to escape utter panic and humiliation after his roommate, Dharun Ravi, 18, allegedly set up spy cameras in his dorm room, went to fellow freshman Molly Wei's room and fired up the livestream recording of Clementi making out with another young man, as the Middlesex County prosecutor has charged?
The video was distributed over the social networking site Twitter. A life destroyed after a "prank" that seemed to be seething with homophobia.
Tyler Clementi's story may be high-profile because of the circumstances of the alleged bullying, but the fate of this young man is not a solitary incident. This parents' nightmare is repeated around the country as our society grapples with Lesbian, Gay, Bisexual, Transgender (LGBT) youth coming out at earlier ages -- and being visible from grade school to college.
While they may find acceptance by loving parents and be encouraged by a culture increasingly embracing their identity, these young people find that "being themselves" is not always well-received by an important slice of their world -- school administrators, children who bully, and even teachers who subscribe to the "toughen up" philosophy. This world has not caught up, even as anti-bullying policies are being passed across the country.

Video: Student suicide after sex video

Video: Privacy invasion lead to death?

Video: Expert: Suicide linked to spying

Video: The internet and cyber bullying
In the coverage of this incident, I have seen discussion about the legal angles of prosecution, the psychological impact of the alleged heinous violation of privacy, but not enough about the festering social ill that brought us here. Who creates the bully? Who is accountable?
These behaviors start young, and whether they're manifested in homophobia, as they seem to be in this case, or in teasing others because of their faith, clothing, race or weight, we need to ask: Where do the parents and other influential adults in these bullies' lives fit in?
It's cold, this learned anti-social attitude towards being different and it has a striking impact on university campuses. Campus Pride, a nonprofit organization that engages student leaders and campus organizations to create safer, more LGBT-friendly colleges and universities, reissued its national report of findings on harassment at campuses, in light of Tyler Clementi's suicide.
It makes your heart sink:
-- Twenty-three percent of staff, faculty, and students who identified as lesbian, gay, bisexual or questioning (LGBQ) were more likely to experience harassment (defined as any conduct that interfered with the ability to work or learn) compared to heterosexuals. Eighty-three percent identified sexual identity as the basis of the harassment.
-- Thirty-nine percent of transgender students, faculty and staff experienced harassment, with 87 percent identifying their gender identity/expression as the basis for the harassment. The form of the harassment experienced by transgender people was more overt and blatant, according to the report.
-- Thirty-three percent of LGBQ and 38 percent of transgender students, faculty and staff have seriously considered leaving their institution due to the challenging climate.
-- Forty-three percent of LGBQ and 63 percent of transgender faculty, students and staff hide their sexual identity.
-- Forty-three percent of all transgender students, faculty and staff and 13 percent of LGBQ respondents feared for their physical safety. This finding was more pronounced for LGBQ students and for LGBQ and/or transgender people of color.
To be sure, we have seen much progress in the social acceptance of LGBT young people. There are many campus organizations and safe spaces to gather and share stories about being out, coming out, or pressure to stay in the closet.
Off-campus, young people can find support at places such as The Trevor Project which is national 24-hour, toll free confidential suicide hotline for gay and questioning youth.
But there is still a great disconnect between the fair-minded civic impulses of our society that lead to hate-crime prosecutions and the homophobic conversations that still go on in homes, behind closed doors, and among cruel adolescents jockeying for social position with no care for the pain it inflicts.
Our society must discuss how the bully persona emerges in individuals -- young people who can do tremendous damage without even seeing themselves as bullies -- and this needs to happen out in the open.
The media can play an important role. It can continue to call out, for example, things like the unhinged behavior of adult cyberbully Andrew Shirvell, the Michigan assistant attorney general, who is on a one-man homophobic mission to berate Chris Armstrong, the student body president at the University of Michigan.
Shirvell, on the public payroll in a job that is supposed to represent all of the people of Michigan, maintains a blog solely devoted to his obsession with Armstrong. Here he calls him a "RADICAL HOMOSEXUAL ACTIVIST, RACIST, ELITIST, & LIAR," and has posted swastikas on images of Armstrongs's face. And that is bad enough, but this bully has camped outside of Armstrong's home, crossing the line from obsession into action.
Meanwhile, the person who must determine whether Shirvell's behavior is unbecoming of the office, Michigan Attorney General Mike Cox, cites Shirvell's First Amendment rights, insensible to the fact that this public employee and his unacceptable views affect the trust the public has in his office. What message does this send?
The troubling moral and legal dilemmas behind these views -- in words and actions -- are little different than what we see happening in schools where bullying is a problem. We must, as a society, continue to expose and denounce such behavior.
The buck should be stopping with Mike Cox, just as the buck must stop at the desk of school administrators and parents responsible for a safe learning and social environment for all children.
As long as "moral" objections to "difference" continue to be carefully taught and tolerated, we will continue hearing about more Tyler Clementi's giving up hope in humanity and Chris Armstrong's looking over their real-world and virtual shoulders for a bully.
The opinions expressed in this commentary are solely those of Pam Spaulding.
FOLLOW THIS TOPIC