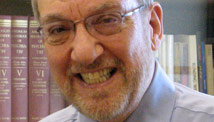 STORY HIGHLIGHTS
Psychiatrist Michael Blumenfield says Chilean miners face psychological fallout from ordeal
But situation helped by mental, physical care from surface, expectation of rescue, he says
Stress symptoms could include fears, jumpiness, claustrophobia, family problems
Blumenfield: Miners may be especially resilient after rescue, but they will be changed men
Editor's note: Michael Blumenfield is the Sidney E. Frank distinguished professor emeritus of psychiatry and behavioral sciences at New York Medical College. He is the co-editor of the book "Intervention and Resilience After Mass Trauma." He lives and practices psychiatry in Woodland Hills, California, from where he writes the blog PsychiatryTalk.com.
(CNN) -- It is only human nature to be concerned about the psychological welfare of the 33 miners who are expected to emerge from their prolonged stay underground.
Those of us who work in the specialty of mental health, especially as it applies to disasters and post-traumatic stress, have pondered the possibilities: We know what can happen to survivors of individual and mass traumatic events.
The experience will change the miners' lives forever.
But more than others who have been in similar situations, they have been fortunate to have communication with the surface, to receive care -- however limited -- for their bodies and minds, and this should make their re-entry far less painful than it would have been in a situation of total isolation. They have had reason to hope for rescue and encouragement at every step.
Still, they could well experience symptoms of post-traumatic stress, such as nightmares and flashbacks of being trapped in tight spaces with the possibility that they would never escape. There could be reoccurrences of the thoughts and feelings they had had at the moment the mine collapsed, when they realized that they could be facing immediate death.
The miners may find that despite their freedom after being rescued, they have become claustrophobic and fear and avoid any type of closed spaces. Their nervous systems may be reset in a manner that makes them jumpy and high-strung.

Video: Psychological concerns for miners

Video: Rescued miner very thankful

Video: Chilean president gives thanks

Video: Family friend: 'Just perfect'
They could have significant problems sleeping, as their biological clocks may be quite altered. It is possible that the radical changes in nutrition and their diminished hydration have affected their medical health, which could also effect their mental health. It has been suggested that they could be susceptible to kidney disease, which could lead to sluggishness and an inability to concentrate, as well as the other serious effects of such a medical condition.
And they may be preoccupied well after their rescue with interpersonal conflicts that festered in close proximity.
Then there is the issue of re-establishing relationships with family, friends and co-workers, which were abruptly suspended. After their experience, the miners may have expectations for understanding that spouses, lovers, children and others will not meet. Similarly, those awaiting the rescue on the outside may be disappointed if the miners do not respond to their attentions as they anticipated.
Those miners who may have had a problem or a tendency to use alcohol and drugs may turn to these substances to try to relieve anxiety and other feeling which they have upon being rescued. This could easily spiral out of control, leading to serious problems.
These are just the possibilities.
But having said all this, I believe that the majority, if not all, of the rescued miners will do very well psychologically.
Why? Although there are many post-traumatic problems among those who have suffered individual and mass trauma, most people show resiliency and get through these events without long-lasting psychological damage. The miners may have an extra advantage here: The factors that appear to contribute to enduring psychological issues either were not present in the San Jose mine or seemed to have been short-lived.
For example, no one died, nor were any of the miners seriously injured. Although there may have been initial moments where they feared for their lives, this appeared to recede once they found the safe area in the mine.
They also understood that a rescue effort was under way and was expected to be successful. Just as important, they had communication (which included video and audio) with their families. In fact, they knew that their entire country and people around the world were following their ordeal and were rooting for them. Although such enormous expectations can sometimes create pressure on a person, in this case, there were no actions the miners had to perform. Rather, they could just appreciate the support that they had from other people
It has been reported that while they were trapped, they also had access to mental health counselors via their communication channel and could be given tranquilizers or other psychotropic medication if needed, along with other medical supplies. They were given miniaturized video players as well as games to divert and exercise their minds during their confinement.
It's also likely that in the aftermath, when they are out of the mine, they and their families will meet with sensitive and knowledgeable counselors who will address any symptoms they may have. These professionals will be alert for potential substance abuse problems, as well.
In any case, the miners will be changed men. People who have had a brush with death often are able to re-evaluate their life trajectory and make positive decisions for themselves that they might not otherwise have done.
While the miners were trapped below the ground, a Uruguayan rugby player who survived more than two months of isolation in the Andes with 15 others after a 1971 plane crash brought a message of hope for them. This survivor, Jose Luis Inciarte, said, "They are in the process of discovering the joy of being alive and the will to survive."
I hope that this message and the good wishes for the miners from people around the world will allow them to triumph over this traumatic experience.
The opinions expressed in this commentary are solely those of Michael Blumenfield.
FOLLOW THIS TOPIC