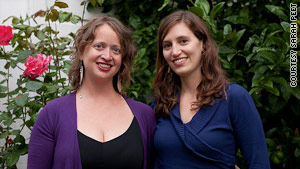 Brianna Cayo Cotter, left, and Orli Cotel founded Swap for Good.
STORY HIGHLIGHTS
Authors say requests for help from domestic violence victims up as funds for services cut
Shelters that allow partners and children to escape violence are closing, they write
States must follow California's lead and restore lost funding, they say
Authors started "Swap for Good" to raise money to keep shelters open
Editor's note: Orli Cotel and Brianna Cayo Cotter are co-founders of Swap for Good, a national grassroots project encouraging people to host clothing swaps as a way to raise money for domestic violence shelters.

San Francisco, California (CNN) -- When Sandy Smith's newborn son began showing signs of failure to thrive, her pediatrician started asking questions about what was going on at home.
It was the first time Sandy told anyone about the abuse that she suffered at the hands of her partner.
"Even when I am holding the baby, he screams and yells and threatens me," she said, weeping.
The doctor explained her child was probably responding to the abuse in the home -- her baby did not cry, he was nearly silent, and he was losing weight when he should have been growing his fastest. Realizing her child's life was in danger, Sandy escaped to a local domestic violence shelter.
After three weeks of a safe, stable, supportive environment, her son began to gain weight and cry as babies are supposed to do. It was not only a relief to his mom, it was pure joy.
The shelter that helped save Sandy (not her real name) and her son did not fare as well as they did. Faced with a precipitous decline in funding, it was forced to close its doors.
The shelter that helped save Sandy and her son did not fare as well as they did.
--Brianna Cayo Cotter and Orli Cotel
The economic crisis has profoundly affected people who suffer from domestic violence and the shelters and programs that help them. Requests for help have gone up as funding has plummeted.
According to the National Network to End Domestic Violence, in just one day -- September 15, 2009 --more than 35,000 U.S. domestic violence victims found refuge in the life-saving programs of emergency shelters or transitional housing.
More than 9,000 requests for help -- about 5,500 of them for housing -- had to be turned down, largely because of a lack of funding.
An official with the National Network says the demand for services has increased because an economic crisis can cause an increase in the number and severity of beatings or other abuse.
The media have largely ignored this issue as state budgets for these programs are being slashed around the country.
Rhode Island shelters lost 60 percent of their funding, and New York had over half of the state's funding for nonresidential services cut. Shelters provide a large array of services besides actual housing, such as legal counseling, child care and psychological counseling. These programs suffer.
In California, when the Domestic Violence Program's funding was entirely cut last year, six California shelters closed within the first six weeks, including the Northern California safe house that Sandy and her son turned to when they needed to escape.
Grassroots efforts are popping up around the country to help the shelters that need it most. As the founders of a new nonprofit fundraising project called Swap for Good, we've been inspired by the outpouring of support from women and men around the country who are signing up to help in a simple way.
You can invite friends over for a clothing or book swap, and ask them to take the money they've saved on shopping and give it to cash-strapped local shelters.
College students, mothers and even businesses are hosting swap events to raise awareness and critical funds for these shelters. These events do a lot to help shelters keep their doors open.
As people step up to the plate to make a difference, it only highlights the need for our state governments to do their part as well.
Recently in California, Gov. Arnold Schwarzenegger announced he would sign legislation to restore the $20 million that had been cut for these services from the state budget. Credit goes to the tireless advocacy of the California Partnership to End Domestic Violence and the thousands of people across the state who spoke up to say that the state should fund these critical programs.
It's time for other states to take California's lead. If California can find the money even as it suffers an budgetary crisis, other states should follow suit.
When a woman like Sandy finds the courage to escape an abusive relationship, seeking to build a new life in which she and her child can break the cycle of violence, we have the moral responsibility to make sure she has the chance to do so.
The opinions expressed in this commentary are solely those of Brianna Cayo Cotter and Orli Cotel.
FOLLOW THIS TOPIC