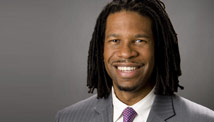 STORY HIGHLIGHTS
Boy Scouts remove gay father from leadership, reject Mormon couple as leaders
LZ Granderson: Discrimination is everywhere, from a golf club to a gay athletic group
As a private group, Boy Scouts has right to bar anyone, he says, despite claims of diversity
To join a group that discriminates, you are tacitly agreeing to it, he writes
Editor's note: LZ Granderson is a senior writer and columnist for ESPN The Magazine and ESPN.com and has contributed to ESPN's Sports Center, Outside the Lines and First Take. He is a 2010 nominee and the 2009 winner of the Gay and Lesbian Alliance Against Defamation award for online journalism and a 2010 and 2008 honoree of the National Lesbian and Gay Journalists Association for column writing.
Grand Rapids, Michigan (CNN) -- For an organization that describes itself on its website as being "truly a melting pot," with membership that comes "from all walks of life," the Boy Scouts of America sure is picky.
This week alone, the nonprofit organization has been criticized for removing a father from leadership in Texas because he is gay and rejecting a couple's application for leadership in North Carolina because they are Mormons.
I couldn't help but chuckle after reading the two headlines. The Mormon church has spent millions to support measures that discriminate against gay people in the name of God -- and here is a Mormon couple being booted out of a thinly veiled Christian organization accusing them of having a different god. I would call it karma, but that would only introduce a third god and I think the conversation is confusing enough.
Besides, it's not as if discrimination in this country is all religion-based.
Despite the best efforts of Martha Burke, Augusta National golf club -- home of the Masters -- still has not allowed a single woman to join its club. The North American Gay Amateur Athletic Alliance has a cap on the number of heterosexuals allowed to play on a softball team. When an all-white sorority won a national step show competition earlier this year -- step shows' roots are in historically black fraternities and sororities -- some black people made such a fuss, the sponsors opted to split the first-place title with an all black group under the guise of a scoring discrepancy.
We shall overcome ... unless there's a trophy. Then all bets are off, I guess.
Just as Merton suggested, if a person knows discrimination is wrong then it is up to that person to live in that truth.
--LZ Granderson
As a gay father of a teenage boy, my heart does indeed go out to John Langbert, the man who was removed from leadership for no other reason than being gay.
But I encourage everyone -- regardless of their opinion on the recent actions by the Boys Scouts -- to look beyond the topics of sexual orientation or religion and instead consider the words of Trappist monk Thomas Merton: "Unless we live what we know, we do not even know it." Within the meaning of that sentence lies a better gauge as to how much we value diversity, tolerance and this melting pot that is America.
As upsetting as the Scouts' discrimination may be, it is legal. Ten years ago, the Supreme Court, in its 5-4 decision in Boy Scouts of America v James Dale, ruled that admission into private clubs is protected under the umbrella of free expression and free association stated in the First Amendment. Theoretically, such a ruling also allows Augusta to keep women out and NAGAA to limit the number of straight softball players.
But if a group truly believes in the melting pot -- and not just saying so on its website -- then the Supreme Court's ruling in the Dale case also reiterates a private club's right to not discriminate based upon sexual orientation, religion, gender, race, etc.
More importantly, it also reiterates our rights as individual Americans to live a life of acceptance and tolerance. Just as Merton suggested, if a person knows discrimination is wrong, then it is up to that person to live in that truth. Obviously, discrimination exists in public policies in forums we cannot avoid in everyday life.
But if someone willingly joins a private club that discriminates against a particular segment of the population, then each time that person pays dues or attends a meeting, he or she is indirectly expressing agreement with the discriminatory policy. So, for example, a lot of gay softball players seem to have no problem with discriminating against people for no other reason than their sexual orientation.
Or in my earlier example, a lot of black people seem to believe stepping contests should be judged by the color of the contestants' skin and not their talent.
The Boy Scouts of America has every right to let whomever it wants into its private club. My question is: Do all of the parents and guardians of the 4 million youths who are Scouts believe it's OK to kick people out because they don't worship in the same way they do? And if so, how does that opinion coexist with the statement on the website that Scouts come from "all types of family units, faiths and racial and ethnic groups"?
Maybe the group should consider a name change, from Boy Scouts of America to Boy Scouts in America.
To be "in" America means it -- or any other private group -- has the right to discriminate. But those of us who are truly "of" America understand that there is no America if we do.
The opinions expressed in this commentary are solely those of LZ Granderson.
FOLLOW THIS TOPIC