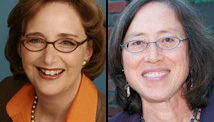 Sara K. Gould, left, and Susan Wefald
STORY HIGHLIGHTS
Susan Wefald and Sara Gould say it's a record year for women in races for Congress, governor
Even so, they say, women voters report in polls that they're not enthused about voting
They say in bad times, women are too busy working, put off by races offering no solutions
Writers: It's crucial women vote, with issues involving families, health care, jobs at stake
Editor's note: Susan Wefald is the executive vice president, and Sara K. Gould is the president of the nonprofit Ms. Foundation for Women.
(CNN) -- It's been a record year for women in politics. In 2010, 36 women -- more than ever before in our nation's history -- filed to run for U.S. Senate. Fourteen of them have won their primaries -- another record.
Historic gains also have been made on the House side, with 262 women filing this year to run for a congressional seat -- 40 more than in 1992, the so-called "Year of the Woman," when major records were set for women's participation in political races nationwide.
It doesn't stop there. According to the Center for American Women in Politics at Rutgers University, 10 women in eight states have been chosen as their party's nominee for governor, tying a previous record. And whatever happens in Oklahoma and New Mexico on November 2, they'll be swearing in a woman as the new governor come January since both major parties nominated a female to run for the open seat.
With so many women candidates declaring their readiness and excitement to lead on a national stage, it's tempting to assume that women voters might be feeling similarly energized. But recent polling indicates that something quite different is happening.
In reaching out for the opinions of likely voters, CNN/Opinion Research Corp. found that 23 percent of women polled described themselves as "extremely enthusiastic" about voting in the upcoming elections, compared with 38 percent of men. This apparent lack of "enthusiasm" among women voters has been echoed in other national surveys as well, including a poll last month by The New York Times and CBS News.
So why are women registering lower levels of excitement about the midterm elections?

Video: Women just aren't that into it
First there's the economy: Unemployment rates are going nowhere and governmental benefits seem perpetually on the brink of being axed. Women are increasingly finding themselves both overburdened (two-thirds of U.S. families now rely on a woman's earnings to survive) and out of work (the unemployment rate for single mothers has more than doubled since 2007 and is at its highest in 25 years).
And their growing despondency over the economic situation -- at home and at large -- may be dampening any desire to race to the ballot box.
Then there's the current state of American political affairs, with its take-no-prisoners, race-to-the-bottom mentality. With so many fires to put out in their own backyards, women -- and many men -- may finally have had enough of the adversarial, sometimes violent, rhetoric that our political contests have lately taken on.
Click here for more opinion on timely topics
In too many states, these midterm elections have devolved into little more than headline-grabbing "character wars." Instead of providing opportunities to talk about the policies we need to pull our nation out of its dismal state, campaigns and the media have frustratingly focused attention on tales of witchcraft and fluoride-fears, on purported marital infidelities and religious bona fides.
In a context in which 13.9 percent of women are now officially living in poverty (the highest rate in 15 years) and facing long-term unemployment, it's not surprising that women lack enthusiasm for voting. What's missing, for most women, are the political narratives about the things that matter to them: good jobs, clean air, health care and what it will really take to rebuild our national economy.
What our decades of work with thousands of grass-roots leaders across America have taught us is that women are impressed by solutions, not sound and fury. They want leaders who understand and take seriously the challenges that families of all shapes and sizes now face in trying to put food on the table; leaders who have a plan, for example, for ensuring that quality, affordable child care and health care are available to all who need it.
But however unenthused women may feel about these upcoming elections, from where we stand their participation is desperately needed.
As one of our grantees, the National Women's Law Center, recently pointed out, over the next few months Congress will make landmark decisions about "whether to extend unemployment insurance benefits, whether to repeal new provisions making it illegal for insurance companies to deny coverage for people with pre-existing conditions, and whether to invest in families struggling to make ends meet." Women's votes have the power to influence how those decisions get made.
With so much about the future of our nation at stake this Election Day, women must show up at the polls and make their voices heard -- because when we do, we advance a vision of America where equality and justice are more than just catchphrases. The rhetoric of this political season may not be what we want or like, but times are simply too tough for millions of women to sit this one out.
The opinions expressed in this commentary are solely those of Sara K. Gould and Susan Wefald.
FOLLOW THIS TOPIC