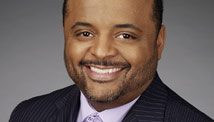 STORY HIGHLIGHTS
Rep. Kendrick Meek first candidate to declare candidacy for U.S. Senate in Florida
Some Dems, including President Bill Clinton, want him to withdraw
Some say if he withdraws, independent Charlie Crist would beat GOP candidate
Roland Martin says Dems should have been more forceful in support of Meek
Editor's note: Roland S. Martin is a syndicated columnist and author of "The First: President Barack Obama's Road to the White House." He is a commentator for TV One Cable network and host of a Sunday morning news show.
(CNN) -- So let me get this straight: Rep. Kendrick Meek was the first candidate to declare that he would run for the U.S. Senate in Florida, faced down a billionaire to win the Democratic nomination -- and with polls showing him third in a three-way race, it's now his fault that Republican Marco Rubio may win?
Really? Are you serious? The Democrats' Florida debacle became front page news this week when it was reported that former President Bill Clinton approached Meek about dropping out of the race in order to throw his support to Gov. Charlie Crist, a former Republican who is running as an independent for the seat.
Crist was losing badly in the polls to Rubio, and opted not to face him in the Republican primary, choosing instead to do battle as an independent in the general election. It has always been Crist's plan to win the Senate race by siphoning off Democratic voters, picking up some Republican votes, and appealing to independents. But he has been unable to overtake Rubio in the polls, and clearly saw his best shot at victory was if Meek dropped out.
I was told by a senior Democratic official Thursday night that Clinton believed he had secured Meek's word that he wouldn't run on two occasions, and had already chartered a plane to fly to Florida and appear at a unity rally with Meek and Crist. Conventional Democratic wisdom says Meek would look like the bigger man if he put aside his personal ambition and took a bullet for the party by backing Crist and keeping the seat out of Republican Rubio's hands.
Except there is one problem: Crist is a Republican!

Video: He said, he said

Video: Crist: 'I am a public school kid'

Video: Rubio: 'Backdoor politics'

Video: Midterm elections a day away
Yes, he has flipped positions more than the chief cook at IHOP, but he reportedly promised to caucus with the Democrats, and that was manna from heaven for a party facing the prospect of losing big in the House and the Senate. For Democratic Party officials, who cares if Meek's voting record has been solidly behind the agenda of President Obama -- he must be the sacrificial lamb in order for them to hold onto the Senate.
But the reality is that the party, and the White House, has not gotten behind Meek in a huge way. Early on, senior Democrats were mumbling that he wasn't an exciting candidate and didn't have what it took to win.
Some of them were privately hoping that billionaire Jeff Greene, who had made a fortune betting against the housing market, would beat Meek so they could openly support Crist. Meek advisers have constantly been at odds with Democrats, complaining that the White House was reluctant to send surrogates to Florida to back his campaign, and that even President Obama has been lukewarm in his support, offering no effusive praise of him in rallies and conference calls, preferring to lavish more praise and attention on Alex Sink, the Democratic nominee for governor in Florida.
The backroom deals were so pervasive that the state's teachers union offered a co-endorsement following Crist vetoing a major bill they opposed. That stunned Meek and his supporters because he has been a major education backer, even sponsoring the bill in the Florida legislature that limited classroom size.
So, in steps Clinton, a close friend of Meek who has campaigned for him numerous times in Florida. I was told that Clinton was angered by Meek going against his word, and opted to confirm the story of his involvement in the hope that voters will see a Meek victory as unlikely and switch to Crist.
But with Meek fighting back, shutting down any attempt to characterize him as a quitter, the Democratic Party looks like the Keystone Kops, unable to get their story straight and offering up conflicting accounts of what happened. The Democratic Party appears unwilling to back one of their own who ran for the seat, won the nomination and is trying to win the general election.
If Democrats thought he wasn't strong, they should have recruited someone else. The result is that backroom deals almost deprived voters of the right to choose their own representative -- all because national Democrats were weak about Meek.
The opinions expressed in this commentary are solely those of Roland S. Martin.
FOLLOW THIS TOPIC