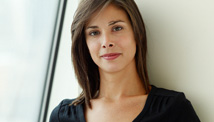 STORY HIGHLIGHTS
Rachel Botsman: Car companies on cusp of collaborative approach to consumption
Economy emerging where shared access will replace ownership, she writes
Botsman cites methods that challenge the norm: Zipcar, car-sharing, social lending
Society reverting to shared, healthier, more environmentally safe consumption, she says
Editor's note: Rachel Botsman is co-author of "What's Mine Is Yours: The Rise of Collaborative Consumption" (Harper Business). She is a social innovator who consults, writes, and speaks on the power of collaboration and sharing through current and emerging technologies.
(CNN) -- Bill Ford, automobile giant Ford's executive chairman, admitted to CNN in 2009 that the "future of transportation will be a blend of things like Zipcar, public transportation, and private car ownership."
He said he didn't fear that future, but instead, saw it as an opportunity to "participate in the changing nature of car ownership."
Since Ford made this statement, car-sharing membership in the United States has grown by 51.5 percent and Zipcar's revenue is growing at a rate of around 30 percent per year. Tellingly, traditional car rental companies, including U-Haul (UCarShare) and Hertz (Connect), have introduced their own car-sharing platforms alongside traditional automobile manufacturers such as Daimler.
Peugeot has taken the idea of revolutionizing personal transportation one step further with the recent introduction of Mu in Europe -- "a credit-card mobility system for the modern era." Your Mu membership gives you choice of a vehicle (so long as it's a Peugeot), but also offers access to a scooter, a bicycle, a child seat, a roof rack, or a van.
Automobile makers are reinventing the way they do business because the so-called Gen Y'ers have been redefining the conversation about how we get around. Gen Y'ers are the foot soldiers in the shift to seeing access to cars as a privilege, and ownership, with all its costs, as a burden. At 80 million strong, they represent not just the largest generation in U.S. history, but a massive market opportunity for existing automobile and traditional rental companies and emerging companies. Outfits like RelayRides and Spride enable peer-to-peer car sharing of their own vehicles and understand the evolution in our economy toward a collaborative approach to consumption.
Emerging start-ups, from B-Cycle to Airbnb to SolarCity, are embracing an emerging culture and economy where experiences are valued more than stuff; where usage trumps possessions, and as Kevin Kelly, the founder of Wired magazine, puts it, where "access is better than ownership."
In "What's Mine is Yours: The Rise of Collaborative Consumption," a book I co-wrote with entrepreneur Roo Rogers, we argue that such companies exemplify a shift away from a 20th century defined by hyper-consumption, toward a 21st century defined by "collaborative consumption."
The automobile industry is just one sector where the shift in the way consumers think about fulfilling our needs is causing a profound evolution in business strategy. The convergence of social networks that make access more convenient and facilitate trust between strangers, as well as pressing environmental concerns and cost consciousness, are shifting us away from the outdated forms of consumerism. Instead these trends are moving us toward sharing and cooperation enabled by social technologies of a myriad of assets such as gardens, offices and homes to money.
A study conducted by Mintel at the end of September 2008 showed that only 16 percent of adults trusted traditional big banks. Elsewhere in the financial world, an emerging sector called "social lending," led by the likes of Zopa and Lending Club, was experiencing extraordinary growth.
Social lending is like eBay for banking; it provides for a network of lenders and borrowers who can directly connect "peer-to-peer." By cutting the traditional banks out of the lending loop completely, social lending can give peer-to-peer lenders a significantly better rate of return. In 2010, the average rate of return for lenders was 8.2 percent and borrowers' interest rates were on average 20 percent lower than traditional banks.
Significantly, for lenders, the default rate on social lending platforms is remarkably low, at about 0.7 percent. The average default rate on credit cards in mid-2009 was more than 10 percent. The explanation for these remarkable statistics is that the common motivation for both investors and borrowers is that they feel taken care of in social lending rather than taken advantage of. With no big bank and associated middlemen, money becomes human again. New members repeatedly tell Giles Andrews, the CEO of Zopa, that "I trust you more than a big bank."
If we look back in history, a major financial crisis often marks the beginning of a paradigm shift and the start of new innovation cycles. As Picasso once said, "Every act of creation is first an act of destruction."
The importance of these cycles of innovation is that they represent the most important source of new jobs. A recent study by the Kauffman Foundation revealed that without startups, there would be no net job growth in the U.S economy. "On average and for all but seven years between 1977 and 2005, existing firms are net job destroyers, losing 1 million jobs net combined per year. By contrast, in their first year, new firms add an average of 3 million jobs."
At the same time, financial crises have invariably provided companies with the stimulus to develop ideas that leapfrog existing ways of doing business- -- ideas that keep such companies ascendant until the next paradigm shift. The economic and environmental crises we are experiencing have triggered a shift that presents just such an opportunity.
True, new ideas such as car sharing and social lending challenge conventional models, but history teaches that these emerging ideas should be embraced.
If the 20th century was about credit, advertising, and individual ownership, the 21st century will become defined by reputation, community, and shared access. The businesses that get ahead will embrace these new dynamics and help fuel a momentous turning point in our history where we recalibrated the relationship between the needs of individuals, companies, and future populations by reverting to a more collaborative and healthier approach to consumption and the way we live.
The opinions in this commentary are solely those of Rachel Botsman.
FOLLOW THIS TOPIC