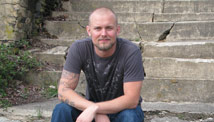 STORY HIGHLIGHTS
More children die from unclean drinking water than from wars in the world, Doc Hendley says
Hendley started nonprofit group Wine To Water to help fight water crisis
He says 85,000 Afghan children lost their lives last year due to unclean drinking water
Hendley: In Haiti, 1 million people are exposed to waterborne diseases
Editor's note: Doc Hendley, a 2009 CNN Top 10 Hero, is the founder and president of Wine To Water, a nonprofit group.
(CNN) -- Humanity is facing a war right now with an enemy that appears to be winning.
Although this war is not fought with guns, more people die from this enemy than all the guns and all the other wars in the world combined. What's really sad is that many of the casualties of this war are children under the age of 5. Who is this enemy, and what is this war that claims the life of a child every 15 seconds? The enemy is unclean drinking water, and the war is the world's water crisis.
I started my organization Wine To Water in 2003 while bartending and playing music in Raleigh, North Carolina. When I learned about the world's water crisis and that more than 1 billion people lacked access to clean drinking water, I was upset to say the least. I became even more upset when I learned that more children died from unclean drinking water than anything else in the world.
However, it wasn't so much these staggering numbers that moved and angered me. It was the fact that neither I, nor anyone else I knew, had ever even heard of this global water crisis that claims the lives of 3.5 million people every year.

A CNN Hero, one year later
In December 2003, I decided I wasn't going to sit back and do nothing and began raising money in the bars and nightclubs around Raleigh. By September 2004, I had moved to Darfur, Sudan. What I saw and experienced there drove me to continue growing Wine To Water in hopes that we might have the greatest impact possible in fighting the world's water crisis.
After returning from Darfur in late 2005, our organization expanded to reach nine countries, including Ethiopia, Uganda, India, Cambodia, Peru, Haiti, South Africa and Sri Lanka.
Not only have we been able to have a great impact, but I have also seen a lot of other great organizations out there being formed to address this same issue.
In the beginning, I was a bit overwhelmed. The staggering statistics and effects of unclean water were discouraging. But we pressed on, and we continue to be encouraged as the world begins finally to take notice of this crisis.
Yet we still have a long way to go. Every day in the news we hear stories from places such as Afghanistan where coalition forces have lost more than 2,000 lives, yet nothing is being said of the 85,000 children in Afghanistan who, last year alone, lost their lives because of unclean drinking water.
When the Haiti earthquake hit, it was well-known throughout the world that water was by far the biggest need immediately following the quake. Yet one of the West's main responses was to send millions of bottles of water that now litter the already trashed streets of Port-au-Prince. And since bottled water is one of the least sustainable methods of addressing a water crisis, there are now 1 million people exposed to deadly waterborne diseases such as cholera and typhoid and not much better off than they were immediately following the quake.
So, while at times I am encouraged by the milestones reached in the last seven years of doing this work, I am also deeply saddened that not more is being done to save the precious lives of 1.5 million children each year who die simply because they can't get a clean cup of water.
I have two children of my own now. One is 2½ and the other 7 months. They are what keep me going, even when it all seems too difficult or impossible to fix. Because in the end those children dying are someone's sons and daughters, and I don't care where they're from, what they look like or what they believe in -- everyone deserves the right to have clean drinking water.
The opinions expressed in this commentary are solely those of Doc Hendley.
FOLLOW THIS TOPIC