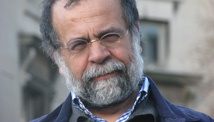 STORY HIGHLIGHTS
Hamid Dabashi: In democracies, citizens' lives should be private, state operations transparent
It's reversed now, he writes: citizens are under surveillance and governments act in secrecy
WikiLeaks dump reveals little that has not been reported before, Dabashi says
He says it's the dangerous, coarse language of diplomacy that reveals the most
Editor's note: Hamid Dabashi is the author of "Iran: A People Interrupted" and the Hagop Kevorkian professor of Iranian studies and comparative literature at Columbia University in New York. His most recent book is "Iran, the Green Movement and the U.S.: The Fox and the Paradox" (Zed Books, 2010).
(CNN) -- When the ideals and aspirations of liberal democracies were conceived by the founding fathers of the Enlightenment -- predicated on the American and French revolutions -- the lives of ordinary citizens were supposed to be private and the operation of the state apparatus transparent.
Over the centuries, liberal democracies have, in effect, reversed that order. Today, the lives of individual citizens are subject to systematic state surveillance, while the states conduct their business in exceedingly secretive, if not dangerous, language and manners they have code-named "diplomacy."
The latest round of WikiLeaks revelations could be called a diplomatic 9/11. Hyperbolic as this might seem, the term seems to be justified in the light of the rush by U.S. and British diplomats to rectify their public image.
The signficance of the WikiLeaks documents post is yet to be assayed, but much of the information that has been published so far has been reported before. It's the language of the diplomacy that U.S. officials and their allies employ in their official communications that reveals the most.
That the Saudis have been nervous about the increasing regional power of the Islamic Republic of Iran is not exactly a revelation. But that the Saudi ambassador in Washington, Adel al-Jubeir, has reported of King Abdullah's "frequent exhortations" to the U.S. to attack Iran, or that the mighty king wishes for the U.S. "to cut the head off the snake," speaks of desperation on one side of Saudi-U.S. relations and a comfort with that kind of language on another.

Where is Julian Assange?

A look inside the 'Wiki-Cave'

Many questions in case against Assange

White House responds to WikiLeaks latest
That the tiny state of Bahrain is even more concerned about its mighty northern neighbor is equally evident. But that King Hamad bin Isa al-Khalifa told U.S. Gen. David Petraeus to stop Iran's nuclear program "by whatever means necessary," a quotation from Malcolm X used in the oddest of contexts, is alarming.
Other revelations include U.S. Secretary of State Hillary Clinton and her predecessor Condoleezza Rice ordering American diplomats to gather "biographic and biometric" information (including iris scans, DNA samples and fingerprints) of key officials at the U.N. They apparently believe the United States should be in the business of finding credit card details, e-mail addresses and passwords, and encryption keys used for computer networks. These disclosures make the chief American diplomats appear like James Bond characters worthy of an Ian Fleming script.
We learn that Chinese Vice Foreign Minister He Yafei thinks of Pyongyang as a "spoiled child." And that Yemeni President Abdullah Saleh advised Petraeus, then U.S. commander in the Middle East, that his fixed-wing bombers were to gather outside Yemeni territory and "out of sight," assuring him that "we'll continue saying the bombs are ours, not yours." The Yemeni Deputy Prime Minister Rashad Alimi confessed he had "lied" to parliament about air raids in Arhab, Abyan, and Shebwa.
These statements reveal a level of hypocrisy and deceit we ordinary folks did not expect of our heads of states, some of whom we are told to address as "Your Highness," "Your Majesty," "Your Excellency," or "Honorable Lords."
A U.S. diplomat calls Italian Prime Minister Silvio Berlusconi "feckless, vain, and ineffective," and German Chancellor Angela Merkel is called "risk-averse and rarely creative." The Libyan leader Moammar Gadhafi "appears to have an intense dislike or fear of staying on upper floors" and "relies heavily" on his Ukrainian nurse, whom a U.S. diplomat in Tripoli described as a "voluptuous blonde" who was probably "romantically" involved with Gadhafi.
Zimbabwean President Robert Mugabe appears as "the crazy old man" to another U.S. diplomat; the Russian President Dmitry Medvedev is described as "playing Robin to Prime Minister Vladimir Putin's Batman." North Korea's Kim Jong Il is called a "flabby old chap," while Iranian President Mahmoud Ahmadinejad is called -- no leap of imagination here -- "Hitler."
From the infelicities of the British royal family to the "incentives" the U.S. diplomats had on offer -- an audience with President Obama to Slovenia; millions of dollars to Kiribati; and "a low-cost way for Belgium to attain prominence in Europe" by accepting inmates from Guantanamo -- it's all there for us to have our eyes opened to the low level of discourse at the highest levels.
The poetic justice of the WikiLeaks dump is to provide a correction, so that ordinary citizens, many under surveillance, can eavesdrop on their elected and unelected officials and learn about the reckless language and demeanor with which these officials endanger our lives and callously put our planet in peril.
The opinions in this commentary are solely those of Hamid Dabashi.
FOLLOW THIS TOPIC