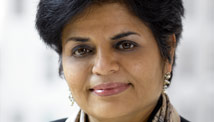 STORY HIGHLIGHTS
Education survey shows eight of top 10 performing countries are in Asia-Pacific region

Studies show higher test scores in math and science are associated with higher growth

High quality teachers and emphasis on math and science are factors, Desai says

Desai: Asia can look to America for clues in cultivating innovation and creativity
Vishakha N. Desai is president of Asia Society, which promotes the teaching of Chinese language and international studies in U.S. schools.
(CNN) -- Results of a global education survey today show U.S. high school students come in a dispiriting 26th out of 65 places worldwide in combined scores for math, science and reading tests.
The OECD's Program for International Assessment (PISA) suggests that while America lags, Asia soars: Out of the top 10, eight are in the Asia-Pacific region -- led by Shanghai and Hong Kong in China, Singapore, South Korea and Japan.
The rise of education in Asia is no accident. It reflects deliberate policies and long-term investments that recognize the centrality of quality education to a nation's economic growth.
Studies on PISA data show that higher test scores in math and science are associated with higher growth rates that, in turn, lead to higher incomes. These countries understand, as former Singapore Prime Minister Goh Chok Tong has said: "A nation's wealth in the 21st century will depend on the capacity of its people to learn."

DC education reforms go national

John Legend speaks out on education

Bush, Wise push for digital learning
What do Asian school systems do to produce such achievement?
There is no one "Asian way" to academic success, just as not all Asian nations are equally successful. Shanghai is the leading edge in China but disparities remain within the country.
There are, however, common themes that permeate high-performing Asian school systems. These include:
• Rigorous standards and coherent curricula. Asian nations establish high academic standards and a demanding school curriculum that clearly defines the content to be taught and is sequenced to build on a student's abilities step by step. Teachers are expected to teach the full curriculum to all students, and schools have substantial responsibility and autonomy to design a program of instruction that meets students' needs.
• High-quality teachers and principals. Teachers are routinely recruited from among the top high-school graduates and, unlike in the U.S., principals generally do not apply to become school leaders as much as they are selected and prepared to do so. There are comprehensive systems for selecting, training, compensating and developing teachers and principals -- delivering tremendous skill right to the classroom.
• Emphasis on math and science. Math and science training begins early in primary school and rigorous courses such as biology, chemistry and physics, as well as algebra and geometry are part of a core curriculum for secondary school. Specialist teachers are often employed in elementary schools unlike "generalists" usually found in U.S. schools.
• Time and Effort. With longer school years and sometimes longer school days, Asian students often have the equivalent of several more years of schooling by the time they finish high school than the typical American student. Asian students are also expected to work hard in school, reflecting a societal belief that developing one's skills and knowledge reflects effort more than innate ability.
Aligning education goals to economic development, Asian nations have built strong school systems by scouring the world -- including the United States -- for effective practices and weaving them together in ways that mesh with their cultural values.
Recognizing the fast pace of change in the world's economic and civic environment, their focus now is on developing teachers, principals and students who are expected to have a global outlook and be "future ready."
U.S. Secretary of Education Arne Duncan has said: "The simple truth is that America has a great deal to learn from the educational practices of other countries."
Models of best practice exist all over the world, but are most noticeably increasing in Asia. And, it's not a one-way street. Asian nations struggle with outmoded instructional practices and an over-reliance on high-pressure examinations -- and they continue to look to America for clues in cultivating innovation in teaching and creativity in their students.
The time has come for America to learn from -- and with -- Asia and the world.
Our ability to compete and lead in a global economy may well depend on it.