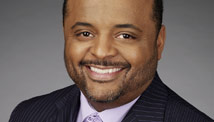 STORY HIGHLIGHTS
Roland Martin speaks to Army Command Sgt. Maj. Marvin Hill
Hill says the right leadership can deal with repeal of "don't ask, don't tell"
Martin says opponents of repeal should listen to the military, as they said they would
He criticizes McCain for opposing repeal after top military leaders advised in favor of it
Editor's note: Roland Martin is a syndicated columnist and author of "The First: President Barack Obama's Road to the White House." He is a commentator for TV One Cable network and host/managing editor of its Sunday morning news show, Washington Watch with Roland Martin.
(CNN) -- One of the reasons Defense Secretary Robert Gates commissioned a study on how the military feels about gays serving openly was because it was ridiculous to listen to politicians rambling on and on, and not to those who have to do the heavy lifting.
When the results were released, they showed more than two-thirds believe their work wouldn't be harmed by changing the 17-year-old law. That was clear evidence to many that the law needed to be overturned.
But after massive flip-floppers like Republican Sen. John McCain of Arizona ignored the advice of the defense secretary and the head of the Joint Chiefs of Staff and continued to come up with reasons why the policy needs to be kept, it's no surprise the measure failed this week to get beyond a GOP filibuster.
It was largely Republicans who blocked the measure from being debated in the Senate, with supporters only able to muster 57 of the needed 60 votes. The only Democrat to go along with the Republican opponents was Sen. Joe Manchin of West Virginia.
Supporters of the repeal say they have the votes to pass the measure, but who knows if moderate Republicans will come up with more reasons why they can't support the legislation? The one thing that is absolutely clear is that it is time for this law to be revoked.

'Don't ask, don't tell' fails in Senate

Lieberman: Effort to repeal DADT not over
In an interview on my TV One Cable Network Sunday morning news show, "Washington Watch," I talked with the top enlisted officer serving in Afghanistan, Command Sgt. Maj. Marvin Hill, who made it clear that soldiers serving on the battlefield can be led to implement the changes if Congress will act.
"I'm thinking that the -- the troops are ready for something like this," the Memphis, Tennessee, native said. "They are well led. We know that if there is a change, that that change will have to be led, and it's going to have to be led by senior leaders such as myself and -- and others across the battlefield.
"Senior leaders are the ones (who are) going to set the tone in the unit and enable the unit to move forward."
When McCain was behaving like a reasonable politician whose word could be trusted, he said if the top brass in the military supported repealing "don't ask, don't tell," he -- a former Navy pilot and POW -- would follow their lead.
That was when more folks were against the measure. Now that the winds have shifted, so has McCain, and he has promised to filibuster any effort to change the law.
As for members of the military who are as dead set against repealing the law as McCain, Hill said it might be time for them to find another line of work.
"If there are people who cannot deal with the change, then they're going to have to do what's best for their troops and best for the organization and best for the military service and exit the military service, so that we can move forward -- if that's the way that we have to go," said Hill, who served three tours of duty in Iraq before moving to Afghanistan.
That's what we call leadership. No flip-flops. No double-talk. Just straight talk. You know, the stuff McCain used to be known for.
When we have members of our military shedding blood on the battlefield, it is nonsensical that we would be using sexual orientation as a reason to discharge able-bodied men and women willing to serve their country. I'll bet $1,000 that if someone was on the front lines and mired in a fierce firefight, they wouldn't give a flip if the person coming to their aid were homosexual. All that matters is that a fellow soldier wasn't leaving his or her comrade on the battlefield there to fend for himself or herself.
Our soldiers are showing tremendous courage on the battlefield. It would be nice if our political leaders in Washington had an ounce of their courage and commitment to get rid of a law that serves no usefulness in the 21st century.
The opinions expressed in this commentary are solely those of Roland Martin.
FOLLOW THIS TOPIC