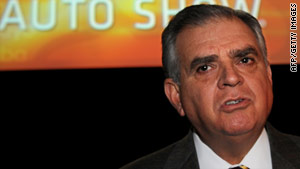 Transportation Secretary Ray LaHood said the U.S. government had to apply a lot of pressure on Toyota.
STORY HIGHLIGHTS
Transportation secretary says it took government pressure to get Toyota to act
Toyota has had to recall millions of vehicles because of gas pedal problems
LaHood says U.S. government will continue to review Toyota's conduct
NHTSA is considering civil penalty against Toyota; company has no comment on that
Washington (CNN) -- U.S. Transportation Secretary Ray LaHood said Tuesday that it took pressure from the government to get Toyota to take action over its sticking gas pedals.
"Since questions were first raised about possible safety defects, we have been pushing Toyota to take measures to protect consumers," LaHood said in a statement addressing the aftermath of the automaker's massive recall.
"While Toyota is taking responsible action now, it unfortunately took an enormous effort to get to this point. [Department of Transportation] officials flew to Japan in December to remind Toyota management about its legal obligations and followed up with a meeting at DOT headquarters in January to insist that they address the accelerator pedal issue," LaHood said.
Toyota recalled 2.3 million vehicles January 21 because of problems with sticking gas pedals that cause the vehicles to accelerate out of control. The following week, it said it would also have to recall up to 1.8 million vehicles in Europe that could suffer from the same defect.
On Monday, company officials announced that they had found a solution that involved reinforcing the pedal assembly with a part that is being rushed to dealerships.

Video: LaHood's Toyota warning

Video: Transparency key for Toyota

Video: Key players defend reputations
Toyota faces more scrutiny from the U.S. government.
"We're not finished with Toyota and are continuing to review possible defects and monitor the implementation of the recalls," LaHood said.
A Transportation Department official said the National Highway Transportation Safety Administration is considering a civil penalty against Toyota. A Toyota official would not comment on that.
Contacted by CNN, Toyota issued a statement saying: "Nothing is more important to us than the safety and reliability of the vehicles our customers drive. Secretary LaHood said to us that the soonest possible action would be in the best interests of our customers, and we took his advice very seriously and instituted a recall.
"We are very grateful for his advice and we feel that we have been given a chance to regain our customers' trust. We will continue to cooperate fully with NHTSA on all vehicle safety issues."
But a key supplier of the accelerator pedals is also defending its reputation.
The Indiana-based CTS Corp. says its product shouldn't be linked with unintended acceleration but does have a less-serious flaw.
"The pedals that are the subject of the recall have to do with a slow-return phenomenon -- which is a very rare condition -- which occurs under certain environmental conditions such as heightened humidity," said Mitch Walorski, director of planning and investor relations for CTS.
Here's what you should do if your vehicle's accelerator pedal is stuck in a depressed position:

• Shift to neutral

• Turn the ignition switch off

• Brake and pull over

Source: Omar Panjshiri, certified Toyota technician

"CTS is not aware -- and Toyota has said this also -- that there's been any accidents or injuries from that condition of those pedal," Walorski added.
A Toyota official said that's true but said it's also true that some CTS pedals didn't just have slow return but also got stuck. CNN could not reach CTS officials for comment on that.
But the Toyota official was very adamant that Toyota is not blaming the supplier. He said CTS and other suppliers design these parts to Toyota's specifications. This is a Toyota part, he says, and Toyota takes responsibility for it.