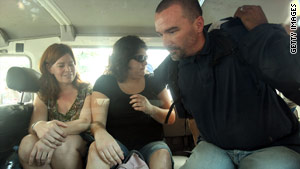 Laura Silsby, left, and two other members of her missionary group are seen after a recent court hearing in Haiti.
STORY HIGHLIGHTS
Secretary of State Clinton won't directly intercede in case of 10 Americans detained in Haiti
Lawyer representing one of the 10 asked Clinton to personally intervene
We respect Haitian government and Haitian law, says State Department official
Official left open the possibility that there are alternatives to a Haitian trial
Washington (CNN) -- Secretary of State Hillary Clinton will not get directly involved in the case of the 10 Americans detained in Haiti on child abduction charges, a State Department spokesman said Tuesday.
"It would be highly unusual for the secretary of state to intervene in a case involving the judicial process of another country," spokesman P.J. Crowley said in an off-camera question-and-answer session.
Reginald Brown -- the Washington lawyer who represents one of the detained Americans -- sent a letter to Clinton on Tuesday asking her to personally intervene with Haitian authorities.
"This is all the result of a colossal misunderstanding and we are hoping it will resolve itself," Brown said about the arrest and detention of his client, Jim Allen, and the other nine Americans. "We would appreciate it if you could continue to devote significant personal attention to this matter, as we are confident that with your assistance this misunderstanding could be quickly resolved."

Video: Officer details earlier attempt

Video: Haitian courthouse scramble

Video: Cooper: 'misery' still present
He asked Clinton to make "a personal request" to Haitian authorities to allow Allen to speak to his wife and her lawyers and to have fresh supplies.
"As far as I can tell, the one thing our detained American citizens have been able to do is communicate with just about anybody who wants to talk with them," Crowley said at the State Department. "If family members wish to talk to them, I think that is something that can be easily facilitated through our embassy in Port-au-Prince or through the Haitian government."
The State Department continues carefully to defer to Haitian authorities.
Full coverage of the earthquake's aftermath
"We have had regular consular access and meetings with the 10 American citizens," Crowley said. "I believe we have facilitated getting medicine or other needs to our citizens. We are doing exactly what we would do with detained Americans anywhere in the world.
"As to intervening directly in the case, we are very respectful of the Haitian government and of Haitian law."
Crowley left open the possibility that there are alternatives to a Haitian trial.

iReport: Looking for loved ones in Haiti
"This is a Haitian legal process. The matters right now involve whether these individuals have broken Haitian law. We have talked to Haitian officials in general terms about their ability to conduct this procedure. If they want to explore alternative avenues with us, we will be happy to have that conversation," he said.
The State Department also has ruled out any special role for former President Bill Clinton in a possible release of the Americans.
"It is unnecessary for former President Bill Clinton to play the role of intermediary as he did in North Korea in the case of the journalists being held," Crowley told CNN on Monday. "The situation in North Korea and the situation in Haiti are dramatically different. In Haiti there is a functioning government with which we have diplomatic relations and established channels to monitor and deal with bilateral issues. North Korea is an opaque society with which we have no diplomatic relations."
Crowley said there are other Americans in custody in Haiti, in addition to the 10 Americans, but he provided no details of their identity or circumstances. Some are believed to be held on drug charges.
"There are other Americans in custody. I don't know what their charges are. ... I think there were some in custody before the earthquake," he said.