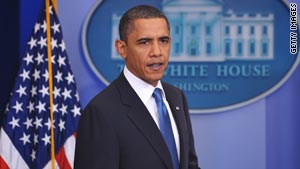 President Obama speaks in the Brady Briefing Room of the White House on February 9.
STORY HIGHLIGHTS
President Obama is tackling several domestic issues
Questions surround his "change" agenda abroad
China, Iran and North Korea have presented challenges
The administration does claim success in the Iraq war
Washington (CNN) -- With his "change" agenda bogged down at home, what hope is there for President Obama's international agenda?
Over the past several months, the Obama administration has faced a number of issues: costly wars in Afghanistan and Iraq; an economy still reeling; health care reform negotiations stalled; and a Republican political upset in Massachusetts that torpedoed the Senate Democratic supermajority.
"When American presidents get weak at home, it really does affect their ability to act abroad," said Doug Paal with the Carnegie Endowment for International Peace.
In his first year, Obama visited 21 countries. His mantra: Engagement -- even with your enemies.
Secretary of State Hillary Clinton has said she sees "a lot of positive trends."
"It's almost hard to remember how poorly much of the world viewed the United States when President Obama came into office," she added.

Video: Obama's struggles abroad

Video: Jobs and health care confusion
But the scorecard so far is mixed.
Iran still hounds its opponents and defends its nuclear program -- now boasting it's enriching its own uranium.
On Sunday, Clinton called for tougher actions against Iran after its announcement.
"Iran leaves the international community little choice but to impose greater costs for its provocative steps," she said. "Together, we are encouraging Iran to reconsider its dangerous policy decisions."
Speaking at the U.S.-Islamic World Forum in Doha, Qatar, Clinton said the United States is "working actively" with its partners "to prepare and implement new measures to convince Iran to change its course." Iran already faces U.N. sanctions.
The five permanent members of the U.N. Security Council -- the United States, Britain, Russia, China and France, all of which have veto power -- have discussed possible further sanctions.
Another problem: North Korea still won't return to nuclear talks.
The U.S. envoy to North Korea said Friday that the country is in no rush.
Speaking at a news conference in Beijing on Friday after a visit to Pyongyang, U.S. envoy to North Korea Lynn Pascoe said he and North Korean officials had "a frank and open discussion back and forth on a variety of issues."
But, he said, "They are not eager to return to the six-party talks."
Those meetings, which North Korea cut off last year, also involved China, South Korea, Japan, Russia and the United States. When North Korea pulled out in April, the country said it was protesting U.N. condemnation of its nuclear test and missile launches.
North Korean officials did indicate "interest and willingness to have international assistance" and made clear that "they do not like" the U.N. sanctions against them, Pascoe said.
A third problem involves the stalled Middle East peace process.
Even the president's friends have mentioned that America's credibility is on the line.
"I personally believe that the president is extremely committed. ... But we also know that America is dealing with many other issues internally -- health plan, other issues. Massachusetts was, I think, something that hit the news," said King Abdullah of Jordan.
But after the "reset" button was pressed with Russia last year, relations did improve. Moscow is now helping the U.S. pressure Iran, and it's close to a new arms control agreement with Washington.
In Beijing, China, there are cyber attacks against U.S. companies such as Google; disputes over arms sales to Taiwan; and a controversial visit to the White House by the Dalai Lama. Relations with China are at a boil.
Surprisingly, the administration does claim one success -- in a war Obama opposed.
"I am very optimistic about Iraq," Vice President Joe Biden told CNN. "I mean, this could be one of the great achievements of this administration."
White House press secretary Robert Gibbs said that the administration is "putting what was broken back together and getting our troops home, which we intend to do in August of this year."
The president's defenders admit his engagement strategy hasn't changed Iran and North Korea's behavior yet.
But they say it has helped unite the international community by proving the U.S. was willing to go the extra mile before resorting to tougher measures.