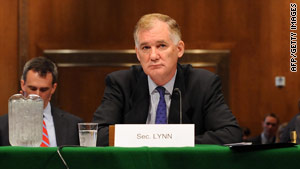 Deputy Secretary of Defense William Lynn has been criticized for his past lobbying work for Raytheon.
STORY HIGHLIGHTS
William Lynn is the deputy secretary of Defense
Lynn is a former lobbyist for Raytheon, a top defense contractor
Nomination comes under fire after President Obama promised to rid administration of lobbyists
Watchdog groups say Lynn is another example of the revolving lobbyist door in Washington
(CNN) -- During the 2008 presidential campaign, then-Sen. Barack Obama repeatedly promised that if elected he would clean up the way Washington works and bar lobbyists from working in his administration.
"I have done more to take on lobbyists than any other candidate in this race -- and I've won," Obama said during the primaries. "I don't take a dime of their money, and when I am president, they won't find a job in my White House."
But just weeks after Obama's inauguration, one found a job in the Pentagon.
William Lynn was confirmed as the No. 2 man in the Defense Department, a bit of a shock because he had spent much of the last decade as a lobbyist for Raytheon, the $25 billion a year defense contractor that makes the Army's Patriot missile system and the Navy's Tomahawk missile.
Government watchdog groups have said that Lynn's rise from one-time Defense Department undersecretary to lobbyist and back to government is another example of the revolving door between governing and lobbying.
"Certainly having William Lynn, who is a top Raytheon lobbyist, immediately turn around and go into the administration is the revolving door at its worst," said Melanie Sloan with the watchdog group Citizens for Responsibility and Ethics in Washington.
Leslie Paige, with Citizens Against Government Waste, says Lynn's hiring by the Obama administration is an example of the same old broken government.
"This town is dysfunctional ... When it comes to commitment, and making those commitments reality, there's a huge disconnect," Paige said.
But the Obama administration has argued that it is adhering to its promise, granting waivers only to those lobbyists, like Lynn, who are, "critical appointments."
"If you are a lobbyist entering my administration, you will not be able to work on matters you lobbied on or in the agencies you lobbied during the previous two years," the president said in January 2009. "When you leave government, you will not be able to lobby my administration for as long as I am president."
At the time of his appointment, Lynn's supporters, including Sen. Jack Reed, R-Rhode Island, and the late Sen. Ted Kennedy, D-Massachusetts, said in statements that Lynn's experience both in public and private sector make him a strong candidate.
"He's a proven leader in both the public and private sectors of the national security community, and his previous service in the department uniquely qualifies him to help the department run more efficiently and effectively," Kennedy said.
The Project on Government Oversight, another watchdog group, wants more detail into Lynn's work. In a letter to the White House, the group asked if Lynn met with contractors and when.
"This is not the change that we had hoped for," said Mandy Smithberger with the Project on Government Oversight.
Lynn declined an interview with CNN, but Bryan Whitman, assistant secretary of defense for public affairs, issued this statement:
"Since assuming his position at the Pentagon, Deputy Defense Secretary Bill Lynn has not participated or sought to participate in any way whatsoever in any budget or contract decisions involving his former employer. In fact, Raytheon contracts with the Pentagon have actually decreased by approximated a hundred million dollars in the past year.
"Deputy Secretary Lynn has scrupulously adhered to his ethics pledge and agreement since assuming his position at the Pentagon. There is absolutely no evidence of any impropriety or conflict of interest by Deputy Secretary Bill Lynn in carrying out his duties at the Pentagon, and any allegation to the contrary is untrue and unfair to him and to the Department."
The government watchdog groups say they aren't alleging that laws were broken. But they do say Lynn is a poster child for everything wrong with how business gets done in Washington.
"Certainly the revolving door is still spinning," said Steve Ellis with Taxpayers for Common Sense.
The Pentagon also pointed out that the value of Defense Department contracts with the company hasn't changed.
Nonetheless, Raytheon's sales, which include overseas contracts that must be approved at the Pentagon, are up 7 percent since its former lobbyist moved back to government service.
During his Senate Armed Services Committee confirmation hearing, Lynn defended his nomination.
"On coming back into the department, there are equally strict ethics procedures on what issues I can handle and what issues I can't," Lynn said. "I will be working with the general counsel's office to ensure I follow those ethics procedures completely."
He said he would go above and beyond the ethics standards Obama laid out.
Lynn's first government job was in Kennedy's office in 1987, serving as the senator's liaison to the Defense Department. Six years later, he served in President Clinton's White House. Lynn eventually became an undersecretary of defense, serving as Department of Defense comptroller.
With Republican President George W. Bush's adminstration moving into the White House in 2001, Lynn was out the revolving door.
He became one of Raytheon's top lobbyists, and a well-paid one. By last year, Washingtonian magazine estimated his personal wealth somewhere between $2 million and $5 million.
With Bush gone and the Democrats back in charge, Lynn passed through the revolving door back to the Pentagon.