STORY HIGHLIGHTS
Brown, 71, to again run for governor of California, three sources say
Democrat was first elected governor in 1974 at age 36
Since leaving office in '83, he's been Oakland mayor, presidential candidate
Now California's attorney general, Brown has amassed war chest of $12 million
Jerry Brown talks about his run for govenor and the issues facing California's economy on "Larry King Live," Tuesday at 9 p.m. ET.
(CNN) -- You could make a serious argument that Jerry Brown is the most unconventional politician America has ever known.
On Tuesday, he's expected to defy convention again, announcing that at age 71 he's running for governor of California, an office he left almost three decades ago.
Three sources told CNN on Monday that Brown will announce on Tuesday that he's running for the Democratic nomination.
Brown has run three times for president and once for the U.S. Senate. After leaving the governor's mansion in 1983, he started over, serving as the state party chairman, hosting a radio talk show -- in which he routinely referred to himself as a "recovering politician" -- serving two terms as mayor of Oakland and is currently the state's attorney general.
Steve Poizner, a Republican who on Monday announced that he was running for governor, said earlier that Brown's potential run reminded him of the movie "Groundhog Day."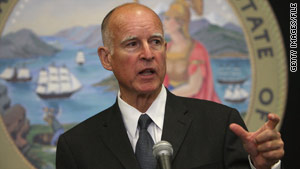 Jerry Brown, the once and future California governor? The current state attorney general leads in polls.
Brown enters the gubernatorial race already out front. Polls in California show him leading Republican Meg Whitman by 5 to 10 points and Poizner, the state's insurance commissioner, by 15 to 17 points.
Brown has said he was considering a run for months. He's had a Web site bannered "Jerry Brown 2010" up and running, asking for donations and volunteers.
He's amassed a war chest of $12 million and the endorsements of Hollywood kingmakers David Geffen, Steven Spielberg and Jeffrey Katzenberg.
No other big-name Democrats have yet joined the race. San Francisco Mayor Gavin Newsom, who was considered to have been Brown's strongest rival, dropped out of the race in October.
Brown, who studied Buddhism in Japan and India after leaving the governor's office, thinks California would benefit from some of his Zen philosophy.
"Action and contemplation joined together is what I call the highest path that we can follow," he said last year.
Brown was first elected governor in 1974 at age 36. He was then -- and still is -- the state's youngest governor since the beginning of the 20th century.
His father was former California Gov. Pat Brown. The older and younger Browns' stints in Sacramento book-ended Ronald Reagan's two terms in the governor's office.
After graduating from high school, Brown entered a Catholic seminary, intending to be a priest, but dropped out and earned his bachelor's degree in Latin and Greek from the University of California-Berkeley and a law degree at Yale.
He served on the Los Angeles School Board and as California's secretary of state.
He began to gain his reputation for being unconventional when after being elected governor in 1974 he refused to live in the governor's mansion, renting a modest apartment instead, and spurned the governor's limousine for a state-issued Plymouth.
A bachelor while in office, whom he was dating, including singer Linda Ronstadt, got as much attention as his politics.
He was bestowed the nickname "Governor Moonbeam" for some of his new-age thinking, including alternative energy practices and proposing buying a satellite for state communications.
Brown said the things that he was ridiculed for back then were ahead of their time.
"The policies that we started -- I mean, I started -- in a very dramatic and forceful way set the pace for the whole country," he said last year.
Brown faces a state drowning in millions of dollars of debt. California has had to make cuts in education and state services to try to balance its budget.
In an interview last year, Brown said he was considering running again because, "I like the combat, I like the conflict and the exploration of trying to deal with these conundrums."
CNN National Political Correspondent Jessica Yellin contributed to this report.
FOLLOW THIS TOPIC