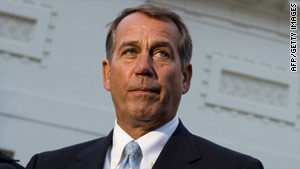 House Minority Leader John Boehner is calling for the Ethics Committee to continue its investigation of ex-Rep. Massa.
STORY HIGHLIGHTS
Former Democratic Rep. Eric Massa resigned from office on Monday
Republicans say it's part of corruption in the Democratic leadership
Expert says even if there is no wrongdoing, it could spell political trouble for Democrats
Washington (CNN) -- Republicans continue to push for an in-depth investigation into former Democratic Rep. Eric Massa's alleged sexual harassment scandal -- questioning when Democratic leaders knew, and whether they failed to act.
"Calls for additional investigations are ways to say that some people knew and they didn't act quickly enough -- particularly the Speaker," said Stuart Rothenberg, editor and publisher of the Rothenberg Political Report. "This is about Massa, but they are trying make it more than that by bringing in other Democrats and the Democratic leadership. It's understandable and it's not unusual."
A report in The Washington Post said House Speaker Nancy Pelosi's office was notified of the situation within Massa's office in October by Joe Racalto, a top Massa aide, concerned about his boss' behavior. Pelosi said in published reports that she was notified about the sexual harassment claims on March 3.
House Majority Leader Steny Hoyer said he first learned about the Massa allegations in February, when a staffer complained to his office. Katie Grant, a spokeswoman for Hoyer, said the staffer was given 48 hours to contact the ethics committee -- or he would be forced to do it.
"Within 48 hours, Mr. Hoyer received confirmation from both the Ethics Committee staff and Mr. Massa's staff that the Ethics Committee had been contacted and would review the allegations," Grant said.

Video: Massa of disaster?

Video: Media mired in Massa mess?
Rothenberg said even if Democrats aren't implicated in any wrongdoing, the end goal for Republicans is to keep Democrats on the defensive as the midterm elections approach.
"For Republicans, any time they can talk about an incident or an individual that is embarrassing to Democrats, it keeps the Democrats on the defensive. In this particular case, Republicans can portray Massa as part of the larger problems," he said. "There is a political advantage in calling for an investigation. You put the onus on the Democrats.
Massa resigned from office Monday -- just days after it became public that he was under investigation by the House Ethics Committee for allegedly groping male staffers. Initially, Massa cited a health problem in his decision.
The New York Democrat also hinted that the Obama administration was pushing him out of office because of his "nay" vote on the health care reform bill. It was a point that sparked interest among Republicans and conservatives looking to highlight concerns about the health care reform process taking place between the Democratic-controlled Congress and the White House.
That claim was later debunked by Massa himself, who told Fox News' Glenn Beck: "I wasn't forced out, I forced myself out. I own this. I take full and complete responsibility for my misbehavior."
Margaret Carlson, writing on the Huffington Post blog, noted that when those claims did not pan out, Massa became "something more as the backbencher used gullible Republicans to go out in a blaze of infamy."
Carlson, a longtime Washington observer and Bloomberg News columnist, said Republicans wanted a Democrat "to go rogue, and he [Massa] went rogue big time."
"Forgotten was Massa's resignation because of a sexual-harassment case before the House ethics committee and lymphoma, which he may or may not have," she wrote. "Massa's tale was irresistible -- a turncoat willing to single out the son of the 'devil's spawn' otherwise known as Obama's chief of staff, Rahm Emanuel, who already was the center of stories about White House palace intrigue."
Republicans may also be pushing for a further investigation after one of their party's members faced a similar incident years ago. That incident is largely cited for the large number of GOP losses in the 2006 midterm elections.
In 2006, Florida GOP Rep. Mark Foley was forced to resign after his sexually suggestive e-mails to male pages were exposed.
Then-House Minority Leader Nancy Pelosi called for an investigation into when the Republican leadership, namely House Speaker Denny Hastert, was notified and "what corrective action was taken," according to her statement at the time.
After an investigation, the House Ethics Committee discovered that some people who knew about Foley's communications chose to "remain willfully ignorant."
Pelosi's resolution before the House was aimed at starting an investigation of "when the Republican leadership was notified and what corrective action was taken," according to her statement. Instead, then-House Majority Leader John Boehner, R-Ohio, made a motion that the Foley matter be sent to the House Ethics Committee, which passed 409-0.
In the end, the ethics committee's probe concluded that House GOP leaders were negligent in not protecting male teenage pages from possible improper advances by Foley. But the panel said there were no violations of the House Code of Official Conduct and decided no one would be reprimanded.
Now the tables have turned with the Massa scandal.
Boehner urged the House on Thursday to pass a resolution calling for an examination of the Democratic leadership's knowledge of the sexual harassment claims. Following its rules, the House voted 402-1 on a motion by Democrats to refer the situation to the Ethics Committee, essentially tabling Boehner's resolution.
Nonetheless, Boehner touted it as a win, saying in a statement that the vote sent a "strong public signal" that an investigation of "what House Democratic leaders and members of their respective staffs knew about the allegations against former Rep. Eric Massa, and what actions they took after learning of those allegations, is necessary."
Boehner chastised Pelosi for breaking her promise to make Congress "the most open and ethical" one -- saying evidence suggests Pelosi's staff "had reports of his troubling behavior months ago, but apparently failed to act. ... The American people deserve to know the truth."
CNN's Susan Candiotti and Evan Glass contributed to this report.