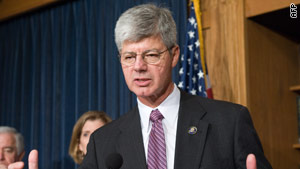 Anti-abortion Democrat Rep. Bart Stupak of Michigan has been opposed to abortion language in the Senate bill.
STORY HIGHLIGHTS
Houses passes health care reform 219-212
Abortion language in Senate bill became a key sticking point for Dems
Obama offers an executive order that keeps limits on use of federal funds for abortions
Republicans, conservatives and outside groups remain skeptical
Washington (CNN) -- The abortion issue nearly derailed House Democrats from passing the landmark health care reform bill Sunday night.
Political observers note that if it weren't for anti-abortion Democrats switching their votes to yes -- after working with President Obama and House Democrats -- the reform bill wouldn't have passed. It was adopted in a 219-212 vote.
Obama threw the group a lifeline in an effort to make sure he had their votes, announcing he would issue an executive order to ensure that existing limits on federal funding of abortion remain in place.
The controversial issue provided an electrifying debate on the House floor as Republicans and Democrats clashed over the deal.
Rep. Bart Stupak, D-Michigan, had led the anti-abortion Democrats in opposition to the Senate bill, because he said it would allow federal funding for abortions beyond the current limits of cases of rape, incest or if the mother's life is in danger. Outside groups like the National Right to Life Committee and Roman Catholic Bishops joined in the concern.
The controversy centered on whether the bill forces all taxpayers into paying for abortions -- by subsidizing insurance policies that pay for the procedure and by funding federal health clinics that might offer abortions.

Video: Understanding the health bill

Video: Stupak backs bill after deal

Video: 'Baby killer' shouted

Video: Abortion deal paves way
Democrats who support abortion rights, such as Rep. Jan Schakowsky, D-Illinois, argued that the abortion foes were wrong about their claim that the bill would allow federal funding for abortions beyond the current limits.
Leading up to the vote Sunday night, the main focus of anti-abortion activists was the insurance "exchanges" created by the bill, the new marketplaces where businesses and individuals will be able to buy insurance.
Under the exchanges, there must be a plan that offers abortion coverage and another that doesn't, according to the bill.
To appease abortion opponents, Democrats also added language requiring anyone whose policy does cover abortion to pay -- separately -- a small surcharge, with the funds kept separate.
Douglas Johnson, legislative director of the National Right to Life Committee, denounced the provision to CNN as "a bookkeeping exercise."
Stupak and other abortion opponents also complained about a lack of anti-abortion restrictions for new, federally run community health clinics, which would receive $7 billion under the legislation.
Johnson provided a letter from legal scholar Robert Destro, a professor at Catholic University in Washington, which indicated that because of the way the clinics' funding is structured, courts could allow community clinics to provide abortions.
But Obama's executive order specifically addresses those concerns.
"Existing law prohibits these centers from using federal funds to provide abortion services (except in cases of rape or incest, or when the life of the woman would be endangered), as a result of both the Hyde Amendment and longstanding regulations containing the Hyde language," the order said. "Under the Act, the Hyde language shall apply to the authorization and appropriations of funds for Community Health Centers under section 10503 and all other relevant provisions."
The Hyde Amendment is a piece of legislation banning the use of federal funds for abortions. The amendment -- passed in 1976 and named for its chief sponsor, former Rep. Henry Hyde of Illinois -- applies only to funds allocated by the annual appropriations bill for the Department of Health and Human Services.
Obama also wrote in the executive order: "I hereby direct the Secretary of [Health and Human Services] to ensure that program administrators and recipients of Federal funds are aware of and comply with the limitations on abortion services imposed on [Community Health Centers] by existing law."
While the executive order eventually brought Stupak and others on board, the Michigan Democrat said it was not an easy decision.
"That's why we wanted an executive order, which has the full force of law once it's signed by the president," he said.
But many Republicans and conservatives are still not convinced Obama's executive order holds any weight.
House Minority Leader John Boehner said, "Make no mistake, a yes vote on the Democrats' health care bill is a vote for taxpayer-funded abortions." Stupak disagreed, saying to Boehner, "It's not true."
In a debate on the House floor earlier in the day, Rep. James Sensenbrenner, R-Wisconsin, said that fellow representatives "should not be fooled" -- noting that executive orders can be overturned.
"If an executive order moves the abortion funding in this bill away from where it is now, it will be struck down as unconstitutional because executive orders cannot constitutionally do that."
National Review Online's Yuval Levin recently wrote that the executive order "quite literally does nothing that the Senate bill does not already do."
Levin added that if Stupak and other anti-abortion Democrats were not "satisfied with the protections against taxpayer funding of abortion in the Senate bill [as they rightly were not], there is simply nothing in the text of the order that should change their minds."
Even during the final hours of debating the bill, Republicans tried to derail the bill over abortion language. After the House voted for the Senate bill, Republicans introduced a motion that sought to send the bill back to committee and amend its abortion language. The motion failed.
As it turned out, the Republicans' motion included strict abortion language that Stupak himself had written in the fall and was unable to secure in this bill.
One moment during the debate drew heavy criticism. While Stupak was speaking on the House floor, a congressman could be heard yelling "baby killer." That congressman was later identified as Texas GOP Rep. Randy Neugebauer, who admitted Monday that he said, "It's a baby killer."
"I deeply regret that my actions were mistakenly interpreted as a direct reference to Congressman Stupak himself," he said in a statement. "I have apologized to Mr. Stupak and also apologize to my colleagues for the manner in which I expressed my disappointment about the bill."
CNN's Caleb Hellerman contributed to this report.