STORY HIGHLIGHTS
Ray Nagin believes New Orleans' frustrated residents will appreciate his rebuilding efforts
The outgoing mayor is proud of the way he empowered the city's community
No anti-white or anti-Asian message in 'Chocolate City' speech, he says
Nagin says he spends every day focusing on how to rebuild New Orleans
CNN's monthly feature show Revealed profiles New Orleans mayor Ray Nagin as he approaches the end of his tenure in May. This is one of a series of articles looking at Nagin's legacy and the impact of his mayoralty on the city.
New Orleans, Louisiana (CNN) -- Time is running out for Ray Nagin, the charismatic and controversial figure who was destined to lead storm-ravaged New Orleans through its most tumultuous moments in the aftermath of Hurricane Katrina.
In May, Nagin's second and final term as mayor of the 'Big Easy' will come to an end amid a wave of popular disappointment over his performance in speeding up recovery and tackling crime.
In an exclusive interview with CNN, Nagin defends his post-Katrina reign, saying that people's frustrations about his team's rebuilding efforts are unjustified.
"We feel it's unfair, but we know the truth and how far we've come," he said. "We have this kind of idealism that at some point people are going to understand what we've been doing, it's almost like an underground movement."
Why Nagin is leaving office with worse approval rating than Bush
Nagin, 54, first entered office in 2002 as a political newcomer, beating better-known candidates on the back of a reforming agenda.
In the immediate moments after Katrina, he blatantly expressed the frustration felt by New Orleans' citizens when he blasted the slow pace of relief efforts, calling on the federal government to "get off their asses" and "fix the biggest goddamn crisis in the history of this country."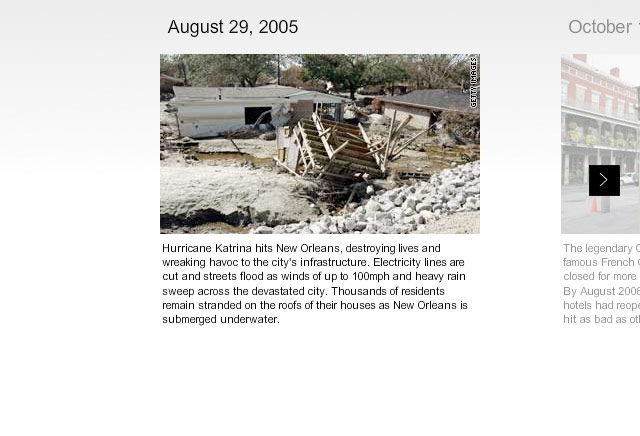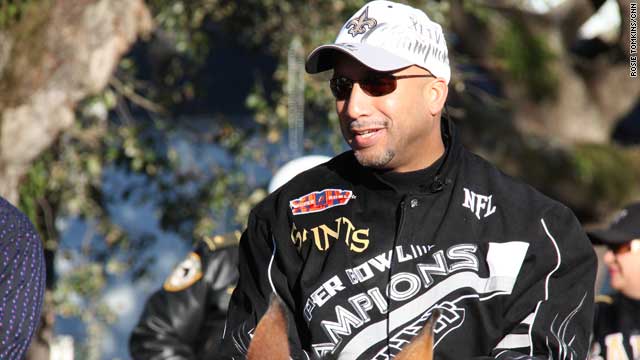 Gallery: New Orleans celebrates
His passionate reaction made him popular and following an emotional campaign trail, (where he notoriously vowed to make New Orleans a "Chocolate City" again, in reference to African-American residents) he won a re-election in 2006.
Nagin opened up to CNN's Revealed about his negative polls, the "Chocolate City" speech and his first recollections of Katrina.
CNN: Can you recall the moment when the actual scale of the disaster first struck you?
Ray Nagin: The reality of Katrina didn't really strike me until the first time I flew up in a helicopter and saw areas of the city that I had ridden my bicycle as a youth being fully flooded. Then I saw bodies floating and that's when I really understood the magnitude of this challenge and I knew it would be very tough to come back.
How New Orleans got its groove back
CNN: Was there a sense for you in those early stages that the pressure of your role had dramatically changed forever?
RN: The weight of the challenge dawned on me almost immediately after taking that initial flight. The stress and the pressure were pretty awesome, I probably slept for nearly two to three hours a night because there was so many challenges that were coming up daily, almost hourly -- we were in nuclear crisis mode is how I describe it.
CNN: Were there moments when you wished that you weren't mayor at that time?
RN: I had my moments when I said a little prayer -- "why me God, why do you have me in this moment of all the mayors?" But when I started interacting with people after the disaster and doing town hall meetings I knew that I was here for a reason and I had to see it through.
I had my moments when I said a little prayer -- 'why me God, why do you have me in this moment of all the mayors?'
--Ray Nagin
CNN: What are you most proud of in the way that you and your team dealt with what was happening?
RN: I'm proud of many things; of being able to have a great team at the city level and getting the federal and state government moving. I'm also proud of the fact that we empowered this community. I didn't have to do much, citizens got involved and pushed a lot, it's their recovery.
CNN: Do you have any regrets about that time, is there anything you wish you had done particularly differently?
RN: I don't have many regrets because I make decisions and move on. When Katrina was getting ready to hit us, there was about an eight-hour window in which I possibly could have called for a mandatory evacuation. I waited until the next morning because we had to go through some legal maneuvers; no one had ever issued a mandatory evacuation.
But the biggest mistake I made was that -- even though my lobbying for money was very successful, with billions of dollars -- I didn't lobby for it to come directly to the city and that delayed the recovery probably two and a half years.
CNN: I wanted to ask you about the "Chocolate City" incident, it caused a huge reaction. What happened there, were you misunderstood?
RN: I think people focus on that speech and basically hear an anti-white message or an anti-Asian message, and that's just not what was intended. I had been going around and meeting with citizens, primarily African-Americans, who were displaced and were feeling they weren't welcome back into their own city. I really thought I needed to send a signal to everybody that every segment of this community was welcome back to this city.
CNN: The ratings show that people are frustrated with you, how does that make you and your colleagues feel?
RN: We feel it's unfair, but we know the truth and how far we've come. We have this kind of idealism that at some point people are going to understand what we've been doing, it's almost like an underground movement. We've been working underground to make sure that this city can fully recover with the hope that at some point people will recognize the good work that we have done.
CNN: How often do you wonder how different would your tenure have been had it not been for Katrina?
RN: I don't think about that a lot. To be honest, I don't really have time to do that, I spend every day, every moment, thinking about how to get this recovery moving faster, better and how to rebuild this city.
CNN: Now that your time as mayor is coming to an end, given your expertise with disaster relief, is that something that you want to use in the future, what's next in that respect?

RN: I don't know what's next for me. The first thing is going to be a long vacation, I have been going non-stop for eight years and the Katrina experience was just something that I need a break for. So I'll take a couple of months off and then try and figure it out. I want to continue to stay plugged into New Orleans and help people who are still struggling with the recovery here and then if I can help around the country and around the world, absolutely, I'll be open to that.
Teo Kermeliotis contributed to this report.