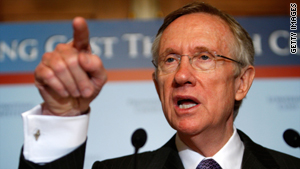 Senate Majority Leader Harry Reid has been criticized for holding a fundraiser with Goldman Sachs executives.
STORY HIGHLIGHTS
Senate is working on a financial regulation bill targeting Wall Street banks
Democrats and Republicans have both received large sums of Wall Street dollars
Analyst: Too soon to tell if the financial sector will stop giving to Democrats
Washington (CNN) -- They do well with Wall Street, but Democrats may now risk biting the hand that feeds many of them as President Obama and top party leaders press for financial reform.
And a key question arises: Will there be a squeeze on the money flowing from New York into Democrats' campaign coffers?
The answer is not so simple.
"Can we predict the future? Of course not. If legislation is passed that is particularly onerous to this industry [that] might change its tune," said Dave Levinthal with the nonpartisan Center for Responsive Politics and OpenSecrets.org. "That's entirely possible, but there's no indication of that yet."
His organization has tracked campaign contributions made by the financial, insurance and real estate sectors.
The backlash has already caused one Democrat to close the door on a scheduled fundraiser.
Democratic Sen. Blanche Lincoln, who is in a tough re-election battle in Arkansas, announced Wednesday she was canceling a New York fundraiser with Goldman Sachs executives. Lincoln is now vowing not to take any more campaign cash from the embattled Wall Street giant.
"In light of the SEC lawsuit against Goldman Sachs, Sen. Lincoln will schedule no future campaign-related events with the firm and will accept no further contributions from the firm's political action committee or its employees," said Katie Laning Niebaum, a spokeswoman for Lincoln's re-election campaign.
However, Lincoln still has no plans to give back campaign money she has already raised from Goldman Sachs.
Lincoln's primary opponent, Lt. Gov. Bill Halter, wasted little time in criticizing Lincoln's decision not to return the contributions.
Wall Street has been a longtime cash cow for both parties with the party in power or assuming power the biggest beneficiary.
An OpenSecrets.org analysis found that in the 2008 election cycle, $89,221,944 was given to Democrats; $68,022,536 to Republicans.
As the 2010 midterm election season heats up, Democrats -- as of the end of March -- have received $21,513,828; $12,867,315 has gone to Republicans.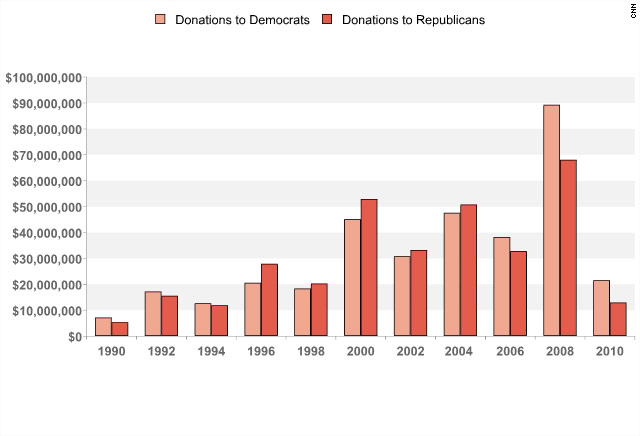 Chart: Wall street political contributions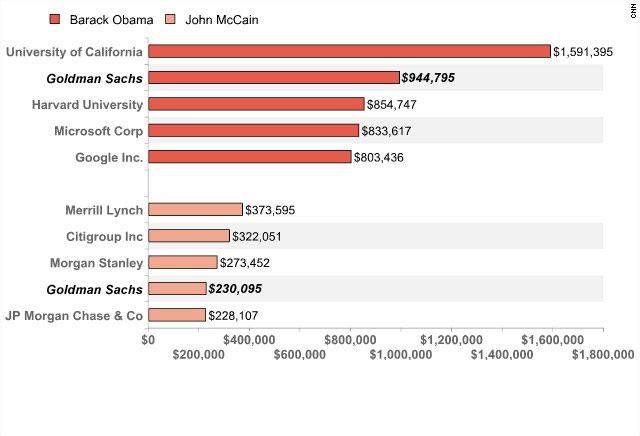 Charts: Goldman Sachs political contributions

Video: Reid asked about Wall Street fundraiser
Republicans, meanwhile, benefited especially well from Wall Street dollars during President Clinton's second term in office -- along with the run up to the 2000 presidential election, the analysis showed.
The focus on the money trail has reached a fever pitch as Obama and Democrats push financial regulation as their next top priority.
Democrats are now debating the financial reform bill in the Senate. It would create a new unwinding process for failing financial firms and require banks to increase capital cushions while creating a new consumer financial regulator to watch over mortgages and credit cards.
The bill, approved by the Senate Banking Committee, includes an "early warning" system intended to spot signs of another crisis, as well as a $50 billion liquidation fund created with money from banks and other finance industry corporations to ensure an orderly transition in closing down failing entities.
The legislative wrangling comes in the wake of the Securities and Exchange Commission filing civil fraud charges this week against Wall Street power broker Goldman Sachs.
Republicans, meanwhile, continue to oppose the bill, saying it's just another government bailout for the big banks. They have targeted their Democratic counterparts for what they deem as hypocrisy -- taking Wall Street money while simultaneously bashing the industry.
Simon Johnson, economist and author of "13 Bankers: The Wall Street Takeover and the Next Financial Meltdown," said nervous Democrats should beat back against the criticism by exposing the bigger problem with campaign fundraising.
"Show people, in gruesome detail, the money being spent by this part of big finance," he wrote Wednesday on his blog, Baselinescenario.com. "Go to the nonfinancial sector, to other parts of the financial system, and directly to individuals -- asking most clearly for contributions that would replace what the banks have withdrawn and offset what the banks are spending to defeat the president's reform agenda."
But Republicans are inclined more than ever to highlight Democrats' ties to big banks.
Senate Majority Leader Harry Reid was chastised by the National Republican Senatorial Committee after the Nevada Democrat acknowledged Tuesday he held a fundraiser in New York earlier this year, which was attended mostly by Goldman Sachs executives.
"As he collects Wall Street cash behind closed doors and pretends to advocate for Main Street in public, Reid's partisan rhetoric has quickly been replaced with the stench of hypocrisy," said Brian Walsh, an NRSC spokesman.
Reid spokesman Jim Manley said Reid raised approximately $37,000 at the fundraiser.
While he defended his legislative efforts to put tighter controls on financial institutions, Reid did not respond when asked by CNN for more information about the fundraiser.
Democrats are also facing intense pressure to defend their credibility on the financial reform -- especially after the Goldman Sachs controversy.
"Goldman Sachs has always favored Democrats more than it has Republicans," he said. "This is something that the Democrats are already grappling with -- whether they can speak authoritatively on the issue and yet at the same time [acknowledge that] they've largely been the key recipients of Goldman Sachs' impressive largesse when it comes to politics."
And that support has been especially strong to the top Democrat.
According to Federal Election Commission figures compiled by the Center for Responsive Politics, Goldman Sachs' political action committee and individual contributors who listed the company as their employer donated $994,795 during 2007 and 2008 to Obama's presidential campaign, the second-highest contribution from a company PAC and company employees.
Federal law prohibits a company from directly giving money to an electoral campaign.
Goldman Sachs contributions to the Obama campaign were more than four times larger than the $230,095 in donations to Sen. John McCain's presidential campaign.
CNN's Dana Bash, Charles Riley and Robert Yoon contributed to this report.