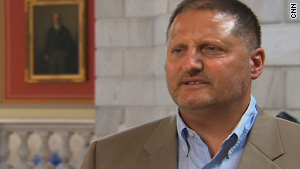 Rhode Island state Rep. Peter Palumbo sponsored a bill that mirrors Arizona's controversial immigration law.
STORY HIGHLIGHTS
Rhode Island's Arizona "copycat" immigration bill will not be considered this year

Speaker blocks bill after protesters march on floor of Rhode Island legislature

Representative proposed bill which would have allowed police to check residency status

Critics call Arizona law racist, but Palumbo said it would save "a ton of money"
(CNN) -- Days after a boisterous protest on Rhode Island's House floor, a state official decided that a bill copying Arizona's immigration law will not be heard by lawmakers this session.
House Speaker Gordon Fox has decided not to take up the bill, a spokesman said Tuesday, because the speaker believes immigration matters are best handled at the federal level.
The move effectively kills the bill, which -- like a recently passed Arizona law -- would have allowed police to check people for proof of legal U.S. residency.
The State House became the latest battleground in the nation's racially charged immigration debate. On Thursday, about 100 demonstrators chanted slogans and called on the bill's sponsor, Democratic State Rep. Peter Palumbo, to resign.

Critics say the Arizona law will lead to racial profiling, while supporters say it involves no racial profiling and is needed to crack down on increasing crime involving illegal immigrants. Police are allowed to check a person's residency status only if the person has been stopped or arrested for another reason.
What does Arizona's immigration law do?
Palumbo's House colleague Rep. Douglas Gablinske, who was in the chamber during the ruckus, said protesters were chanting, "Hey hey, ho ho -- Peter Palumbo's got to go."
As the House speaker banged a gavel calling for Capitol Police to clear the room, Gablinske said, the young protesters chanted and draped themselves in a banner that read "Do I look like an immigrant?"
"I guess I found that somewhat strange because none of them looked like immigrants," said Gablinske. "I don't remember any Latinos there; I don't remember any African-Americans. What I remember was a group of mostly younger people -- white, Caucasian who were milling about."
The whole disturbance lasted 20 minutes, according to Gablinske, and protesters offered no resistance to the handful of police who quickly ushered them out of the chamber.
The floor demonstration and an upcoming State House rally by Rhode Islanders for Immigration Law Enforcement and Rhode Island Tea Party "had nothing to do" with Fox's decision not to take up the bill, said Fox spokesman Larry Berman.
"This is a bill that came in very late and we're ready to wrap up our session and we want to focus on the budget and economic issues and adjourn within a few weeks," said Berman.
Berman said Fox "feels that states shouldn't be interfering with federal immigration laws anyway." Berman said a similar bill could be considered again in the next session, which begins in January.
Feds may challenge Arizona immigration law
Palumbo could not be reached for comment after Fox's announcement, but earlier on Monday he said he expected the bill to come to a committee vote this week.
"The speaker was nice enough to allow me to put [the bill] in ... because I have a good relationship with the leadership right now," said Palumbo.
Palumbo said he sponsored the bill because Rhode Island has its own "problems associated with illegal aliens. We have something like 40,000 plus in Rhode Island right now."
At the heart of his state's immigration problem, Palumbo said, is state funds spent on illegal residents.
"We spend a ton of money on housing, conservation, law enforcement, hospital care -- all the different areas you would take care of an immigrant, we would spend on illegal aliens," he said. "If you subtract the illegals from that equation, then we don't have a budget deficit."
One of the protesters, hospital worker Mayra Paulino, told The Providence Journal, "I think that this is a racist law. It's just going to cause more racial profiling than we already have."
Palumbo said racism has nothing to do with it. "There's a big difference between someone who comes over here as an immigrant and someone who comes over here and just completely ignores the laws of the country," said Palumbo, who acknowledged that it might surprise people that he's a Democrat. "It isn't a Republican versus Democratic issue."
The bill shows "there's a vocal but very small minority in the state's political leadership that wants to express solidarity with their very conservative compatriots in other states -- or in Palumbo's case -- he just may be searching for headlines," said political science professor Anthony Affigne of Providence College.
The overwhelming majority of Rhode Island's 123,000 Latinos are citizens and legal immigrants, said Affigne, and their community makes up a little more than 10 percent of the state's population, concentrated in the capital Providence, Central Falls, Pawtucket, Woonsocket and Newport.
Copycat measures
Rhode Island is just the latest of several states where officials are encouraging the enactment of similar laws, said Michael Hethmon general council of the Immigration Reform Law Institute.
Lawmakers from at least four states that Hethmon refused to name have come forward looking for advice on writing new legislation. So how many other states will be following Arizona?
Whatever the number, it's "too many," Hethmon said.
"We greatly support state laws as a policy option in the face of federal gridlock, but you can't take the Arizona bill and copy it and just drop it into another state legislature."
Will other states follow Arizona's immigration law?
Hethmon expressed concern about the pace of some of these "copycat measures," like in Rhode Island, because many of these laws likely will face judgment in lawsuits.
A danger exists, experts warn, that state lawmakers will play too fast and loose with immigration laws by exercising a kind of "do-it-yourself" and "one-size-fits-all" mentality.
"I worry about other states going forward with these bills and not considering these very complex federal issues," said Hethmon. "The technical language is critical and it's not something that most state legislatures are familiar with."