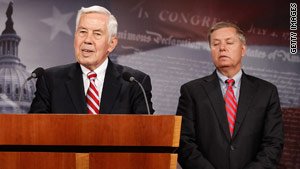 Republican Sens. Richard Lugar, left, and Lindsey Graham, discuss Lugar's new energy and climate plan.
STORY HIGHLIGHTS
Sen. Richard Lugar introduces his energy and climate change plan this week
His plan is supported by fellow Republican Lindsey Graham
Graham had previously worked with Sens. John Kerry and Joe Lieberman on their legislation
Graham hopes that Democrats and Republicans will find common ground
Washington (CNN) -- A key Republican senator, instrumental in climate change negotiations in the Senate, has indicated that getting a bill passed this year with bipartisan support is a priority.
But with a sharply divided Senate and other issues such as financial reform and jobs likely to take up the rest of this year's agenda, getting the legislation through the chamber could prove difficult.
Sen. Lindsey Graham, though, is holding out hope.
"What I don't want to do is leave the Congress this year having done nothing," the South Carolina Republican said. "This has a chance I think to get 60 votes, better than any proposal I have seen."
That proposal came in the form of a energy and climate plan introduced on Wednesday by Sen. Richard Lugar, R-Indiana.
Lugar's plan, which he said reflects both Republican and Democratic proposals, will generate the following savings by 2030: reducing foreign oil dependence by nearly 40 percent; reducing national energy consumption by 11 percent; reducing household electric bills by 15 percent; reducing greenhouse gases by 20 percent.
"Breaking our oil dependence, with all the national security, economic and environmental benefits, this would be such a victory," Lugar told reporters during a press conference with Graham. "It should be our top priority."
Missing from Lugar's proposal is cap-and-trade provisions for carbon pollution permits -- something that was a key component of legislation passed by the House last year. It was also included in climate change bill introduced by Sens. John Kerry, D-Massachusetts, and Joseph Lieberman, I-Connecticut, in May.
Lugar said it's time recast the debate in Congress and match priorities with a practical alternative to the Kerry-Lieberman bill -- and said he is hopeful that many Democrats will support his plan.
Dan Lashof, director of the Climate Center at the Natural Resources Defense Council, said that while Lugar's proposal contains good ideas, his proposal is "no substitute for the comprehensive clean energy and climate bill we need to hold polluters accountable, break our dangerous addiction to oil and curb climate change."
Lashof said that for the past 20 years Congress has passed numerous "piecemeal" energy bills that have "failed to move us to a clean energy economy and set us on a pathway to solve global warming." By itself, he said, the Lugar bill would "repeat that failure."
Having Graham on Lugar's side, political observers note, is an important development in the legislative talks. Graham is seen by many as pivotal in bringing the two parties together.
Graham, who had worked with Kerry and Lieberman on the legislation, withdrew his support from their bill after Democrats signaled they wanted to press ahead first with immigration reform. Graham said this week that while he "thoroughly enjoyed" working with the New England senators, he believed Lugar's bill better addresses the country's energy and climate needs.
"I want to associate myself with people who reject the status quo," he said. "I want to associate myself with a Republican who believes that clean air, reducing carbon pollution is worthy of our party."
He admitted that while Democrats might get a bipartisan vote on their version, Americans "don't get to pre-empt the EPA [Environmental Protection Agency], you don't get drilling and you don't get a cap on carbon."
Graham is hopeful, though, that Democrats and Republicans in the Senate can find common ground in order to pass a bill. "Can it be done better? Maybe. Only if we start talking to each other," he said.
He also took the chance to lash out at fellow Republicans who have signaled they are wholeheartedly opposed to carbon reduction.
"Put me in the camp that [believes] it's worthy to clean up the air and make money doing so," he said.
"There is a wing in my party that thinks carbon pollution is okay. I'm not in that wing."
While he may not agree with that wing of the party, he signaled Wednesday that he's not happy with the Kerry-Lieberman legislation.
That bill tackles a range of energy issues. It would expand nuclear power production, incentivize cleaner procedures in the coal industry, encourage development of alternative energy sources, facilitate off-shore oil drilling and help industries transition to a low-carbon system.
On climate change, their bill aims for escalating reductions in greenhouse gas emissions in coming decades that match the levels set as goals by the Obama administration and found in the House bill.
Read more on the Kerry-Lieberman plan
Environmentalists offered mixed praise for the plan, saying while it's a good start, it needed to go further in some areas.
"When oil flows into our Gulf waters as fast as our gasoline money is flowing to foreign nations, it's time for a new policy," said Larry Schweiger, who heads the National Wildlife Federation.
Frances Beinecke, president of the Natural Resources Defense Council, said that the core carbon pollution limits in the bill, covering all major pollution sources, are a "solid foundation" for Senate legislation.
But she said the bill would be more effective if its overall pollution limits were backed up by minimum performance standards for the largest polluters.
CNN's Tom Cohen contributed to this report.
FOLLOW THIS TOPIC