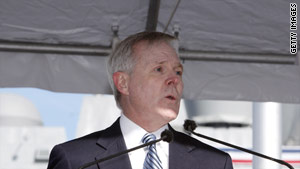 Navy Secretary Ray Mabus has been appointed by President Obama to create a plan to help Gulf restoration efforts.
STORY HIGHLIGHTS
Environmental group official says Ray Mabus should focus on Gulf full-time
But another calls his appointment great, says "Gulf is in good hands"
President picked Navy Secretary to create long-term Gulf Coast restoration plan
Washington (CNN) -- Can the man who President Obama has tapped to formulate a long-term Gulf Coast restoration plan work only part-time on such a monumental effort?
Some environmental groups say no way and are suggesting that Ray Mabus should give up his post of Navy secretary to focus on the Gulf full-time.
The criticism comes after White House spokesman Robert Gibbs said Mabus, a former governor of Mississippi, will be splitting his time between the two jobs.
"The president talked to the governor about this, and they both agreed that he had the ability to do both," Gibbs said.
But Cat Lazaroff, communications director at Defenders of Wildlife, said it will be difficult for Mabus to do both jobs well.
"I think our concern is, this is not going to be a part-time job," Lazaroff said. "The recovery is going to take years or decades. And the person in charge needs to spend full-time hours on it."
Another top environmentalist, Fred Krupp, sharply disagreed with Lazaroff and insisted that Mabus will do a fabulous job, even on a part-time basis.
"I think it's a great appointment," said Krupp, president of the Environmental Defense Fund. "If he's in charge, whether it's for all of his time or part of his time, the Gulf is in good hands."
Krupp serves on an advisory panel that Mabus set up to help make the Navy greener and more energy-efficient.
"He's super competent, he's a great executive, and he's deeply committed to the people of the region and the environment down there," Krupp said. "So my perspective is it's a great appointment and he will make sure he gets the resources to get the job done."
Obama announced the appointment Tuesday night during his prime-time address to the nation from the Oval Office, where he laid out his "battle plan" to deal with the BP oil spill and made it sound like his administration was mobilizing all forces to get on top of the issue as quickly as possible.
"The oil spill represents just the latest blow to a place that has already suffered multiple economic disasters and decades of environmental degradation that has led to disappearing wetlands and habitats," Obama said. "And the region still hasn't recovered from Hurricanes Katrina and Rita. That's why we must make a commitment to the Gulf Coast that goes beyond responding to the crisis of the moment.
"I make that commitment tonight," Obama added. "Earlier, I asked Ray Mabus, the secretary of the Navy, a former governor of Mississippi and a son of the Gulf, to develop a long-term Gulf Coast restoration plan as soon as possible. The plan will be designed by states, local communities, tribes, fishermen, businesses, conservationists and other Gulf residents. And BP will pay for the impact this spill has had on the region."
Lazaroff suggested Friday that Defenders of Wildlife does not have a problem with Mabus' environmental credentials for the job, but there is concern about him being pulled in too many different directions as he also leads the Navy during a time of war.
"No matter who does this job, it's going to need their full attention," Lazaroff said. "For the resources and the wildlife in the Gulf to make a full recovery, the person in charge needs to be focused full-time."
Pressed on the matter by reporters aboard Air Force One on Friday, White House spokesman Bill Burton said Obama believes Mabus is "the right guy for the job" because of his close connection to the Gulf.
"The president is confident that Gov. Mabus is going to be able to provide the leadership that's necessary to do both these jobs," Burton said. "This is a moment that is all hands on deck for this government, and the president wants all resources focused on doing everything that we can in the Gulf region."
FOLLOW THIS TOPIC