Senate committee to hold hearing on Lockerbie bomber's release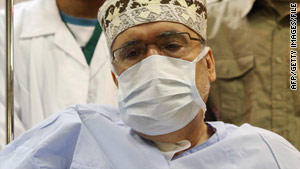 Recent news reports have questioned whether Abdelbaset al Megrahi -- seen here in September -- is as sick as depicted.
STORY HIGHLIGHTS
NEW: British ambassador denies any link between business deals, release of convicted Libyan
A Senate committee will hold a hearing on the release last year of Abdelbaset al Megrahi
Al Megrahi was convicted in the 1988 Pan Am bombing but released by Scottish authorities
Scottish authorities cited terminal illness for al Megrahi, but he is still alive
(CNN) -- The Senate Foreign Relations Committee will hold a July 29 hearing on last year's release by Scottish authorities of the Libyan man convicted in the 1988 bombing of Pan Am Flight 103 over Lockerbie, Scotland.
Sen. John Kerry, D-Massachusetts, the committee chairman, said the hearing would look into the circumstances surrounding the August 2009 release of Abdelbaset al Megrahi, who Scottish authorities said was terminally ill when they allowed him to return to Libya to live out his final days.
Al Megrahi is still alive, and news reports in recent days have questioned whether he was as sick as depicted. In addition. questions have been raised about whether a deal was cut to release him in order to protect British business interests in Libya.
The bombing of the Boeing 747 on December 21, 1988, killed 270 people, including 11 on the ground. In 2001, Al Megrahi was convicted of being involved and served eight years of a life sentence.
Last week, a group of U.S. lawmakers called for an investigation into whether oil giant BP may have played a role in lobbying for the release of al Megrahi, now 58, after a doctor testified that he was dying of cancer.

Video: Libya's oil minister denies BP link
"Reports have surfaced indicating that a 2007 oil agreement may have influenced the U.K. and Scottish governments' positions concerning Mr. Megrahi's release in 2009," Democratic Sen. Frank Lautenberg of New Jersey wrote in a letter to the Senate Foreign Relations Committee.
Britain and Libya had sparred over whether al Megrahi should be included in a prisoner transfer agreement the two nations were negotiating. British officials and BP said that the oil company's interests -- it was seeking a huge deal to drill for oil in Libya -- were a consideration in those talks.
Days after Britain and Libya concluded the transfer agreement that included al Megrahi, Libya and BP signed a deal that the company called the biggest financial commitment for exploration that an international energy company had ever made to Libya. But Britain and BP have denied that al Megrahi's release played any role in the deal.
On Thursday, the British ambassador to the United States wrote in a letter to Kerry that there was no truth to the alleged link between al Megrahi's release and business dealings with Libya.
In the letter, Ambassador Nigel Sheinwald wrote that the British government believed al Megrahi's release was a mistake, but respected the authority of Scotland to decide justice issues.
"The British Government worked with British business to promote legitimate commercial interests with Libya, as we do with many other countries," Sheinwald's letter said. "But there was no link between those legitimate commercial activities and the Scottish Executive's decision" to release al Megrahi.
The letter concluded that "we have to accept that there is now no mechanism for requiring a person who has been released on compassionate grounds to be returned to prison if they have survived for longer than the prognosis at the time."
FOLLOW THIS TOPIC