Obama signs bill targeting government waste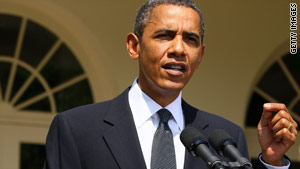 President Obama will sign into law a bill designed to cut down on wasteful government spending.
STORY HIGHLIGHTS
NEW: Obama says government must be a "responsible steward"
The measure provides new incentives for auditors
Federal agencies must spend $1 million annually on audits
The new law will attempt to recapture excessive government payouts
Washington (CNN) -- President Barack Obama turned his attention to the ongoing fight against government waste Thursday, signing a bill requiring federal agencies to spend at least $1 million annually on audits targeting improper payments and fraud.
Among other things, the Improper Payments Elimination and Recovery Act provides new financial incentives for auditors to track down government waste and requires the administration to report to Congress each fiscal year on steps taken to cut down on inappropriate expenditures.
Government needs to be a "responsible steward" of taxpayer dollars, Obama said shortly before signing the bill at the White House. "There are outstanding public servants ... but too often their best efforts are thwarted by outdated technologies and outmoded" ways of doing business.
The government improperly spent $110 billion last year -- more than the budgets of the Small Business Administration and the Education Department combined, the president said.
Obama said his goal is to reduce the improper federal payments by $50 billion between now and 2012.
"This isn't just about lines on a spreadsheet," he said. "When government doesn't work like it should, it has a real effect on people's lives."
The Senate passed the bill by unanimous consent on June 23. The House of Representatives approved it July 14.
CNN's Alan Silverleib and Mila Sanina contributed to this report
FOLLOW THIS TOPIC