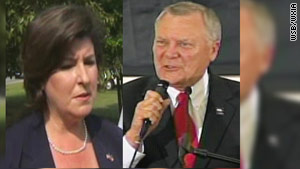 Karen Handel ran against ex-Rep. Nathan Deal in a close Republican primary in Georgia.
STORY HIGHLIGHTS
NEW: Ex-secretary of state concedes Georgia GOP gubernatorial primary
Dayton wins Democratic-Farmer-Labor Party nomination in Minnesota
Bennet takes Democratic nomination for Senate in Colorado
McMahon, Malloy, Foley win in Connecticut
(CNN) -- Former Georgia Secretary of State Karen Handel conceded the Republican gubernatorial primary runoff Wednesday after an extremely close vote between her and ex-Rep. Nathan Deal.
"As of this morning, we are 4/10ths of a percentage point behind Nathan Deal, with absentee ballots and overseas military votes yet to be counted," Handel said in a statement. "We certainly have the option of requesting the automatic statewide recount. But we are not going to do that."
Deal at one point led Handel by only 2,489 votes.
Handel said the best thing for the party is to rally around Deal in his fight against former Gov. Roy Barnes, who was the clear victor in the July Democratic primary.
"I spoke with Nathan this morning and let him know that I endorse his candidacy and look forward to the fight against Barnes," she added. "I have also called on all who were supporting me to give their same commitment and energy to Nathan."
Georgia entered the national spotlight when several potential 2012 Republican presidential candidates weighed in on the race to replace retiring Republican Gov. Sonny Perdue. Sarah Palin and Mitt Romney endorsed Handel, while Mike Huckabee and Newt Gingrich backed Deal.
Meanwhile, an incumbent U.S. senator with help from the White House held off a tough primary challenge in Colorado and a former wrestling executive easily won the Republican nomination for the Senate in Connecticut.
Four states went to the polls with high-profile primaries for governors and the U.S. Senate.
In Colorado, incumbent U.S. Sen. Michael Bennet claimed victory in the Democratic primary after staving off a fierce challenge from former Colorado House Speaker Andrew Romanoff. Bennet will face Weld County District Attorney Ken Buck, who -- with the support of many Tea Party backers -- defeated former Lt. Gov. Jane Norton for the GOP nomination.
In Connecticut, former World Wrestling Entertainment executive Linda McMahon won the GOP nomination for Senate, besting former Rep. Rob Simmons and businessman Peter Schiff. McMahon will face Attorney General Richard Blumenthal in November.

Video: Ex-wrestling CEO wins Senate primary

Video: McMahon thanks supporters

Video: Ken Buck gets GOP nod in Colorado
The race for the GOP nomination for Colorado governor was too close to call early Wednesday. The Associated Press said that with 90 percent of the vote counted, Tea Party favorite Dan Maes was holding a 50.5 percent to 49.5 percent lead over the one-time front-runner, former Rep. Scott McInnis. McInnis stumbled late in the campaign amid allegations of plagiarism.
In Minnesota, in a political comeback, former U.S. Sen. Mark Dayton overtook state House speaker Margaret Anderson Kelliher to win the Democratic-Farmer-Labor Party nomination for governor in Minnesota, AP projects. Dayton will face GOP nominee Tom Emmer and Independent Party candidate Tom Horner in November.
In Connecticut, Greenwich millionaire Tom Foley held off a late charge from Lt. Gov. Michael Fidele to win the GOP nomination for governor. And on the Democratic side, former Stamford Mayor Dan Malloy easily defeated Ned Lamont.
Speaking to a couple hundred exuberant supporters, a victorious Bennet at times sounded more like a challenger than the incumbent who had just won.
"I know Washington has a lot to learn from Colorado," he told the crowd. "Our country does not end at the Potomac River. ... Washington is full of politicians who are more interested in scoring points than doing the hard work to turn our economy around."
Bennet acknowledged in his remarks that this was the first time Colorado voters had actually seen his name on a ballot. He was appointed last year to fill the remaining term of Ken Salazar, whom President Obama appointed Interior Secretary. Noting that some political experts and pundits had counted his campaign out when Romanoff pulled even in polls a week ago, the senator said he had a simple message for them: "Welcome to Colorado."
Key to Bennet's victory was a strong outreach effort by Obama -- who recorded a robocall praising Bennet and phoned in to a telephone town hall last week -- and the Democratic National Committee, which sponsored a phone bank to enlist supporters as well as other activities. The race became a proxy war of sorts of endorsements after Romanoff was endorsed by former President Clinton, who had known him since 1992.
Bennet campaign aides say they will mount the general election effort immediately. He will hold a unity rally with Romanoff and DNC Chairman Tim Kaine on Thursday in Denver and a town hall Saturday.
Norton had support from establishment Republicans, including the National Republican Senatorial Committee, and was the early favorite. But Buck, who is backed by many in the Tea Party movement, closed the gap in the final weeks.
After a contentious campaign, Buck told supporters, "Get a good night's sleep because for the next 83 days, we are going to unite the Republican Party. We are going to reach out our hand for those independent voters and Democrats who are also fed up with Washington, D.C."
Norton admitted disappointment as she addressed her campaign party, saying, "This election is more than Ken Buck or Jane Norton. This election is about America and our future. We are losing our country, and it is our job to take it back."
The GOP primary made national headlines after video of Buck went viral on YouTube. In the clip, Buck jokingly told people gathered at a campaign rally that they should support him "because I don't wear high heels." Days later, the Norton campaign used the video in a campaign commercial.
McMahon, along with her husband, Vince, operated World Wrestling Entertainment from its startup in 1980 until last year, when she announced her candidacy. McMahon has said she'll spend up to $50 million of her own money on her bid to join the Senate. She's fended off charges from her GOP opponents that she's tried to buy the election, and she's also defended herself from the steroid scandals that have rocked professional wrestling over the past two decades.
In her victory speech, she told supporters it was time for the party to unify.
"Families don't always get along and don't always agree, but in the end, they do stand together," she said, saying the focus should be on people hurt by the economy.
The November matchup in Connecticut will pit McMahon against Blumenthal, who faced controversy in May when he apologized for misstating that he served in Vietnam. Blumenthal served in the Marine Corps Reserves stateside during the Vietnam War.
The Colorado GOP governor nominee will end up in a three-way race against Denver Mayor John Hickenlooper, the Democratic gubernatorial nominee, and former Republican Rep. Tom Tancredo, who jumped into the race in the past two weeks as the American Constitution Party's candidate. Gov. Bill Ritter, a Democrat, decided not to run for re-election.
CNN's Paul Steinhauser, Jessica Yellin, Mike Jones and Robert Yoon contributed to this report.
FOLLOW THIS TOPIC