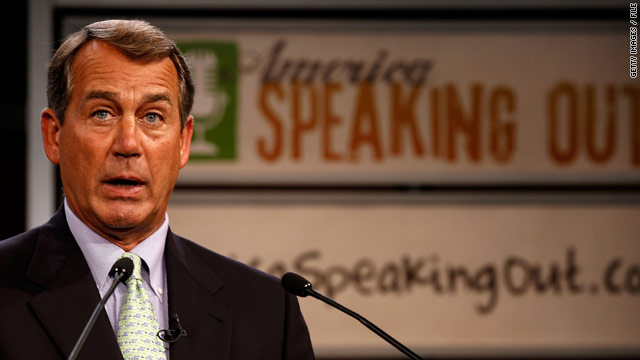 STORY HIGHLIGHTS
Boehner and McConnell highlight Obama's opposition to Bush's military surge in 2007-8
Obama will deliver a major address on Iraq on Tuesday night
The addresses coincide with the official end of the U.S. military's combat mission in Iraq
Washington (CNN) -- In twin speeches laced with heavy doses of "I-told-you-so," Republican leaders in the House and Senate tried to convince voters Tuesday that America's success in Iraq is not because of President Barack Obama, but in spite of him.
"Some leaders who opposed, criticized, and fought tooth-and-nail to stop the surge strategy now proudly claim credit for the results," House Minority Leader John Boehner, R-Ohio, said to the American Legion convention in Milwaukee, Wisconsin.
"One lawmaker rejected the idea that the surge would reduce violence in Iraq, saying -- and again I'm quoting -- 'in fact, I think it will do the reverse.'"
The lawmaker Boehner is referring to is then-Sen. Barack Obama. Boehner aides said he was reluctant to criticize the commander-in-chief by name in front of a roomful of veterans, but insisted it would be clear who he was talking about.

Video: U.S. combat role comes to an end

Video: Iraq war never over for some

Video: What September 1st means

Video: 'Big moment' for Obama
"Today we mark not the defeat those voices anticipated -- but progress. And I want to thank President Obama for setting aside his past political rhetoric and recognizing the importance of the surge and the diplomatic agreement signed by President [George W.] Bush and Prime Minister [Nuri al-] Maliki," Boehner said.
In a speech in his home state of Kentucky, Senate Republican Leader Mitch McConnell was more direct in his criticism.
"You might recall that the surge wasn't very popular when it was announced. You might also recall that one of its biggest critics was the current president," McConnell said.
"So it makes it easier to talk about fulfilling a campaign promise to wind down our operations in Iraq when the previous administration signs the security agreement with Iraq to end our overall presence there."
GOP aides said the coordinated message, in advance of Obama's prime time address, was to remind voters that, in the words of one aide, "we took a lot of crap for sticking our necks out and supporting the surge when it was unpopular but necessary. We funded the troops when Obama/ [Joe] Biden/ [Hillary] Clinton were racing each other to see who could defund them the fastest, and now those same people want to take credit for everything they fought against."
This is Boehner's second big policy speech in as many weeks. Aides admit he is trying to raise his profile, laying the groundwork to become speaker of the House should Republicans win back the majority in November.
However, as with last week's speech on the economy, this was heavy on criticism of Obama and Democrats and light on substantive policies Republicans would offer if they were in control.
GOP aides insist they will formally lay out their agenda in a few weeks.
In his speech, Boehner also called Afghanistan "not just one of 'two wars' -- it is central to the global struggle against extremism and intolerance."
The House minority leader repeated his criticism of what he calls Obama's "arbitrary deadline" for withdrawal in Afghanistan.
"Using campaign promises as a yardstick to measure success in Iraq and Afghanistan runs the risk of triggering artificial victory laps and premature withdrawal dates unconnected to conditions on the ground," he said.
Although Boehner's speech was billed as an address about national security, he and his aides know the economy is what is driving the election just two months away, so he began by talking to the veterans about jobs and the economy.
"Stimulus spending sprees, permanent bailouts, federal mandates and government takeovers have failed this nation and have failed our veterans. It's time for a fresh start so that every man and woman who has donned the uniform of our nation knows that when they leave the service, the opportunity for a good job in the private sector awaits them."
Boehner was also tough on the president on another issue voters call high on their list of concerns: terrorism.
"We see signs of a return to this pre-9/11 mentality in proposals to house terrorists on American soil just to fulfill a political promise," Boehner said. "We are a nation at war. A patchwork of political promises does not represent a coherent strategy to confront and defeat the terrorist threat."
"We need a Congress that will hold our government accountable for an overarching capture, detention and interrogation policy. And we need a Congress that will use every tool at its disposal to keep terrorists off U.S. soil."
Obama is scheduled to deliver an Oval Office address to the nation on Tuesday night marking the end of U.S. combat operations in Iraq. The speech -- set to start at 8 p.m. ET -- is expected to last about 15 minutes.
The total number of U.S. troops in Iraq has now fallen below 50,000 -- the lowest level since the U.S-led invasion in 2003.
The remaining American troops will train, assist and advise the Iraqis.