Poll: Bin Laden will never be caught, most Americans say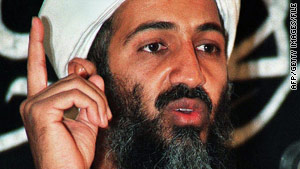 A CNN/Opinion Research Corp. poll says 67 percent believe it is unlikely the U.S. ever will capture or kill Osama bin Laden.
STORY HIGHLIGHTS
A little more than a third of those polled think the U.S. is safer now than before 9/11
Survey says 30 percent think the U.S. will capture Osama bin Laden
About half say they're prepared for a terrorist attack, poll finds
Washington (CNN) -- Nearly nine years after the September 11 terror attacks, a record number of Americans believe the United States is unlikely ever to capture or kill Osama bin Laden, according to a new national poll.
A CNN/Opinion Research Corp. survey released Thursday reveals that 36 percent think the country is safer from terrorism than it was before the 2001 attacks.
Nearly two-thirds of Americans, however, are not personally worried about becoming a victim of terrorism. And most said they are prepared to deal with an attack if the worst should happen.
While the federal government has given no indication that it has stopped its pursuit of the man behind the September 11 attacks, 30 percent of Americans now believe it is likely the U.S. government will ever capture or kill bin Laden. Sixty-seven percent believe it is unlikely.
In 2001, one in five Americans believed the government would be unlikely to catch bin Laden. That number, however, has risen steadily in the intervening years.
Afghanistan Crossroads blog: Your view -- Why hasn't bin Laden been found?
On the home front, a slim majority -- 52 percent -- said they are now ready for a terrorist attack. In 2003, most said that their families were not prepared.

Video: State Department issues travel alert
"Confidence in local police and hospitals has also increased in that time, and a majority say that the federal government is ready to respond to a terrorist attack," said Keating Holland, CNN's polling director.
"Not that they think those preparations are necessary -- 63 percent say they are not personally worried about a terrorist attack, and only 7 percent are very worried."
That confidence, however, seems to stop at the water's edge. Six in 10 Americans believe it is necessary for U.S. troops to remain in Afghanistan to prevent additional acts of terrorism in the United States.
The CNN/Opinion Research poll was conducted September 1-2, with 1,024 adult Americans questioned by telephone. The survey's sampling error is plus or minus 3 percentage points.
FOLLOW THIS TOPIC