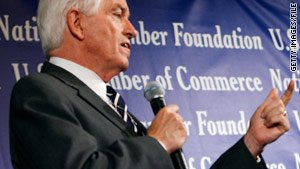 Sources say Tom Donohue, the U.S. Chamber of Commerce president, says the election will be anti-establishment.
STORY HIGHLIGHTS
Sources: Tom Donohue believes Democrats will barely keep the House majority
Sources: Chamber of Commerce leader thinks some Republicans expecting to win will lose
Ex-Sen. Bob Dole, Vice President Biden spoke politics when Dole was in hospital
Dole on Biden: "I think he knows they have a big fence to climb"
Washington (CNN) -- Top White House officials believe expectations were set so low for Democrats that they just may keep control of the House and Senate by grinding out victories in individual races, and there are signs emerging that the most powerful Republican business lobbyist may privately agree with that assessment.
CNN has learned that Tom Donohue, the powerful president of the U.S. Chamber of Commerce who has vowed to spend more than $75 million on key House and Senate races, has privately told colleagues in recent weeks he believes Democrats will just barely hold on to the House majority.
Two sources familiar with the conversations said Donohue has privately said he's gone over every single key race in the House, and he believes Republicans will lose a few seats -- losses he believes they don't see coming -- because it is more of an anti-establishment election than an anti-Democratic election.
Chamber spokesman JP Fielder told CNN he could not comment on private conversations Donohue may or may not have had, but stressed that this election season has already been highly unpredictable.
"If there's anything we learned from last week, it's that many surprises lay ahead in this election cycle," Fielder said in reference to the Senate primary results in Delaware, in which Republican Christine O'Donnell shocked the political world by using Tea Party support to defeat moderate Rep. Mike Castle.
Perhaps Donohue is just trying to temper Republicans' high expectations. On the other side of the aisle, top Democrats like Vice President Biden may be trying to manage expectations as well.
In August, Biden publicly all but guaranteed that Democrats will keep their majorities in the House and Senate during remarks at a Democratic National Committee meeting in St. Louis, Missouri.
"If it weren't illegal, I'd make book on it," the vice president quipped.
But CNN has learned that in recent weeks Biden and President Obama each paid quiet visits that were not on their public schedules to former Sen. Bob Dole, R-Kansas, who is recuperating from surgery at Walter Reed Army Medical Center in Washington.
Obama is from a different generation and never served in the Senate with Dole, and CNN was told his visit on August 30 was respectful but quick. The president was at Walter Reed to visit wounded troops a day in advance of his Oval Office address on Iraq, and he stopped by to wish Dole well.
But Dole told CNN the president hinted about the deep partisan divide he is facing, which is only expected to increase after the election, when there is likely to be either Republican control or Democratic control with slimmer majorities.
"He was kidding me, 'I wish you were in the Senate now,' " recalled Dole, who was known for working across the aisle despite his staunch Republican credentials.
Biden, as is his way, was a bit more talkative than Obama and stayed with Dole for an hour and 15 minutes during a separate visit earlier this month.
"You know Old Joe, once he gets going," Dole said jokingly.
The two men served together in the Senate for decades, and Dole said they had time to commiserate about the upcoming midterm elections. Biden didn't back down from his promise of Democratic victories, but he seemed to suggest the obvious: Holding both majorities will be an uphill battle.
As Dole put it, "I think he knows they have a big fence to climb."
Biden spokesman Jay Carney confirmed the meeting with Dole, but stressed there is no change from what Biden has said previously.
Carney noted the vice president has "always said this midterm election year was going to be tough and that Democrats should not take anything for granted," which is why last week he went to Delaware to campaign for Senate candidate Chris Coons, even though many pundits have predicted the Democrat will beat O'Donnell easily.
"There is absolutely no difference between what the vice president has been saying about the midterms in public and what he says in private," Carney said. "In public and in private, he says the same thing: 'It's going to be tough, but Democrats are going to win.' I wouldn't think it's a surprise that Sen. Dole, a former Republican leader, is emphasizing the 'going to be tough' part, but this is what the vice president says all the time."
FOLLOW THIS TOPIC