Murkowski to retain Senate committee spot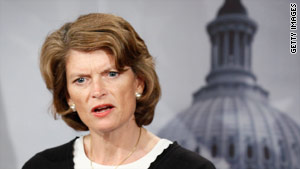 Senate Republicans are poised to strip Sen. Lisa Murkowski of her post on the Senate Energy Committee.
STORY HIGHLIGHTS
NEW: Murkowski to retain ranking role on the Senate Energy Committee
Murkowski will run as a write-in candidate against Republican and Democratic Senate nominees
Republican says Murkowski has no support from her colleagues anymore
Washington (CNN) -- In a surprise move Wednesday, Senate Republicans decided against removing Sen. Lisa Murkowski from her top position on the Senate Energy and Natural Resources Committee, according to several GOP senators.
Republicans had indicated Tuesday that Murkowski was likely to lose her seniority on the committee as penalty for her decision to wage a write-in candidacy for re-election in Alaska after losing in last week's GOP primary vote.
Murkowski resigned her position as vice chair of the GOP Conference on Friday.
A Republican source in the room Wednesday told CNN that, despite anger toward Murkowski, the conference decided against even considering the question of the committee post because "there was a sense that she's resigned her leadership post, she lost her primary, she will probably lose her race, and she'll be gone."
After losing to Republican Joe Miller in the GOP primary, Murkowski decided to run as a write-in candidate in November against Miller and Scott McAdams, the Democratic nominee.
On Tuesday, Sen. John Cornyn of Texas, the National Republican Senatorial Committee Chairman, told CNN that "when you chose not to accept the judgment of the primary voters and run as a write in ... it has consequences."
Another Republican senator said Tuesday that it was clear Murkowski has no support among her colleagues anymore.

Video: Murkowski defends write-in plan
Murkowski recently released a paid advertisement making her case to Alaskans and asking them to "stand by me" as she pursues the general election write-in campaign.
In the ad, she said she decided to run because of the recent support she received from her constituents and said she plans to stand up critics outside the state.
"Over the coming weeks outside interests will attempt to label me, lie about my record and discourage you from voting for me," Murkowski said. "But I will not abandon my principles or the state that I love."
CNN's Dana Bash contributed to this report.
FOLLOW THIS TOPIC