STORY HIGHLIGHTS
Obama apparently losing clout as party tries to preserve House, Senate majorities
Some Democrats distancing themselves from president, once a campaign rock star
In competitive southeastern Virginia district, some voters feel Obama did too much, too fast
They also feel economy didn't recover fast enough. Voters are "in a panic mode," one says
In "The Sweep," CNN dives deep into issues that are making news and why they're in the headlines.
Chesapeake, Virginia (CNN) -- It's dinner time on Sunday night and fresh burgers are sizzling on the grill a few feet away as Aaron Wheeler Sr., an African-American pastor who marched with the Rev. Martin Luther King Jr. as a kid, sits on his back patio and muses about how it has already been almost two years since President Obama's stunning election night victory electrified a nation.
The 63-year-old Wheeler usually votes Republican, but he will never forget sitting in his living room in southeastern Virginia, about a 3½-hour drive from Washington, watching as state after state fell into the Obama column and tens of thousands of young people joined older men and women from his generation to stream into Chicago, Illinois' Grant Park and chant "Yes we can!" and "We have overcome!" before an international television audience.
"I was so proud, excited -- anticipation like ketchup, you know," Wheeler said, shaking his right arm in the air as if he had a bottle of Heinz in his hand and the condiment just will not gush out. "Water came down my eyes. I couldn't believe it."
Wheeler is one of the original "Obamacans," Republicans who crossed the aisle in 2008 to help propel Obama to his historic victory. That kind of bipartisan appeal led Obama to become the first Democrat to carry Virginia in a whopping 44 years, and he was treated like a rock star when he used the state as the backdrop for his last major rally of the 2008 campaign.

Video: Has Obama lost his mojo?
The fact that Obama snarled traffic in Manassas for hours because of a rally that drew 100,000 people that day was a stark display of the enthusiasm gap Republicans faced in 2008. Their presidential nominee, Sen. John McCain, had held a rally in the same city a couple of weeks before the election that drew 8,000 people.
But now the rock star seems to be losing his mojo at the precise time when Democrats most need Obama to rise to the occasion and help save their House and Senate majorities. The stakes could not be higher, because losing control of Congress could cripple Obama's agenda in the final two years of his first term.
Obama's fading clout can be measured by how many Democrats who were so willing to embrace him while he was on top are running from him in races across the country. That includes freshman Virginia Rep. Glenn Nye, who had four campaign events with Obama in 2008 but now is avoiding him like the plague.
Local Republicans like Wheeler, who was shedding tears of joy over Obama's victory just two years ago, say they're now ready to support Nye's Republican opponent, Scott Rigell. If Nye falls, Democrats will be one step closer to having their House majority come crashing down.
Chad Saunders, a Virginian who voted for John McCain in 2008, said he has respect for Obama's willingness to try to bring new ideas to the table -- but he noted that the president is simply stuck in a toxic political environment.
"It seems like it's just complete political unrest ... essentially that regardless of your party affiliation you're not granted time," Saunders said bluntly. "You better have quick results or you're done."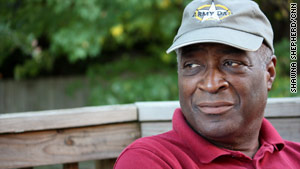 Aaron Wheeler Sr., a Virginia Republican who voted for Obama, is ready to vote for a Republican for Congress this year.
To be sure, Obama has been battered by a series of struggles, starting with the economy, but including a series of events that were at least initially beyond his control -- from the Gulf oil disaster to a Republican minority that by any objective standard has tried to block him at every single turn -- and dragged down his approval ratings.
But then there have also been challenges of his own making, such as spending months of political capital on health care reform on top of an already-packed agenda, which led voters from across the political spectrum to tell me on this trip to Virginia that Obama tried to do too much, too fast.
"Honestly I think he just promised to change too many things in 20 months -- no man can do that," said J.P. Binard, an independent in Virginia who voted for Obama in 2008 who stressed that he is nonetheless proud of his vote for the president and impressed with Obama's legislative accomplishments.
In fact, despite all the talk and punditry about how this is the year of the "angry voter" and such, I was struck by how many people of all political parties told me they believe the president is a good man who deserves credit for trying hard to turn the economy around. But this is a microwave society where people want faster results, and you could see the frustration from even some Obama supporters spill over at a CNBC town hall meeting on Monday.
The seminal moment came when a middle-class mother of two, Velma Hart, told the president: "Quite frankly I'm exhausted -- exhausted of defending you, your administration, defending the mantle of change I voted for, and deeply disappointed with where we are right now."
Then Tuesday on CNN's "American Morning," Hart added, "There's no denying that this president and his administration has made progress in these two years, no denying that at all. I just think that for middle-class America, we thought we'd reap the benefits of that a lot faster."
White House spokesman Robert Gibbs tried to deflect some of the heat from Obama by noting, "This is a frustration that built for years and years and years" and predates this administration, since incomes were dropping for a decade. He also tried to stamp out any suggestion the president is out of touch, stressing that Obama understands full well why the American people want to see this turn around faster.
"I don't think anybody believed that it would turn around in a year, a year and a half or 20 months," Gibbs said. "It's understandable there is a lot of anger, frustration out there. The notion that people that supported us would be immune to frustration when the president is frustrated himself, I don't think that is something the president believes."
The question now is whether Obama, who is planning to crisscross the country several times in the final push before the midterm elections, can recapture some of the old magic from 2008 in time to save his party.
Binard, who works at the Bayshore Concrete Products Corp. in Cape Charles on Virginia's Eastern Shore, said voters are looking for an "easy fix" because of the fierce economic climate. He said that people seem ready to embrace divided government -- a Democratic president working with a Republican Congress -- as a last-ditch effort to bring both sides together.
"I believe that a Republican Congress and a Democratic president is a great fit for the United States of America," Binard said. "I think the last couple years have been ineffective because you've had sort of two entities that are operating supposedly alike but yet seem to be different, and I think that's what's discouraging, and perhaps that's what will change."
That mentality could spell trouble for Nye, who is facing a stiff challenge from political newcomer Rigell. Nye won his seat, which represents all of Virginia Beach and the Eastern Shore as well as parts of Norfolk and Hampton, in 2008 by 13,000 votes, thanks in part to a surge of African-American votes because Obama was on the ballot.
That was then. This is now, and like some other Democrats around the country, Nye is running from Obama as fast as he can. The congressman stresses to me again and again his "independent approach," eagerly distancing himself from Obama and House Speaker Nancy Pelosi.
He voted against the president's health care reform bill and seems hardly interested in having Obama come here to stump on his behalf, brushing off any suggestion of a visit by saying, "He does his own schedule."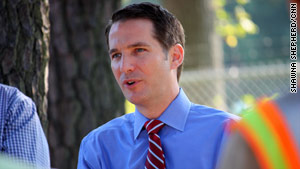 Rep. Glenn Nye, D-Virginia, appeared with Obama four times in 2008. Now he's distancing himself from the president.
But when I gently remind Nye he appeared together with Obama at no less than four campaign events in this district in 2008, the congressman is quick to clarify the circumstances. "I didn't have him here," said Nye. "He came here to see me."
Nye is facing an aggressive charge from Rigell, who owns several car dealerships affiliated with Ford in Virginia Beach, a role that has given him a lot of powerful contacts in the community to help organize voters and raise money.
He's also an easy glad-hander. Years in the car business seem to have burned an "aw-shucks-glad-to-meet-you" smile on Rigell's face, which supporters believe is a sign of a refreshing outsider. But he also signed a pledge of support with the Tea Party, which led some of his supporters to privately tell me they have concerns about whether he will be his own man if he wins. The political newcomer also is not exactly a firebrand on the stump.
"We are 44 days away from big things," Rigell said at a Sunday afternoon rally with other Republican candidates. But then he paused sort of uncomfortably to reveal the "big things" that are coming: "a leadership team" that will do the right thing and cut deficit spending, which draws polite applause from a Republican crowd.
Democrats are also giddy that there is a third-party candidate in the race, Kenny Golden, who is a former Republican. That gives national Democrats hope that Golden will pull votes from Rigell and save Nye's seat, no small development in one of several close battles that will determine control of the House next year. Relying on a relatively unknown third-party candidate to carry you to victory is hardly a rallying cry, but Democrats will take good news where they can get it.
Voters are in 'panic mode'
Nye just turned 36 years old and it's clear he's still getting the hang of this retail politics thing. He arrives for breakfast Sunday at d'Egg Diner in downtown Norfolk and immediately starts shaking the hands of some firefighters sitting by the front door.
But then he quickly joins me in a corner booth without greeting another voter in a joint that's packed on weekend mornings, missing the opportunity to sell himself. Part of the challenge is that politics does not appear to come naturally to Nye, who previously served as a foreign service officer in hot spots like Afghanistan, Bosnia and Iraq.
On this morning he's also in a bit of a hurry because he has to get to services at two churches, important Sunday stops for any politician in this very religious area.
It's not uncommon here to ask someone how they're doing and hear back, "Blessed."
I ask about how he won in 2008, and Nye doesn't wait to start distancing himself from Obama. "Change was the mantra, but it wasn't just the president and his campaign," he said. "People were looking for a different approach, a more pragmatic approach to policy."
While he did break with Obama on health care, Nye supported the president's $787 billion stimulus plan, in part because he was able to win a provision that provided tax cuts for companies that hire unemployed military veterans, a big deal in this heavily military community. He explains his vote by saying something had to be done to save the economy.
"At the time, we were looking at the worst recession any of us had seen in decades, the economy was going off the cliff," said Nye, in between sips of orange juice.
But in the next breath Nye tells me that he was proud to vote against the president's push for a new round of TARP bailout funding in early 2009, even though that, too, was sold as necessary to prevent the economy from falling off the cliff. Nye brushes past the contradiction of why he voted for one and not the other and eagerly stresses that he does not blindly follow Pelosi, a liberal lightning rod in military towns like this one.
"My relationship with her is very pragmatic," said Nye, in a tone that sounds like he's talking about his dentist instead of his leader. "I tell her what I think we should do based on the people I talk to. Sometimes she agrees, sometimes she doesn't."
That approach seems to resonate with some Republican voters in Nye's district, like Saunders and Gary Shrieves, who both work at Bayshore Concrete Products Corp., which Nye visited on Monday.
"I still think in the climate that we live in, he still does owe some allegiance to his party, but he is willing to stand firm for the folks here on the Eastern Shore," Saunders said.
But Shrieves said that regardless of Nye's record of breaking with Obama on some issues, many people here "are just going to vote for something different" regardless.
"There are going to be knee-jerk reactions and that's what you're going to see," he said. "They're in a panic mode so they're going to keep reacting that way."
This is why Nye is breaking with Obama on the Bush tax cuts -- he wants all of them extended, including those for the rich -- and said positive things about House Minority Leader John Boehner's economic plan.
If this race is a referendum on Obama, Nye loses. If it's a referendum on incumbents like Nye, he and the others still may lose, but at least they have a fighting chance.
"I disagree with painting the election as a choice between two parties," Nye said. "I'd rather it be a choice between individuals. That's the choice right now -- not whether they like Obama or like Boehner."
But it's a delicate balancing act and Nye has to be careful not to break too far with Obama or he could turn off African-American voters like Wheeler, who griped to me that Nye "rode in on the Obama wave" and is now opposing him on key issues.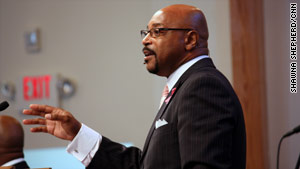 Virginia pastor Melvin Marriner says people in his largely African-American flock don't seem excited about voting now.
The Sunday faithful at the Grove Baptist Church, a largely African-American flock, also seem less than enthusiastic about turning out for the midterms. After the 9 a.m. Sunday service, I catch up with Dr. Melvin Marriner, senior pastor.
"People don't seem excited about voting, they don't seem energetic," said Marriner, characterizing their thinking as: "What difference would it make? We've got the first African-American president in office, but look at where we are now."
Marriner added that it is not necessarily directed at the president. "I don't know if they're disappointed in him. I think they are disappointed in the process," he said. "I think they're disappointed in the overall dysfunctional attitude in Congress."
Pumpkins and politics
Rigell is doing all he can to make this race a referendum on Obama and Pelosi, and he's getting a little help from his fellow Republican from Virginia's nearby 4th Congressional District, Rep. Randy Forbes. On Sunday afternoon, Forbes opened up his massive backyard to voters for his regular fall "Pumpkins and Politics" festival, with face painting for the kids and red meat for the adults.
"They are ready to dismantle the greatest military in the world to pay for social programs!" Forbes declared from a makeshift stage on his back lawn surrounded by pumpkins and American flags. Then he put an arm around Rigell and said the most important vote he will cast is not over any one issue. It's over who will be the next speaker of the House.
"Do we continue to let Nancy Pelosi take this country off the cliff?" Forbes asked the crowd of a couple hundred people.
The answer is a thundering "No!"
In an interview later, Rigell picked up the same theme and said Nye's "first vote will be to make Nancy Pelosi speaker of the House again" if the Democrat is re-elected.
Rigell said he decided to leave his comfortable car dealership to run for office because he became "deeply, deeply troubled" about the direction of the country, especially federal debt. So I asked him to name one federal program he would cut, and all he came up with was a "federal hiring freeze" that would hardly put a dent in the deficit.
Pressed for more details, Rigell added, "I'd cut out every TARP program, every stimulus program that's not been fully funded yet. I would unwind that and return it to the treasury."
Because he still had not offered any kind of real budgetary plan, I asked whether he would be willing to cut Medicare, Social Security or defense spending. "We need to keep Social Security strong," he said.
A few minutes later, Forbes and I sat on a couple of bales of hay in his backyard and he proudly noted he is just one of 17 members of Congress who voted against the stimulus and every single bailout. When I asked what would have happened to the financial markets if he had succeeded and the bailouts had not passed, he said the "doomsday scenarios" from both the Bush and Obama administrations were overblown.
Forbes said he's convinced Republicans will take control of the House because of what he calls "arrogance" from Democrats in Washington.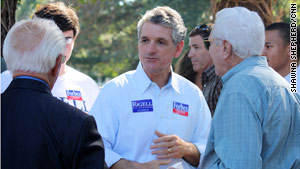 Republican Scott Rigell is running against Nye in the 2nd Congressional District in southeastern Virginia.
"The intensity level is like I've never seen in all the years that I've studied politics or been involved in it," he said. "I can't go in a Lowe's, a Home Depot, I can't go in a restaurant that we don't have people lining up to come up and say thanks for fighting for us and for the country, because they really feel like the leadership in Congress doesn't care about them and is not listening to them."
"The greatest drive of my life"
The sun is starting to set on southeastern Virginia and Wheeler, the African-American preacher, is in his backyard grilling his hamburgers and reminiscing about his support for Obama in 2008. It turns out there's more to the story beyond the celebration in his living room on election night.
Wheeler could not cast his ballot in Virginia in that election because the former chairman of the Ohio Civil Rights Commission had just recently moved and was still registered to vote there. So a few days before Election Night, he drove 11 hours to participate in Ohio's early voting and pull the lever for Obama.
CNN's Mary Snow happened to be in Columbus, Ohio, when Wheeler showed up to vote and interviewed him about the moment. "Tears came out of my eyes as I cast my ballot," Wheeler said then.
Wheeler is not completely satisfied with Obama's performance, but said he has no regrets about the 22-hour roundtrip.
"It was the greatest drive of my life," said Wheeler. "Proud to do it. I'll never forget it. And it wasn't just about the color, because Jesse Jackson ran. I didn't vote for Jesse."
Wheeler said Obama can't change Washington in just two years, so he's giving him more time.
"President Bush left us in not the best of shape, OK?" he said. "This country was at the edge of financial destruction. He leveled it off. I think he's done a good job. Republicans ought to back off and quit complaining, start helping the president."
Nevertheless, it turns out that Wheeler will not be backing the Democrat in the hotly contested House race here. He has decided to back Rigell over Nye and is organizing outreach to African-American voters for the Republican.
Wheeler said he realizes a Rigell victory could give Republicans control of the House and cripple Obama's agenda. But he sounded optimistic that Rigell is a good man, and a divided government -- a Democratic president and Republican Congress -- might actually force the two parties to work together better.
"I think he'll be his own man," Wheeler said of Rigell. "I don't think he'll be with the party of 'no.' I really believe this guy will make a difference."
The same words were used about Obama in this state two years ago, but it's time for the interview to end. I've got a plane to catch, and Wheeler has some burgers to dig into.
CNN White House Producer Shawna Shepherd contributed to this report.
FOLLOW THIS TOPIC