Rabbi withdraws endorsement for Paladino after apology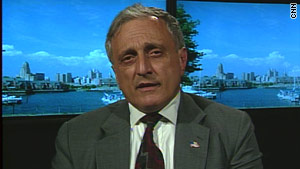 Carl Paladino apologized Tuesday for his recent comments about gays and lesbians.
STORY HIGHLIGHTS
NEW: Rabbi drops support for Paladino after apology
Comment sparks outrage among advocate groups for gays and lesbians
Paladino says he will fight for the rights of all New Yorkers if he's elected
New York (CNN) -- An Orthodox rabbi who endorsed New York gubernatorial candidate Carl Paladino said Wednesday he is withdrawing that endorsement after Paladino apologized for making anti-gay remarks.
"I sadly, sadly have to withdraw from his campaign because I represent the Orthodox Jewish community in terms of family values," Rabbi Yehuda Levin told CNN, adding: "You can't compromise on this."
"My message today to the people of New York state, and people across the country, is there are standards and values and as much as it hurts me I have sadness for Mr. Paladino because I believe his heart is in the right place," Levin continued, adding that if Paladino does become governor, "I hope he straightens out."
CNN reached out to Paladino's campaign, but it had no statement in response to Levin's comments.

Video: Carl Paladino under fire
Paladino apologized Tuesday for comments "that may have offended the gay and lesbian community" after his remarks to an Orthodox Jewish group drew fire earlier this week. The Republican candidate had told the group he doesn't want children "to be brainwashed into thinking that homosexuality is an equally valid or successful option [compared with heterosexuality]. ... it isn't."
Andrew Cuomo, the New York attorney general and Paladino's Democratic opponent, criticized the remarks Sunday, as did advocate groups for gays and lesbians.
In a letter Tuesday, Paladino acknowledged that he made "mistakes" in his comments.
"I sincerely apologize for any comment that may have offended the gay and lesbian community or their family members," he said in the letter. "Any reference to branding an entire community based on a small representation of them is wrong."
Paladino said that if elected, he will fight for the rights of all New Yorkers.
CNN's Julie Cannold contributed to this report.
FOLLOW THIS TOPIC