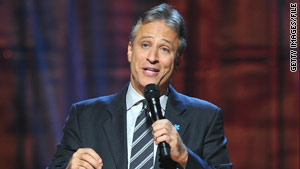 Stewart has many Americans' attention, and that's just one reason why a sitting president would appear on his show.
STORY HIGHLIGHTS
President Obama to appear on "The Daily Show With Jon Stewart" on Wednesday
Stewart's skewering of media, politicians has given him wide popularity
Howard Kurtz: With "Rally to Restore Sanity," Stewart may be shifting to activist role
Journalism professor: Stewart has pulse of people who are sick of others' bickering
(CNN) -- Jon Stewart is not a newsman, but polls show he has the reach of one at the top of his profession. He's not a politician or an activist, but he's set to host a rally expected to draw tens of thousands to Washington's National Mall.
And with President Obama ready to appear on his Comedy Central show Wednesday -- less than a week before the midterm elections -- Stewart is reconfirming that he's more than just an entertainer and satirist.
Obama will be the first sitting U.S. president to appear on "The Daily Show With Jon Stewart" when it airs Wednesday night. He's been on ABC's "The View," NBC's "The Tonight Show," and other programs as president. But the show Obama picked for an appearance days before the midterms -- with Democrats anxious to turn out the voters who helped propel him to the presidency in 2008 -- is Stewart's.
Obama and Stewart: What's in it for them?
"It's a no-brainer, I think. You're talking to your base, and you're talking to younger voters," said Judy Muller, associate professor at the University of Southern California's Annenberg School for Communication and Journalism and a commentator for National Public Radio. She noted that Obama also has been targeting younger voters by speaking on college campuses in the past couple of weeks.
"Even though Jon Stewart has a wide popularity ... I think that [the show has] a fairly liberal audience, but [Stewart] doesn't rant and rave. It's a friendly, tolerant but liberal-slanted show, where Obama has been allowed to be funny and relaxed and allowed to be himself," Muller said, noting Obama's appearances on the show when he was a U.S. senator.
Stewart himself has said he leans left. But he hosts conservative guests as well as liberals, and his show skewers politicians of all persuasions.
"Republicans love America -- they just seem to hate about 50 percent of the people who live in it," Stewart said on CNN's "Larry King Live" last week. "Democrats, for their thing, it's always: They love this country, they just somehow wish it were a different country. With Democrats, it's like, 'America is the greatest country in the world. [But] have you seen Finland's health care system?' "
And, perhaps getting closer to what really makes Stewart's show tick, he goes after the news media and how they examine issues. A recent sendup of the media's coverage of NPR's firing of analyst Juan Williams -- with Stewart mockingly introducing it as the nation's top story, ahead of the midterms, in a segment called "NPR Staffing Decision 2010" -- is one example.
"The media in general ... it's focused on conflict. It's focused on creating drama and a false sense of urgency," Stewart told Larry King last week. "For better or for worse, the 24-hour networks are now the leading light of our information age. They're the ones that kind of drive the dialogue."
"The people whose voices are heard are the ones who will say the most extreme things," he said.
Whatever chord he's struck, many people are listening to Stewart. And it's another reason why a sitting president would agree to appear on his show.
Just this week, the online men's magazine AskMen announced Stewart was No. 1 on its list of Top 49 Most Influential Men of 2010, derived from a poll of readers and AskMen staff. In a nonscientific online poll last year, Time magazine named Stewart "America's most trusted newscaster." Stewart captured 44 percent of that vote, with NBC's Brian Williams finishing second at 29 percent.
Scientific polling in 2007 by the Pew Research Center for People and the Press found Stewart tied for fourth place as viewers' favorite news person, ranking alongside Dan Rather, Tom Brokaw, Williams and CNN's Anderson Cooper, and just behind Katie Couric, Charles Gibson and Bill O'Reilly.
Stewart's new book, "Earth (The Book): A Visitor's Guide to the Human Race" -- a tome that aims to explain humanity to any alien who visits the planet after humans' extinction -- is No. 1 on the New York Times' best-seller list for hardcover nonfiction.

Video: Stewart, Colbert ready to rally

Video: 'Excited' about Obama interview

Video: Stewart, Colbert get serious
And now Stewart is now trying a new format -- Saturday's "Rally to Restore Sanity" on Washington's National Mall, joined by a satirical "March to Keep Fear Alive" from Comedy Central's faux-conservative funnyman Stephen Colbert.
Stewart says the event, alternatively known as the "Rally to Restore Sanity and/or Fear," will have the same spirit as his show, but in rally format. He insists the event isn't political, and says its purpose isn't to counter Glenn Beck, the conservative talk show host who held a Washington rally of his own in August.
"When rallies became sort of the in thing for the news to talk about, that's the perfect format for us to do our shtick," Stewart told King.
But even if the rally is laden in satire, the comedian is advancing a sober message. When describing the rally on "The Daily Show," he's said it's an appeal against the fringes he says are dominating political discussion and coverage. He said his point is that although you hear about people who believe Obama is a Muslim and people who liken Obama to Hitler, and others who liken George W. Bush to the same Nazi leader, most folks have no such thoughts -- and aren't heard from.
He's suggested that people should bring signs that would run counter to incendiary signs at other rallies. Some of his suggestions were, "I may disagree with you, but I'm pretty sure you're not Hitler" and "Got competence?"
"We are presuming that 75 to 85 percent of the country -- reasonable people that get along -- they may not agree on things, but they can do things. And the other 15 percent control it -- the dialogue, the legislation," Stewart told King. "This is for the people that are too busy, that have jobs and lives and are tired of their reflection in the media as being a divided country and a country that's ideological and conflicted and fighting."
Howard Kurtz, host of CNN's Sunday program "Reliable Sources" and Washington bureau chief for The Daily Beast, said he wonders whether the event will change Stewart's brand from satirist to political activist.
"Jon Stewart is not just a comedian. He's a very sharp media critic, social satirist, and somebody who is very good at sticking pins in establishment figures," Kurtz said in an interview with CNN's Kate Bolduan. "Now he's stepping out of that role a little bit in staging this rally, and I think that's a risk for him -- and not because it won't be funny ... but because he is now taking a stand and, maybe, almost like becoming one of the people he makes fun of."
Though the event isn't designed as a partisan event, Kurtz said, Democratic strategists told him the rally -- which has gotten wide media coverage and will be broadcast live on Comedy Central -- could give a boost to their party.
He said it remained to be seen how serious a message the event would have.
"To me, the bottom-line question is this: Is this going to be a fun Saturday event with a lot of laughs? ... Or is it going to be something that, while wrapped in humor, is going to make a serious political point about folks in the middle -- moderates who are alienated ... by the partisan shouting on both sides? If that happens, Jon Stewart will have made a serious point while still having good fodder for 'The Daily Show,'" Kurtz said.
Muller said Stewart "put a finger on the pulse of great numbers of people who are so weary of not only bickering and ranting, but the media's concentration on that."
"I think he's right in saying there are many people in the country who are capable of debate and who can like people who disagree with them. But that's not [considered] newsworthy, and I think he's trying to gear attention to that," Muller said.
CNN's Kate Bolduan and Catherine E. Shoichet contributed to this report.
FOLLOW THIS TOPIC