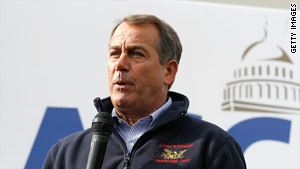 Rep. John Boehner will become speaker if Republicans take over the House in Tuesday's election.
STORY HIGHLIGHTS
John Boehner will become speaker if Republicans regain control of the House on Tuesday
Boehner says GOP will be more transparent and inclusive than Dems in running the House
If Democrats have significant losses on Tuesday, their caucus is likely to tilt to the left
GOP will have to walk fine line with new Tea Party-backed members elected as outsiders
Editor's note: Deirdre Walsh has covered Capitol Hill for CNN for five years. Prior to joining CNN's Congressional unit, Walsh worked as producer for "Judy Woodruff's Inside Politics," the first television program exclusively focused on political coverage.
Washington (CNN) -- With an incoming freshman class of conservative and Tea Party Republicans skewing the GOP conference to the right, there will be little mood for compromise or bipartisan legislation on any major issues in the House, most observers say.
Ron Bonjean, a Republican strategist who worked for the last Republican House speaker, Dennis Hastert, put it bluntly:" It's been a hostile atmosphere, but it will be hostile on nitroglycerin."
While Ohio Republican Rep. John Boehner, who would be the next speaker should Republicans regain control of the House, plans reforms that he says will make the chamber work better, he's already signaled he's not planning to negotiate with the White House or congressional Democrats on his party's top priorities.
Asked last week by talk show host Sean Hannity about a fellow Republican's suggestion to hold off on repealing health care, Boehner said, "This is not a time for compromise, and I can tell you that we will not compromise on our principles."
Boehner plans a new way of doing business
Boehner promises his style would be a sharp contrast to the way Democratic leaders have run the House.
The GOP leader says Republicans will be more transparent and inclusive. Boehner accuses Democrats of doing business "in the dark of night" without "fair debate," and he points to the way Democrats handled massive health care and energy bills -- both of which fueled Tea Party outrage about Congress' inner workings -- as exactly what Republicans won't do.
Boehner has proposed a number of reforms to change the way the House works. He says he intends to take up smaller, more incremental bills and give rank-and-file members more say over legislation.
As a former chairman of the House Education and Workforce Committee, Boehner has pledged to return the House to "regular order" -- allowing bills to be written through the committee process. Under Democratic Speaker Nancy Pelosi, most major legislation was crafted by a small group of leaders and then presented to members for a vote, with little opportunity to make changes.

Video: GOP targets Democrats in New York

Video: Van Hollen: Pundits will be wrong

Video: Michael Steele: Big day for GOP

Video: Does Tea Party help or hurt GOP?
Boehner promises the public will be able to closely watch how bills are developed. One example is the party's pledge to publish bills online for three days before holding votes on them. Republicans also say legislation should be subject to open rules -- meaning members would be allowed to offer amendments and change bills on the House floor.
Democrats could tilt more to the left
Pelosi insists Democrats will retain control of the House and maintains she will continue in her job as speaker. But if Democrats lose their majority by a significant margin, many expect Pelosi to step aside from any leadership role.
The current House majority leader, Steny Hoyer of Maryland, would then likely become Democratic leader in the House. Although Hoyer is considered more moderate than Pelosi, the Democratic caucus would likely tilt more to the left, because many of the Democrats' losses are expected to come from the party's moderate ranks.
Fiscal issues would be the first priority
Republicans recognize an electoral victory would largely be based on public unrest over the economy and record deficit spending, so right out of the gate, Boehner would focus the House agenda on fiscal issues.
House Republicans have promised to cut $100 billion from the federal budget in the first year, rolling back spending to 2008 levels. Boehner has pledged weekly votes on spending cuts. Many of those votes could be on cuts recommended by the public as part of a recent initiative led by GOP Whip Eric Cantor called "YouCut."
"YouCut" encouraged people to vote online for programs they wanted to axe from the federal budget. While Republicans so far have been unable to force House votes on the public choices, GOP leaders are expected to roll many of those items together for another package of spending cuts, and one senior GOP aide says this list could add up to as much as $150 billion.
Boehner will also push his colleagues to renew a ban on all earmarks, sometimes called "pork-barrel spending," and attempt to persuade Democrats to go along as well.
Although the spending cuts Boehner has promised would have some impact on federal spending, in reality the wouldn't make a major dent in this year's nearly $1.3 trillion federal deficit. Still, one senior GOP aide insisted, "a couple hundred billion dollars cut is a couple hundred billion dollars more than any previous Congress has cut. You have to start somewhere."
Under a new Republican majority, the cuts would pass the House, but the reality is that most, if not all, would likely die in the Senate if Democrats retain control there. So Boehner and other House Republicans, branded by Democrats as "the party of no," are expected to try to turn the tables on Democrats and accuse them and President Obama of obstructing progress on spending reductions.
Building support for whatever the GOP achieves
Republican strategist Bonjean noted that GOP leaders know full well the limitations of getting anything they pass through the Senate and to the president's desk. But he says a parallel communication strategy directed at the GOP base and independents would tout political successes for Boehner's team and build support for Republican achievements, even if nothing they pass actually becomes law.
In addition to spending, Republicans will schedule votes on targeted tax cuts for small businesses that they believe will help spur job growth. If the lame-duck Congress does not pass extensions of the Bush-era tax cuts later this month, House Republicans would move early next year to renew those tax cuts.
Another policy priority Republicans emphasized during the campaign is their goal of repealing the health care law. In the early weeks of the new session of Congress, it's likely Boehner will schedule a floor vote to start that process.
But GOP congressional sources concede that repealing the law won't happen in one fell swoop. The massive health care overhaul is already being implemented on various tracks. Rolling it back would likely take a two-pronged approach: votes on a series of bills to repeal major portions, such as the mandate that individuals carry insurance; and votes on measures that would cut off funding for agencies in charge of implementing the new law, such as the Internal Revenue Service and the Health and Human Services Department.
California Republican Darrell Issa, who would become the new chairman of the House Oversight and Government Reform Committee, has pledged an aggressive agenda to investigate the Obama administration's handling of health care, the Wall Street bailout, and the BP oil spill.
Boehner has stressed that oversight will be a key role of all congressional committees.
Walking a fine line with the Tea Party
Just as divisions among moderate and liberal Democrats spilled out into the open regularly during Pelosi's tenure, Boehner's Republican conference will have its own set of politics likely to cause him some headaches. Many GOP House hopefuls campaigned for this midterm election with a take-no-prisoners, no-compromise approach to reforming Washington.
Boehner will have to walk a fine line, showing deference to the new Tea Party element while also demonstrating that Republicans can govern. Many of the new faces will be eager to challenge Obama or push for right-wing priorities, such as abolishing the Department of Education or shutting down the government if the president doesn't agree to major spending cuts, both items that Boehner has not endorsed.
GOP leaders in both the House and Senate recognize that if they fail to demonstrate they are listening to the Tea Party-backed demands for smaller government, they could find their leadership being challenged by this new political force.
But Boehner's aides stress that his leadership experience will help him steer the new group's transition from outsiders to legislators. One aide pointed to the party's last stint in the House majority in 1994 and said Boehner "learned a thing or two, and he's also got one of the most conservative voting records in the House." He has also built relationships with many of the incoming freshmen, campaigning for them across the country.
Managing expectations and looking ahead to 2012
Boehner and other top GOP leaders publicly acknowledge they lost the majority in 2006 because they failed to hold the line on government spending. If they win back control of the House, they know that they need to regain the trust of voters by following through on their campaign promises. But they are also aware of the need to manage expectations and remind Americans that Republicans won't be able to balance the budget in just two years.
"The challenge for Republicans is to make good on those promises. We have to take incremental steps to make people think we are who they think we are," one senior GOP aide told CNN.
But former Virginia Republican Rep. Tom Davis also cautions that the new leaders in the House must be careful about "misreading the mandate" and remember that they lost the majority four years ago.
"You don't want to go too far too fast," Davis said.
"Number one, and Boehner recognizes this, they are not electing the Republicans for their agenda -- they are voting against the Democrats. This is not an outright embrace of the Republican agenda," Davis said.
But Republican leaders also must contend with the fact that they won't have much time to push their agenda, perhaps eight or nine months, before presidential politics overshadows the real work on Capitol Hill.
"The reality here is the whole world changes on November 2 and the election for 2012 begins. That's a fact. They will take each issue and try to frame it the best way they can, " Davis said.
FOLLOW THIS TOPIC