Senate approves long-delayed food safety bill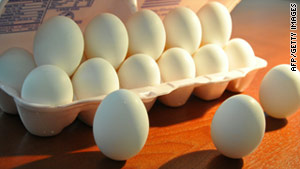 More than 500 million eggs were recalled because of a salmonella outbreak last summer.
STORY HIGHLIGHTS
NEW: A date for a final House vote has not been set
The food safety bill passes 73-25
A similar bill was passed in the House of Representatives last year
Lengthy delays have angered some safety advocates
Washington (CNN) -- The Senate passed a food safety bill to give more power to the Food and Drug Administration on Tuesday, more than a year after the House of Representatives passed a similar measure.
The bill, designed to bolster the safety of the nation's food supply, passed 73-25.
A version of the bill passed the House in July 2009 but had languished in the Senate, a fact that has angered some food safety advocates.
A date for another House vote -- this time to provide final passage of the Senate's version of the bill -- has not been set, according to an aide to House Majority Leader Steny Hoyer, D-Maryland.
The nonprofit advocacy group Center for Science in the Public Interest was one of the groups that released a report in September urging senators to pass the stalled bill.
At that time, the group said that there had been 85 recalls of FDA-regulated foods since the House of Representatives passed its version of the bill.
The recalls were associated with 1,850 reported illnesses, the report said.

Fighting for food safety
The bill, called the Food Safety Enhancement Act (S. 510), covers many aspects of food safety, including better preventive control measures by manufacturers, more frequent inspections of facilities and greater FDA authority over recalls.
The bill is supposed to help the government and food manufacturers handle situations like recent recalls on lettuce, peanuts and eggs.
In the egg incident over the summer, more than 500 million eggs were recalled because of a salmonella outbreak.
The bill will allow the FDA to order direct recalls of suspected eggs instead of relying on voluntary recalls by the manufacturers.
CNN's Evan Glass contributed to this report.
FOLLOW THIS TOPIC