Obama visits with Marines in Hawaii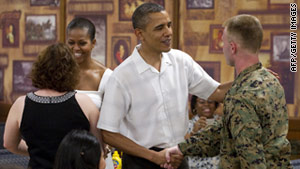 President Obama, who is on vacation in Hawaii, made an unannounced visit to a military base on Saturday afternoon.
STORY HIGHLIGHTS
Hundreds of Marines attend the Christmas dinner
The first family is on vacation in Kailua Bay
The Obamas are expected to leave Hawaii on January 2, sources say
(CNN) -- President Barack Obama shook hands with Marines, took pictures, and heard Christmas tales from eager children during a visit to Marine Corps Base Hawaii.
Obama, who is on a family vacation in Kailua Bay, Hawaii, made an unannounced visit to the base on Saturday afternoon. The visit was hardly a surprise -- he stopped by the base during his Christmas vacations in 2008 and 2009.
The first family is renting a vacation home in Hawaii, the president's home state.
At the base, Obama and the first lady posed for group photos and shook hands with diners.
"Merry Christmas, Mr. President!" one little boy said to Obama, who was accompanied by Michelle Obama. "No, she's Mrs. President," he told the youngster.
Hundreds of Marines and their families were having Christmas dinner in the hall decked out in Christmas decorations. A typical Christmas dinner at the hall serves about 300 people.
Children seemed eager to tell Obama what they got for Christmas.
One little boy seated with his parents excitedly told him he got a a punching bag. Obama held up his palm to let the boy take a whack at his palms.
"Did you get everything you wanted?" the president asked a young girl. She showed him her new bracelet, and the president indicated that the first lady also had one. Michelle Obama and the little girl compared bracelets.
The base menu included prime rib, turkey, potatoes, vegetables and pie.
Obama, who delayed the start of his Hawaiian vacation because of the lame-duck session in Congress, is expected to head back to Washington on January 2, according to sources familiar with the schedule.
FOLLOW THIS TOPIC