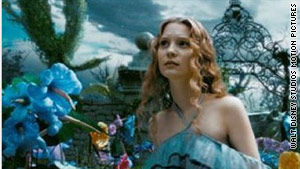 Tim Burton's adaptation of "Alice in Wonderland" is one of 2010's most anticipated movies.
STORY HIGHLIGHTS
Blockbuster remakes, adaptations and sequels are in store for 2010
Get ready for new installments of "Toy Story," "Harry Potter," "The Twilight Saga" and more
Epics, fantasies will dominate with "Robin Hood," "Prince of Persia," "Alice in Wonderland"
London, England (CNN) -- After taking fewer risks in an uncertain economy, Hollywood is hoping this year's crop of sequels, remakes and CGI spectaculars will be safe bets at the box office.
Despite this, there is still lots to get excited about.
Tim Burton's "Alice in Wonderland," Christopher "Batman" Nolan's new sci-fi thriller "Inception" and Martin Scorsese's spooky asylum tale "Shutter Island" are just some of the big movie events coming your way in the next 12 months.
The Screening Room has trawled through the rest to bring you what we hope is, if not a definitive list, at least a good starting point in the quest for some of the biggest and most exciting movies coming up this year (bear in mind that release dates can change).
So, without further ado, here is The Screening Room's at-a-glance guide to the movies likely to fill a cinema near you in 2010...
JANUARY
'The Book of Eli,' (Albert Hughes)
Starring: Denzel Washington, Gary Oldman, Mila Kunis
The Scoop: A post-apocalyptic tale in which one man travels across America to to protect a sacred book that holds the secrets to saving mankind.
Genre: Action/Drama
Watch the trailer here
An earlier version of this article incorrectly reported that a sequel to James Cameron's "Avatar" was slated for release in 2010.
FEBRUARY
'Shutter Island' (Martin Scorsese)
Starring: Leonardo DiCaprio, Mark Ruffalo, Ben Kingsley, Emily Mortimer, Michelle Williams
The Scoop: Martin Scorsese's adaptation of the 2003 best-selling crime thriller novel by the same name tells the frightening story of two men trapped in a prison for the mentally ill in 1950s America.
Genre: Action/Thriller
Watch the trailer here
'The Wolfman,' (Joe Johnston)
Starring: Benicio Del Toro, Emily Blunt, Hugo Weaving and Anthony Hopkins
The Scoop: Del Toro stars as a good-natured man who transforms into a savage wolf by moonlight in this special effects-packed horror remake set in 19th century England.
Genre: Horror/Thriller
Watch the trailer here
MARCH
'Alice in Wonderland,' (Tim Burton)
Starring: Johnny Depp, Helena Bonham Carter, Mia Wasikowska
The Scoop: Movie goer's appetites have been whetted by early trailers for Tim Burton's surreal 3D tale based on Lewis Carroll's surreal children's classics, which combines live action and animation.
Genre: Adventure/Fantasy
Watch the trailer here
APRIL
'Date Night,' (Shawn Levy)
Starring: Tina Fey, Steve Carell, Mila Kunis and James Franco
The Scoop: A stuck-in-a-rut-couple rediscovers their passion after a case of mistaken identity turns a romantic night out into a high-stakes crime chase in New York City.
Genre: Romantic Comedy
Watch the trailer here
'Wall Street 2: Money Never Sleeps' (Oliver Stone)
Starring: Shia LaBeouf, Susan Sarandon, Charlie Sheen, Michael Douglas, Carey Mulligan, Josh Brolin and Frank Langella
The Scoop: After 20 years in jail, disgraced financier Gordon Gekko teams up with a young trader to warn the world of the impending financial crisis. After the actual global financial slowdown, audiences might just be primed for a financial thriller.
Genre: Drama/Thriller
MAY
'Prince of Persia: The Sands of Time,' (Mike Newell)
Starring: Jake Gyllenhaal, Gemma Arterton, Ben Kingsley and Alfred Molina
The Scoop: Based on the 1989 video game, "Prince of Persia" follows a medieval prince (Gyllenhaal) as he partners with a rival princess (Arterton) to stop the evil Grand Vizier (Kingsley) from starting a sandstorm that could destroy the world.
Genre: Action/Fantasy
'Iron Man 2,' (Jon Favreau)
Starring: Robert Downey Jr., Don Cheadle, Gwyneth Paltrow, Scarlett Johansson, Mickey Rourke, Samuel L. Jackson
The scoop: Now that the world knows of billionaire superhero Tony Stark's escapades, the military wants to get their hands on his incredible inventions in the star-studded follow up to 2008's "Iron Man."
Genre: Action
Watch trailer here
'Robin Hood,' (Ridley Scott)
Starring: Cate Blanchett, Russell Crowe
The scoop: "Gladiator" director Ridley Scott is back together with Crowe, one of his favorite collaborators, in this remake of the epic tale of an altruistic bandit who steals from the rich and gives to the poor.
Genre: Action/Adventure/Drama

'Sex and the City 2' (Michael Patrick King)
Starring: Sarah Jessica Parker, Kim Cattrall, Cynthia Nixon, Kristin Davis and Chris Noth
The scoop: After the spectacular success of the first adaptation of HBO's hit TV show "Sex and the City" in 2008, Manhattan's first ladies of fashion are back on the town and taking a trip out to the desert.
Genre: Romantic Comedy/Drama
Watch the trailer here
'Clash of the Titans,' (Louis Leterrier)
Starring: San Worthington, Liam Neeson, Gemma Arterton and Ralph Fiennes
The Scoop: Almost 30 years after the first fantasy film, Perseus, mortal son of Greek god Zeus, is back to take on Medusa and the Kraken to stop their evil from spreading to earth and the heavens.
Genre: Action/Epic
Watch the trailer here
JUNE
'Jonah Hex,' (Jimmy Hayward)
Starring: Josh Brolin, Megan Fox, John Malkovich, Michael Fassbender
The Scoop: In the Wild West, a scarred bounty hunter tracks a voodoo practitioner who plans to on liberate the South by raising an army of the undead.
Genre: Western/Action
JULY
'The A-Team,' (Joe Carnahan)
Starring: Bradley Cooper, Liam Neeson, Sharlto Copley, Quinton 'Rampage' Jackson
The Scoop: A big-screen remake of the 1980s adventure comedy television series that follows the crime-busting antics of B.A.Baracus and his crew of do-good vigilantes.
Genre: Action
'The Twilight Saga: Eclipse,' (David Slade)
Starring: Kristen Stewart, Robert Pattinson and Taylor Lautner
The scoop: The third installment of the teen vampire phenomenon based on Stephenie Meyer's best-selling novels sees Bella forced to choose between vampire love Edward and werewolf friend Jacob.
Genre: Teen/Romance/Vampire
'Inception,' (Christopher Nolan)
Starring: Leonardo DiCaprio, Joseph Gordon-Levitt, Marion Cotillard, Michael Caine
The Scoop: High-concept 3-D sci-fi fantasy that takes place the mind of a blackmailed businessman, from the director who revamped the "Batman" franchise.
Genre: Action/Thriller
Watch the trailer here
'The Karate Kid,' (Harald Zwart)
Starring: Jackie Chan, Jaden Smith
The Scoop: Twelve-year-old Dre Parker (Smith, son of actor Will Smith) moves to China with his mom and learns some killer kung fu moves from maintenance man Mr. Han, finding his own inner strength along the way.
Genre: Action
Watch the trailer here
'Shrek Forever After,' (Mike Mitchell)
Starring (voices): Mike Myers, Eddie Murphy, Cameron Diaz, Antonio Banderas, Julie Andrews, Justin Timberlake, Jon Hamm, Paul McCartney, Amy Sedaris and Maya Rudolph
The Scoop: The jolly green ogre is back for more adventures with most of the original cast voices, but bigger, better C.G.I. effects.
Genre: Animated/Family
Watch the trailer here
'Toy Story 3,' (Lee Unkrich)
Starring (voices): Tom Hanks, Tim Allen, Joan Cusack, Michael Keaton, Whoopi Goldberg and Timothy Dalton
The Scoop: More than 10 years after the last installment, toy-owner Andy goes to college, leaving Woody, Buzz and the toy-box gang to fend for themselves in a day-care center.
Genre: Animated/Family
AUGUST
'Salt,' (Phillip Noyce)
Starring: Angelina Jolie, Liev Schreiber
The Scoop: Angelina Jolie reprises familiar role as kickass spy, this time as Evelyn Salt, a CIA agent on the run after being accused of acting as a Russian spy.
Genre: Action/Thriller
'The Expendables,' (Sylvester Stallone)
Starring: Sly Stallone, Jason Statham, Jet Li, Bruce Willis, Brittany Murphy and Arnold Schwarzenegger
The Scoop: Stallone directs and also co-stars in this action movie as part of a band of mercenaries tasked with overthrowing a South American dictator.
Genre: Action
NOVEMBER
'Harry Potter and the Deathly Hallows: Part 1,' (David Yates)
Starring: Daniel Radcliffe, Emma Watson, Rupert Grint, Ralph Fiennes and Helena Bonham Carter
The scoop: In the penultimate installment of the wildly popular wizard franchise, boy sorcerer Harry Potter, now nearly a man, faces off with evil Lord Voldemort, his nemesis.
Genre: Adventure/Family/Fantasy
DECEMBER
'The Green Hornet' (Michel Gondry)
Starring: Seth Rogan and Cameron Diaz
The Scoop: Playful former pop music video director, Gondry is sure to add a fanciful twist to the big-screen adaptation of this 1930s masked superhero.
Genre: Action
Watch the trailer here
'Chronicles of Narnia: The Voyage of the Dawn Treader,' (Michael Apted)
Starring: Ben Barnes, Skandar Keynes, Georgie Henley, Will Poulter, Eddie Izzard, Liam Neeson
The Scoop: The Pevensie siblings head back to Narnia where they take a dangerous sea voyage with Prince Caspian, fending off a barrage of villainous magical creatures in all forms.
Genre: Action/Fantasy
'Tron Legacy,' (Joseph Kosinski)
Starring: Jeff Bridges, Michael Sheen, Olivia Wilde and Garrett Hedlund
The Scoop: Sam Flynn and his father Kevin (Bridges, star of the 1982 sci-fi hit) fight their way through a super hi-fi video game universe where Kevin has been living for the past 25 years.
Genre: Action/Fantasy
Watch the trailer here
'Gulliver's Travels,' (Rob Letterman)
Starring: Jack Black, Emily Blunt, Jason Segal, Amanda Peet and Billy Connolly
The Scoop: Lemuel Gulliver (Black) finds himself towering over and wrangling with the miniature island creatures of Lilliput in a long-awaited remake of Jonathan Swift's classic 1726 tale.
Genre: Adventure/Family/Fantasy