STORY HIGHLIGHTS
Kathryn Bigelow becomes the first woman ever to win Best Director award

Bigelow's "The Hurt Locker" beats James Cameron's "Avatar" to top prize, wins six awards

Brits dominate acting awards: Colin Firth wins Best Actor; Carey Mulligan Best Actress

London, England (CNN) -- Movie director Kathryn Bigelow made history and added to her awards season haul Sunday as "The Hurt Locker" soundly trounced "Avatar" at the UK's top movie prize giving.
With the Oscars less than two weeks away, the Iraq war drama came away with six gongs -- including best film and best original screenplay. "Avatar," directed by Bigelow's ex-husband James Cameron, had to settle for two prizes: special effects and production design.
Bigelow did not realize she had made history -- and become the first female to win the directing award -- until after she had picked up her gong.
"It's a true, true, true honor," said Bigelow after her win. " ... I didn't realize that this was a first. So, hopefully, I can only say that it's the first of many."

Video: 'The Hurt Locker' wins big

Video: Inside 'The Hurt Locker'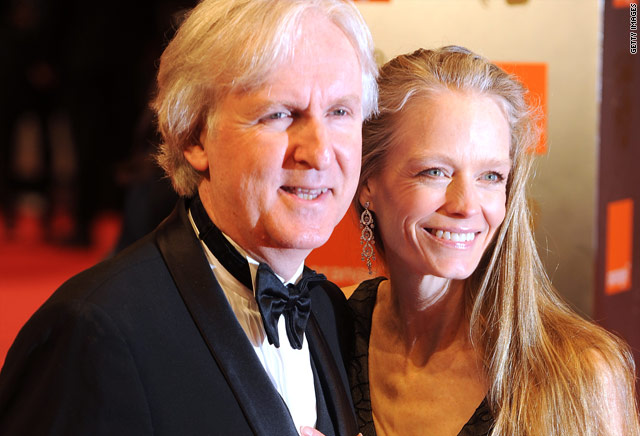 Gallery: BAFTA winners
All eyes were on the rivalry between Cameron's record-breaking 3D epic "Avatar" and Bigelow's "The Hurt Locker," to see who would come out on top in what has been dubbed the "the battle of the exes." "Avatar," which is the highest-grossing film in cinematic history, and "The Hurt Locker" both had eight nominations going into the awards.
"The Hurt Locker's" BAFTA success adds further momentum to Bigelow's chances of making history by picking up a best director Oscar -- although BAFTA voters often go their own way and choose different winners to their American counterparts.
The films have been running neck and neck throughout the awards season. Since the start of the year, "The Hurt Locker," which tells the story of an elite squad of bomb disposal experts in Iraq, has picked up numerous critics awards. But it was passed over at one of the season's other big awards, the Golden Globes, where "Avatar" walked off with the Best Drama prize.
"Avatar" is for many the favorite to sweep the board at the Oscars this year: The film has been nominated for nine awards (the same number as "The Hurt Locker") and pundits are expecting the Academy to reward Cameron's high-tech efforts.
Elsewhere at the BAFTAs, Brits dominated the main acting prizes. Carey Mulligan, just 24-years-old, won Best Actress for her first big role in 1960s coming-of-age drama "An Education," beating the likes of Meryl Streep ("Julie & Julia") and Gabourey Sidibe ("Precious: Based on the Novel Push by Sapphire")
Meanwhile Colin Firth won for his portrayal of a gay college professor in Tom Ford's beguiling "A Single Man," beating Oscar favorite Jeff Bridges, who has been winning plaudits for his role as country and western signer in "Crazy Heart."
Firth also bagged the unofficial prize for most charming acceptance speech of the night, saying, as he picked up the golden mask BAFTA award, "An encounter with Tom Ford is to come away feeling resuscitated; a little more worldly, better groomed, more fragrant, and more nominated than one has ever been before."
I didn't realize that this was a first. So, hopefully, I can only say that it's the first of many.
--Kathryn Bigelow
Christoph Waltz took Best Supporting Actor for "Inglourious Basterds" and U.S. comedienne Mo'Nique bagged Best Supporting Actress for her unexpectedly dark portrayal of an abusive mother in critics' darling, "Precious." Both are hot favorites to repeat their success at the Oscars.
In other categories, another critical success, Jacques Audiard's "A Prophet" took best foreign language feature and Pixar's "Up" took the prize for best animated film.
"Twilight's" Kristen Stewart took the Orange Rising Star award, voted on by the public for upcoming talent, while co-star Robert Pattinson looked on.
iReport: Which movie deserves Oscar glory?
Many of last year's winners were back this year, including Mickey Rourke, Bollywood star Anil Kapoor (representing last year's runaway hit "Slumdog Millionaire,") and Kate Winslet.
Winslet, who Cameron directed in 1997's "Titanic," and who won Best Actress last year for "The Reader," was not nominated last night. She said: "The pressure is off. It's just fantastic. I can really enjoy it."