STORY HIGHLIGHTS
He starred in more than 150 major motion pictures
Curtis was married six times and is the father of actress Jamie Lee Curtis
He was nominated for an Oscar for 1958's "The Defiant Ones"
(CNN) -- Screen legend Tony Curtis died Wednesday, his family said. He was 85.
"My father leaves behind a legacy of great performances in movies and in his paintings and assemblages," actress Jamie Lee Curtis said in a statement Thursday. "He leaves behind children and their families who loved him and respected him and a wife and in-laws who were devoted to him. He also leaves behind fans all over the world. He will be greatly missed."
Curtis starred in more than 150 motion pictures and was nominated for an Oscar for his performance in 1958's "The Defiant Ones" with Sidney Poitier.
Curtis also is known for his roles in the 1959 movie "Some Like it Hot" with Marilyn Monroe and Jack Lemmon and "Spartacus" in 1960 with Kirk Douglas. He also played the lead role in "The Boston Strangler," released in 1968.

Video: Screen legend Tony Curtis dies

Video: 'I liked every movie I made'

Video: Jamie Lee Curtis opens up about dad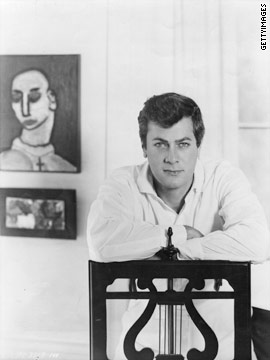 Gallery: Tony Curtis
Curtis recalled last year how he landed the plum role in "Some Like it Hot," his most memorable part.
"I got in it because (director) Billy Wilder ... said at that time, 'I want the handsomest kid in town,' and they picked me," Curtis told CNN iReporter Chris Morrow. "Well, that was a great compliment."
Curtis also recalled what it was like starring with Monroe, whom he said he dated for about four months in 1949 or 1950.
"We had a wonderful time together," he said. "We were both very young and hoping to get in the movies."
Born in New York City in 1925 as Bernard Schwartz, Curtis grew up poor in the Bronx as his family struggled through the Great Depression. He took the name Tony Curtis in the late 1940s, when he started his film career.
He was married six times, most notably to film star Janet Leigh.
With his long eyelashes, lustrous shock of wavy black hair and New York accent, Curtis cut a colorful swath through the Hollywood of the 1950s and '60s, marrying three times in two decades and appearing in more than 60 films and TV programs.
He starred opposite Leigh, his first wife, in 1953's "Houdini," playing the title role of magician Harry Houdini. Other major roles soon followed, including "Trapeze" in 1956 and "The Sweet Smell of Success" in 1957.
"Tony even made it seem natural for a Norseman to have a New York accent in The Vikings (1958)," said his official biography. "But it was in 1958 when Curtis and Sidney Poitier starred in Stanley Kramer's social drama The Defiant Ones (1959) which earned both men Academy Award nominations and was among the most acclaimed and profitable films of the year."
Another huge hit came in 1959, playing opposite Cary Grant in "Operation Petticoat."
Curtis once said that his biggest regret was not winning an Oscar, but other awards found their way to him.
He received a lifetime achievement award from the Italian Oscars in May 1996, his website says, and in March 1995 was honored with the Chevalier de L'Ordre des Arts et des Lettres for his work in films and his original art works. Curtis also was honored by the USA Film Festival and the Palm Springs International Film Festival.
The actor worked with some of film's biggest directors, including Blake Edwards, Stanley Kubrick, Elia Kazan, Vincente Minnelli and Nicolas Roeg.
Curtis served in the Navy during World War II and, upon his release, used the GI educational program to study drama, his biography said.
"He first gained attention in a Greenwich Village stage production of 'Golden Boy,' and was quickly offered a contract by Universal Pictures." the bio says.
"His screen debut had him dancing with Yvonne de Carlo in 'Criss Cross.' His few seconds on screen were enough to generate thousands of fan letters to the handsome young man. Universal had the fastest rising star in Hollywood and one of the most enduring prolific actors of modern times."
Curtis led a turbulent life off-screen, divorcing five times. Of the six children he had with three wives, a son died in 1994 from a reported heroin overdose.
Curtis admitted he battled drugs and alcohol abuse during the 1970s and 1980s and sought treatment at the famous Betty Ford Center in 1984.
In later years, Curtis began painting and was known particularly for his portraits.
But it was for his long and varied movie career and his larger-than-life personality that Curtis will be remembered.
"It's a sad day for the entertainment world," family attorney Eli Blumenfield said. "Tony was one of few remaining Hollywood icons. He led a good life, fathered six wonderful children and he was always proud of them. He will be sorely missed."
FOLLOW THIS TOPIC