STORY HIGHLIGHTS
Aston Martin DB5 driven by Sean Connery in "Goldfinger," "Thunderball" sold at auction
The car complete with ejector seat and machine guns was bought for $4 million
Seller Jerry Lee says he will put proceeds towards his charitable foundation
RM Auctions: "It isn't just a car. It's a trophy. It's an icon"
London, England (CNN) -- James Bond never could resist sleek curves and a good-looking rear view, especially when the owner is armed with lethal gadgets and a taste for speed -- like the Aston Martin DB5.
The one-of-a-kind 1964 silver sports car with special 007 modifications became the quintessential Bond car when Sean Connery got behind the wheel in 60s Bond classics "Goldfinger" and "Thunderball."
Now, the classic has been snapped up at a London auction for $4 million. It was not immediately clear who bought the DB5.
Peter Wallman, car specialist at RM Auctions, the auction house selling the car, told CNN. "I think, unquestionably, it's the most famous car in the world."

Video: Bond behind the wheel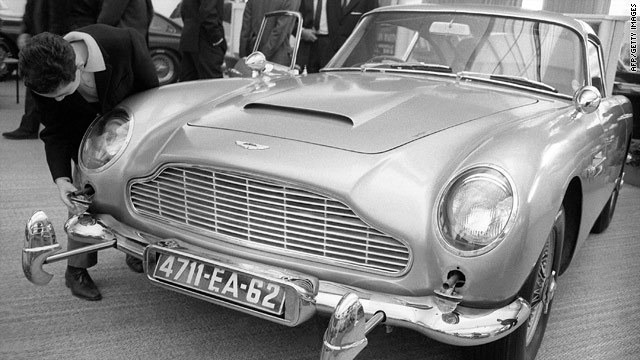 Gallery: Bond cars through the years
He called the sale a once-in-a-lifetime opportunity.
The DB5 comes complete with all the original 007 specifications fitted to it by the Aston Martin factory for 1965's "Thunderball." They include front machine guns that shoot blanks, an ejector seat (that doesn't work), radar navigation, a nail spreader, tire shredders, bullet shield and a revolving number plate.
The DB5 has only had one private owner, U.S. radio station owner and philanthropist Jerry Lee. He bought it straight from the Aston Martin factory in 1969 for $12,000. The self-confessed "huge" Bond fan says he's kept the car at home in Pennsylvania in his "James Bond room" for the past 41 years.
Despite being close to half a century old, the DB5 only has 30,000 miles on the clock. Lee told CNN he has only driven the car once: "I drove it for two blocks in London. I think it's a work of art," he said. "It's just pure beauty."
- Machine guns
- Bullet-proof shield
- Revolving number plates
- Tracking device
- Removable roof panel
- Oil slick sprayer
- Nail spreader
- Smoke screen
Lee said he will put the proceeds from the sale towards the Jerry Lee Foundation, which he founded in 2007 to reduce crime.
Lee's DB5 is the only surviving one of two cars used on screen in "Goldfinger" and "Thunderball." The other car was reported stolen in 1997 and is thought to have been destroyed.
The car and all its gadgets are the brainchild of late special effects maestro John Stears, who won an Oscar for his work on "Thunderball" in 1966. He also worked on "Star Wars" and "Chitty Chitty Bang Bang."
The average Aston Martin sells at auction for $250,000-$280,000. RM auctions says that this DB5's sale price was a reflection of its special status.
"A standard Aston Martin is a very good-looking, glamorous [car]. It's a gentlemen's club on wheels," Wallman said. "[But the Bond DB5] isn't just a car. It's a trophy. It's an icon."
I think it's a work of art. It's just pure beauty.
--Jerry Lee, current owner
There was a crackle of excitement among the car enthusiasts Tuesday in the London showroom where the DB5 was on show alongside 100 other cars including many other Aston Martins in an auction preview.
Aston Martin enthusiast Martin Ephson, 54, told CNN: "It's a wonderful car, and way ahead of its time ... but it's way out of our league. It's a car for a trophy collector."
Mechanic Wayne Bischott, 59, who has a 1924 Daimler limousine up for sale in the auction said of the DB5: "It's a remarkable piece of equipment."
Wallman said: "It's a must-have if you are a Bond fan or if you collect cultural icons of the 20th century. Or even if you have some sort of theme park or casino that has a Bond theme running through it."
Other Bond memorabilia up for auction Wednesday included a helicopter piloted by Bond girl Pussy Galore in "Goldfinger" and a 1998 Jaguar XKR with a weapons system, one of eight modified Jaguars driven in the 2002 film "Die Another Day."
But the absolute star of the show is the DB5.
FOLLOW THIS TOPIC