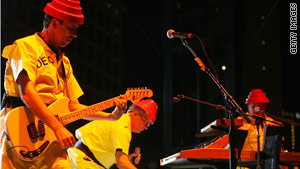 Devo will return to the world stage with a concert during this year's Winter Games.
STORY HIGHLIGHTS
Iconic 80's group Devo to make comeback at Winter Olympics

Devo's comeback is fueled by fulfillment of "de-evolution" prophecy

Devo plans to use focus groups to choose songs for next CD, what clothes to wear onstage

Los Angeles, California (CNN) -- Devo believes the future has finally caught up with its visionary music and "de-evolution" message.
Thirty-five years after the group's first album -- and two decades since its last -- Devo is back with new music and a look to replace their iconic energy dome hats.
Devo will have a world stage for the debut when it performs Monday night, February 22, at the Winter Olympics in Vancouver, British Columbia.
"You're going to see new things and you're going to see familiar things," Devo's Jerry Casale told CNN.
Devo's comeback is fueled by what it says is the fulfillment of its prophecy of "de-evolution" -- the idea that humans are regressing into a destructive herd mentality.
"When you think about 1980, if somebody would have showed you in a crystal ball 2010, you would have thought it was a bad joke," Casale said. "De-evolution happened and now everybody agrees. They don't think we're crazy. They know that it was true."
Devo began after Casale and Mark Mothersbaugh met as art students at Kent State University. The group wrote its first music in May 1970 -- the same month National Guard troops fired on anti-war protesters on the Kent State campus, killing four students.
The lyrics, onstage theatrics, costumes and videos evolved over the next decade, but the message stayed true.
Casale and Mothersbaugh only hint at the group's new look, but corporate America appears to be the primary target of its social satire.
"We're playing ball with corporate society," Casale said.
The band has re-signed with Warner Brothers Records and hired an ad agency to help shape its image, he said.
"The idea was that Devo was going to turn around their reputation for being hermetically sealed and not playing ball with society," Casale said.
Instead of being an art band targeting a niche following, Devo is now using focus groups to choose which songs to include on its next CD and what clothes to wear onstage, he said.
"We want to know what you think," Casale said. "Just like CNN says 'What do you think?' We want to know."
"There's color studies going on, different costumes being shown to people, different mixes of songs, and we're letting people kind of direct us toward a final product," he said.
The goal is for Devo to "penetrate every nook and cranny of our technologically advanced pop culture in the coming year," a recent news release said. "With an arsenal of new songs, videos, fashions, apps, toys, games, live performances and more, we will reach out to create something for everybody."
Casale said Devo, for decades considered a band of the future, is "living in the present now."
"We're not trying to freak people out," he said. "We're here to be like the house band on the Titanic, to entertain everybody while we all go down together."