STORY HIGHLIGHTS
Talk show host Jay Leno has a collection of 240 cars
He tries to reconcile his love of cars with his environmentalism
Among his collection is a 1960s Chrysler Turbine, which could run on tequila
In 2006, Leno and General Motors built the Ecojet, a biofuel sports car
Los Angeles, California (CNN) -- Top U.S. talk-show host Jay Leno loves cars but also considers himself an environmentalist.
To reconcile these two passions The Tonight Show host has tried to make his collection of 240 cars as green as possible
Leno told CNN, "The two are not mutually exclusive. You can be interested in the environment and still like cars. And there is a way to just do it sensibly.
"The idea is to live the way you have always wanted to live but do it more efficiently.
"I have friends who live in Vermont. They have a 40-watt bulb and they peddle a bike to power the TV and they live at 48 degrees. But most people don't want to do that so you try and find a balance."
Leno knows the green credentials of all his cars, from the 1909 Baker Electric car to the biofuel-powered Ecojet sports car he designed with the help of General Motors.

Jay Leno's first car

The mother-in-law seat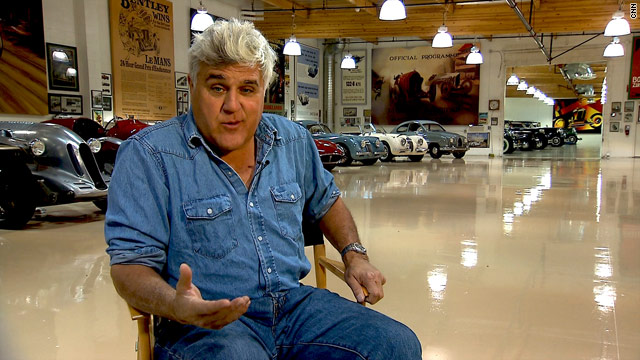 Gallery: Jay Leno's eco garage
He has found environmentally friendly ways of maintaining the cars, avoiding harsh chemicals by using microbes to clean oil and grease from engine parts, and using water jets to cut metal.
The garage also has solar panels, a wind turbine and recycles rainwater from its roof.
Explaining his love affair with the auto, Leno said, "I think what people love about cars is the freedom. It gives you the ability to go wherever you want to go, when you want to go there.
"When I buy old cars I buy the story as much as I buy the car. What I have is pretty eclectic and there is no rhyme or reason to how we do any of it."
One of the lessons of Leno's collection is that many ideas now being touted for the future were used by car designers of the past.
Among them is a Chrysler Turbine car, of which only 50 were built in the early 1960s, which could run on any fuel except leaded gasoline.
You can be interested in the environment and still like cars.
--Jay Leno
"When they drove it to Mexico it drove on tequila, when they took it out to France they burned Chanel No. 5 -- any liquid that you could burn with oxygen you could run this car on," said Leno.
"It is essentially a jet engine ... But when this car came out in the early 60s nobody really cared about alternative fuels because fuel cost 26 cents per gallon.
"The downfall was it was extremely expensive to produce and it wasn't really that much faster than a V8 and it would have cost a lot more to produce. But this was a fascinating experiment."
Another old car with a distinctly modern flavor is the 1909 Baker Electric car, which could travel 80 to 100 miles on a single charge, but was considered a woman's car because it didn't need cranking, Leno said.
"This is a pretty advanced car for its time," said Leno. "This electric car, you just got in, turned the key and went. It was silent, it didn't pollute so consequently they built them for women. So, much like today, you couldn't sell a man a woman's car; these were considered women's shopping cars."
In 2006, Leno collaborated with General Motors to build the Ecojet sports car.
He said, "We just wanted to show that you could build something that was fast and interesting that could go 200 mph without using traditional diesel or fuels from the Middle East. So this runs on biofuel.
"It is not particularly fuel efficient because it is a jet and sucks in air. We built the whole car at the garage."
While Leno loves vintage cars, he also keeps abreast of new developments to make driving greener.
"The fact that you have cars now that far exceed the performance of any of these cars and still get reasonable mileage and very good environmental qualifications, that's impressive," he said.
"Can we do better? Sure, we can always do better."
Catriona Davies contributed to this report
FOLLOW THIS TOPIC