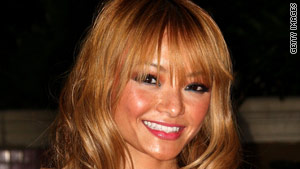 Tila Tequila says she was attacked while performing at a concert in Illinois.
STORY HIGHLIGHTS
NEW: The sheriff hopes to find video to help ID the attackers
Tila Tequila was performing at the "Gathering of the Juggalos"
Rocks and bottles hit Tequila as she rapped
Witness: Violence escalated when she took off her top
(CNN) -- Reality TV star Tila Tequila suffered facial cuts when she was pelted with rocks and bottles while performing at a music festival in Illinois early Saturday, according to a witness and a law enforcement official.
"She's pretty cut up," said a performer who saw the violence at the "Gathering of the Juggalos" in rural Hardin County, Illinois. The witness asked not to be identified so that he does not anger the juggalos.
Tequila, a Playboy model who also sings, posted a Twitter message Saturday, saying she would sue the festival, which is organized for fans of the hip-hop group Insane Clown Posse.
"Pretty soon, the owners who run the juggalos will be bankrupt," she tweeted.
The fans are mostly young people who sometimes wear clown make up and are referred to as juggalos and juggalettes.
Festival organizers did not immediately respond to CNN requests for a response.
The performer said a mob of hundreds chased Tequila from the stage and surrounded the trailer where she sought refuge. They rocked the trailer and smashed its windows, the witness said.
Tequila eventually escaped, but only after windows in her SUV were smashed, he said.
Hardin County Sheriff Tom Seiner, who offered a similar description of the events, said he has an open investigation. It would be "very hard" to identify the attackers unless he can locate video of the incident, the sheriff said.
Tequila offered her descriptions of the events in a statement to celebrity news website TMZ.
"I went onstage and immediately, before I even got on stage, dudes were throwing huge stone rocks in my face, beer bottles that slit my eye open, almost burnt my hair ... cuz they threw fire crackers on stage," she wrote.
The witness, who was standing in the rear of the stage, said the crowd of about 2,000 was immediately angry toward Tequila and she was unable to turn them around.
"She was taunting them," he said. "She didn't know how to handle them. She didn't understand the dynamic."
The rocks and bottles flew harder and faster when Tequila bared her breasts, he said.
"She took her top off and they got really violent," he said.
Tequila continued to perform even after her face started bleeding, he said. "She was holding a towel to her head, blood pouring down her face," he said.
"It was scary as hell!" Tequila wrote.
This was not the only violent incident at the festival early Saturday, Seiner said.
A 49-year-old Georgia man was arrested for allegedly stabbing another man in the abdomen just hours earlier, he said.
FOLLOW THIS TOPIC