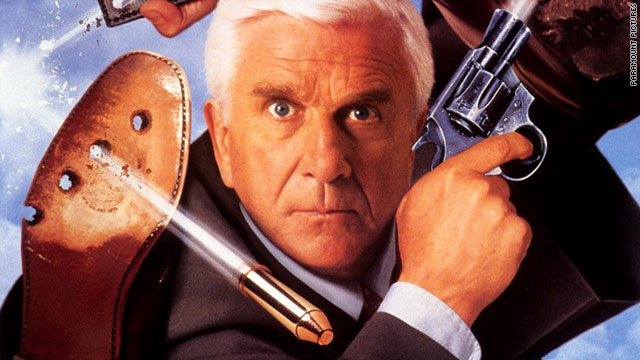 STORY HIGHLIGHTS
Actor Leslie Nielsen transitioned from dramatic roles to comedies
Expert says it's more difficult to go from drama to comedy
Author says Nielsen's deadpan delivery was aided by early dramatic roles
(CNN) -- Actor Leslie Nielsen took comedy very seriously.
Originally making his living as a dramatic actor in the 1950s, Nielsen transitioned into the world of comedy so successfully that many fans don't even think of him as anything but the sultan of silly.
But it's not easy to go funny.
Several comedic actors have traveled the reverse route: Bill Murray, Adam Sandler, and Jim Carrey have all transitioned to more dramatic roles.
But "it's much tougher to go from drama to comedy," said Glenn Kalison, chair of the Acting Department at the New York Film Academy. "With the dramatic actors you start to buy into their depth and their intensity in that context and it's tougher to accept the humor."
Nielsen, who died at 84 from complications of pneumonia in a hospital near his home in Fort Lauderdale, Florida, Sunday, came to the limelight in dramas on stage and screen. But it was the comedies that made him a beloved and indelible character in Hollywood.

Remembering Leslie Nielsen

Leslie Nielsen: 'I'm just having fun'
Those early years as a dramatic actor aided his transition into comedies, said John Vorhaus, author of "The Comic Toolbox: How to Be Funny Even If You Are Not."
"It's almost mathematical," said Vorhaus, who has also worked as a writer on such hit television comedies as "Married with Children" and "Charles in Charge."
"Comedy equals drama plus exaggeration. And if you think about Leslie Nielsen, his defining quality was his stoic, deadpan demeanor."
He appeared in the 1956 science-fiction classic "Forbidden Planet" and later guest-starred roles on several television dramas including "Hawaii Five-O." He also appeared as the captain in the 1972 film "Poseidon Adventure."
But it was his role as Dr. Rumack in the spoof comedy film "Airplane!" which started Nielsen on the road to becoming a legend of laughter. In a 1993 interview with Larry King to promote his book "Leslie Nielsen: The Naked Truth," the actor credited the creators of "Airplane!" with recognizing his hidden passion.
"They spotted me for what I truly was, which was a closet comedian," Nielsen said. "Ever since 'Airplane!' began they would come over and knock on the door of the closet and say 'Leslie come on out and play.' "
Read film critic's take on Nielsen
The 'Airplane!' producers later cast him as Lt. Frank Drebin in the short-lived television series "Police Squad!" -- a role he later went on to reprise in three "Naked Gun" films.
Kalison said Leslie's trademark deadpan humor telegraphed truthfully and honestly to audiences who embraced him.
iReport: Share your memories of Leslie Nielsen
"You would see this man in these ridiculous situations and you would see what appeared to be a wizened man, distinguished even, take these absurdities utterly seriously," Kalison said. "He's been in films that have touched the funny bone of America and are now part of our subconscious."
Nielsen was one of those rare talents who had a second act in his career "by playing against his serious self," said Craig Detweiler, director of the Center for Entertainment, Media and Culture at Pepperdine University.
"We as Americans appreciate those who don't take themselves so seriously, who have a sense of humor about themselves, and I think it's fascinating that some of that may be due to the fact that he was Canadian."
iReport: Wreath left near Nielsen's Hollywood Star
Nielsen's background -- his brother was a deputy prime minister of Canada -- helped shape the actor as one who didn't view the whole Hollywood scene as his ultimate calling, Detweiler said. In addition to "The Naked Truth," Nielsen also authored the books "Leslie Nielsen's Stupid Little Golf Book" and "Bad Golf My Way."
"I think he approached the entire acting thing as a bit of a lark," Detweiler said. "Whether it was success in early dramas like 'Forbidden Planet' or later on in 'Spy Hard' he was always, in a sense, in on the joke that 'Look, I was able to have this amazing career.' "
FOLLOW THIS TOPIC