STORY HIGHLIGHTS
As sport becomes greener, a Spanish golf ball manufacturer invented an edible golf ball
The golf ball is completely biodegradable and dissolves into fish food, said Albus Golf
The balls are to be used on piers and cruise liners but cannot be hit as far as normal balls
London, England (CNN) -- For even the most environmentally conscious of players, playing golf and remaining green is a difficult balance to achieve, especially if your aim lands you in water hazards more than on the fairway.
Research teams at the Danish Golf Union discovered it takes between 100 to 1,000 years for a golf ball to decompose naturally, a startling fact when it is estimated 300 million balls are lost or discarded each year in the United States alone.
Once the misplaced shot settles in the sediment, whether the body of water that consumes your ball is a pond, river or lake; the disintegrating ball will then slowly release a high quantity of the heavy metal zinc as it disintegrates.
But it seems there maybe a solution to help offending players keep out of hot water, thanks to a Spanish golf ball manufacturer that has invented a ball which not only dissolves upon contact with water, but is made of fish food.
Albert Buscato, CEO of Albus Golf, told CNN he wanted to improve on the range of biodegradable golf equipment on the market.
"I thought it would be great to have a ball that not only does not pollute the waters, but also gives something back," he said.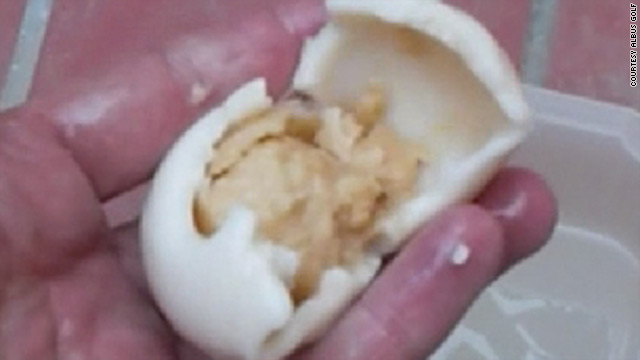 Gallery: Edible Golf Ball
The "Ecobioball's" outer layer, made of a recyclable plastic polymer, degrades completely within 48 hours to reveal a dense inner ball of fish food, according to Buscato.
Since they are single-use balls, their cost will be considerably lower than the average golf ball and Buscato is confident this means the "goldfish-friendly" option will be a hit with buyers.
However, at 50.5 grams, the golf balls are slightly lighter than the average ball, meaning they do not travel as far when hit. The idea would be to use the balls for driving practice over water.
"I was on a cruise several years ago and was frustrated not to be able to play golf," Buscato told CNN.
"Cruise lines have alternative ways for passengers to practice their swing, like in cabins with video simulators or netted cages, but I thought, 'we should be able to do the real thing'."
Buscato then spent over a year working with a Spanish laboratory researching various options for degradable golf balls.
"I thought it would be fun to be able to practice golf without damaging the environment and by returning the favor."
The balls could be a God send for hungry fish around the world, but not everyone believes bio-degradable balls can become a swinging hit with golfers.
David Connor, equipment editor for magazine Today's Golfer, told CNN the real challenge will be to create a high-quality biodegradable ball.
"In terms of performance, these types of balls are quite some way behind and it will be a tough job convincing golfers to use them," he said.
Connor also believes golfers may not want to spend money on a golf ball they can use only once.
Despite the skepticism, Connor told CNN: "At the end of the day, golf as a whole is trying to become greener and anything that helps going in that direction is welcome."